This is the final post in a series about my experience while teaching and traveling this summer in South Africa. Here are the links to the previous posts:
Impact of Caring: Post 1 – Faaidah and Mahavia
Impact of Caring: Post 2 – Fiona and Cheryl
Impact of Caring: Post 3 – Kannemeyer Primary School
Impact of Caring: Post 4 – Julika Falconer
Impact of Caring: Post 5 – Desiree
Impact of Caring: Post 6 – Phuti
When I think about teachers who give their hearts to teaching, these ladies are at the front of the line. Tinny (left) and Vernice (right) teach at Pula Madibogo Primary School in Limpopo Province. Tinny and Vernice began the Reading Club there and we have been connecting ever since. We  send their students books and then we  Skype and their students talk about their reading. These are some photos of our calls through the years.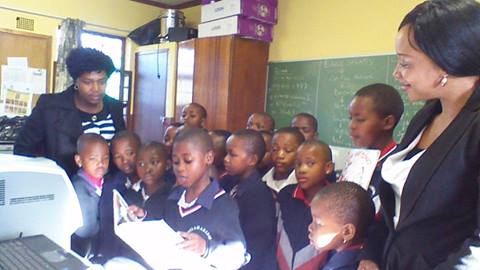 After I visited their school in 2015, I knew I would have to come again. Unfortunately with my schedule on this trip, I was only able to come for a few hours. We did see each other at Phuti's Community Reading Club Project launch party so we were able to re-connect before I got up to their school.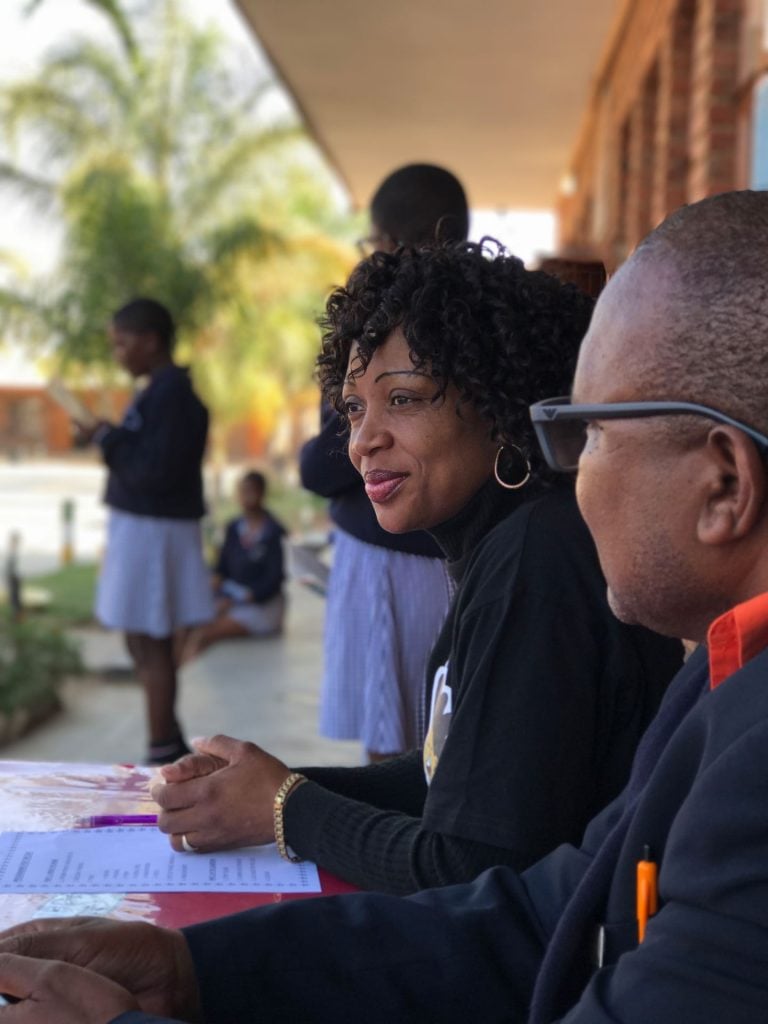 Tinny teaches 6th grade and believes with her heart and soul in the saying Readers are Leaders.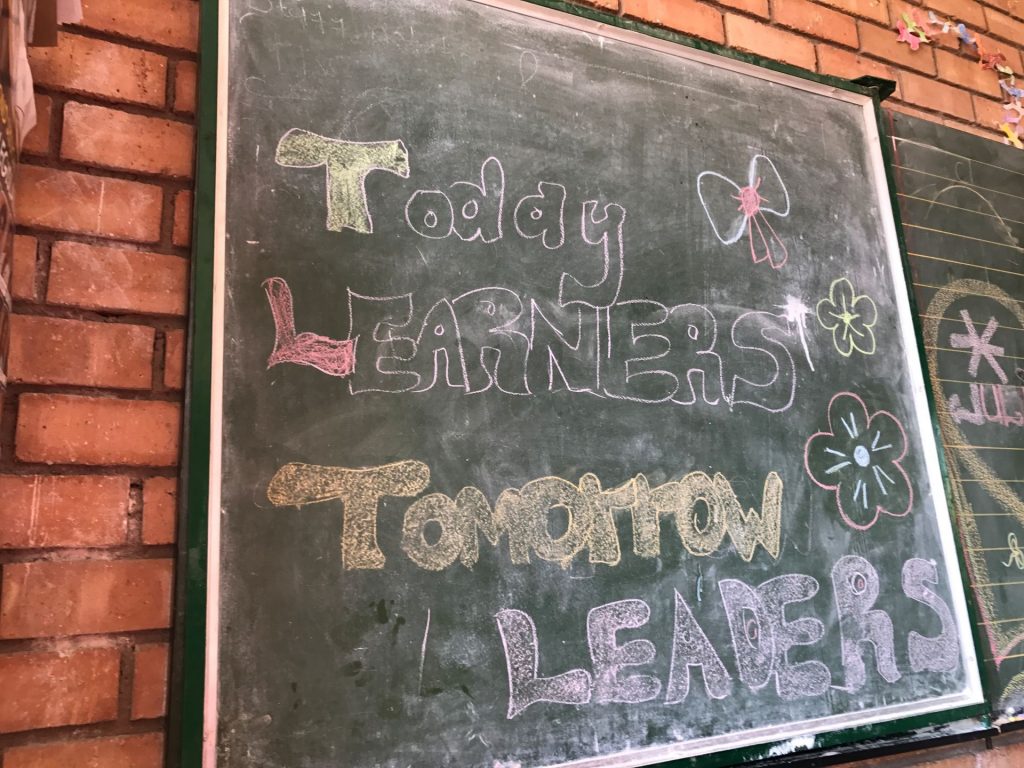 She also knows how to make a person feel special.  When I arrived on campus, I saw some drum majorettes practicing in front of the school. I thought they were practicing for a competition. No, they weren't. The Drum Majorettes greeted me and led me into the school where the student body was waiting for a special ceremony.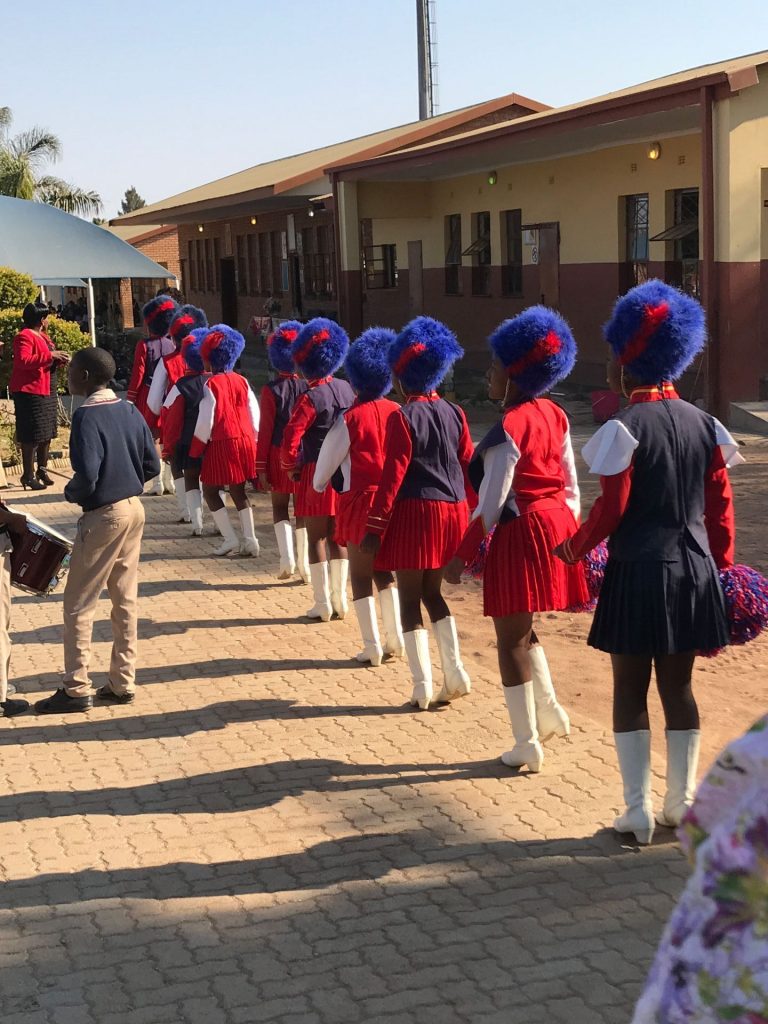 The students were in charge complete with a ceremony leader and a schedule of events.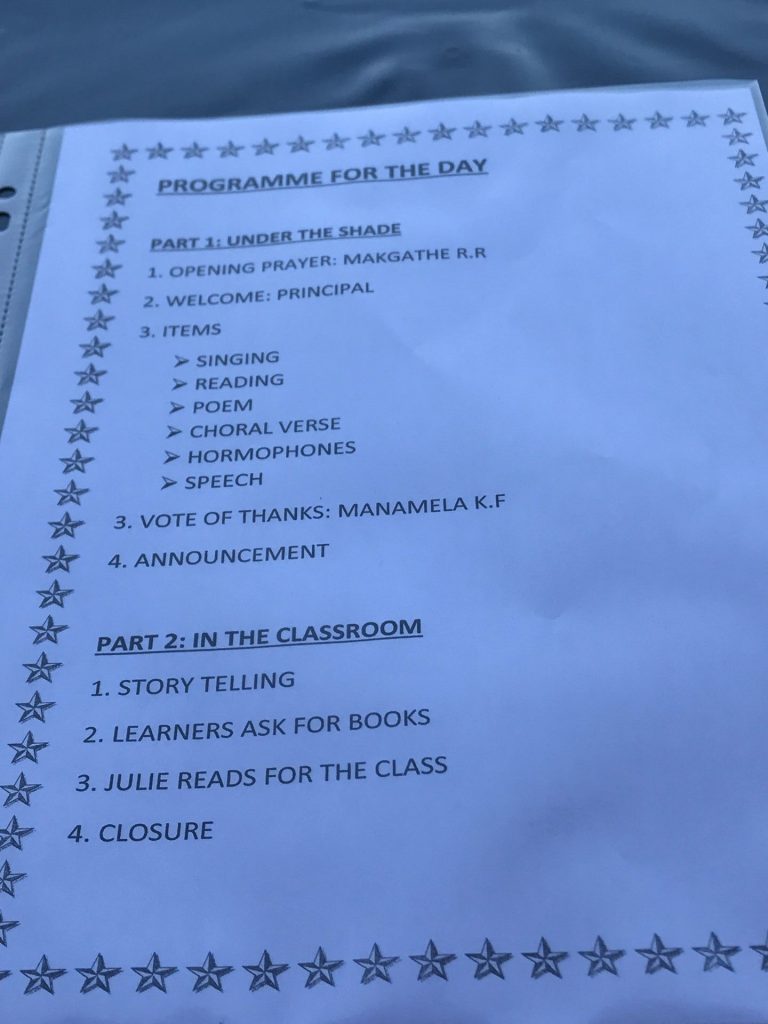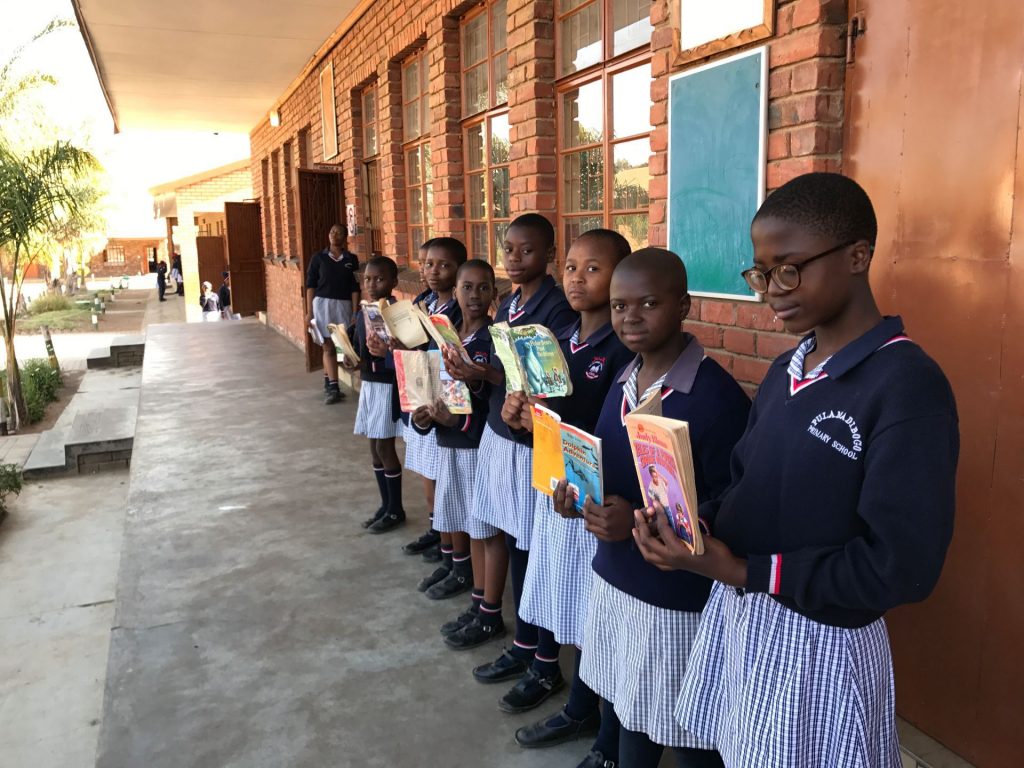 From beginning to end, I was touched and overwhelmed with emotion. My students and I send this school books, but the kids at Pula Madibogo are the superstars because they are using the books to improve their reading. Yet they were treating me like I was the superstar as they shared their gratitude.

All morning long, the students impressed me with their passion for reading and school. I have been able to live a life where education was something I expected and I have at various times taken it for granted. By many standards, I have lived a life of privilege. From my small town in rural Massachusetts to California, Oregon and Washington, I have been able to live and teach in areas with quality public school districts.
The ability to have access to a quality education is not always possible and certainly not in rural Limpopo Province. Yet at this school where the women still cook in an outside cook shelter using traditional cooking pots, the teachers are determined to make things different for this next generation of learners.

Women like Tinny and Vernice, as well as the other teachers at Pula Madibogo do everything in their power to bring the best out in their students. I felt honored to spend time with them and share teaching ideas. I loved hearing the students read passages from books, sing songs,  or tell fun stories. They have passion for learning.

In the classroom Tinny's students continued the presentation with story-telling, posters, a lovely embroidered towel and a heart-felt plea for more books. Honestly as I looked at the books they were holding, I realized they had worn them out from reading love! They even had a book that I had sent at least three years ago.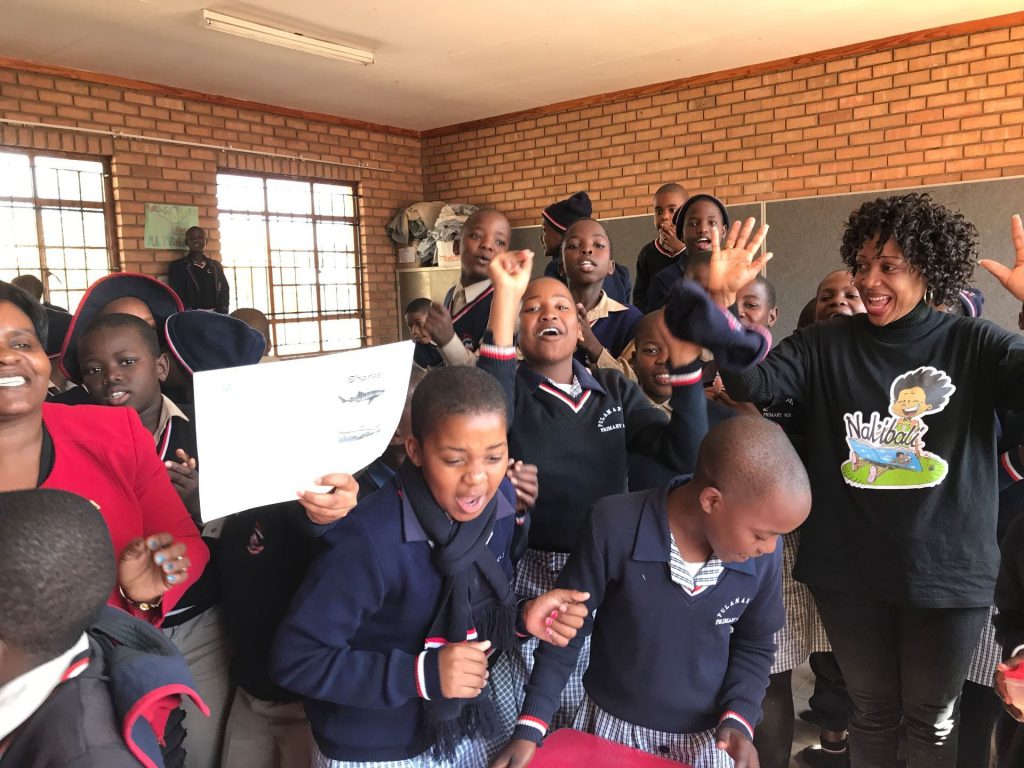 As I walked around campus after the presentation, students came up to say hello. One girl I recognized immediately from when I was at her school in 2015. I had a selfie with her then, and we did it again!
Another boy, Nathaniel and I had a longer conversation. He is now in 7th grade, which is a critical grade in South Africa. Very often children do not have the opportunity to move on to secondary school. He remembered my previous visit and really wanted to assure me that he is taking his studies seriously.

I shared my card with Nathaniel and sincerely hope he stays in contact with me. He has the drive to go far in life. I just hope his dreams don't fade with age and the hardships of life.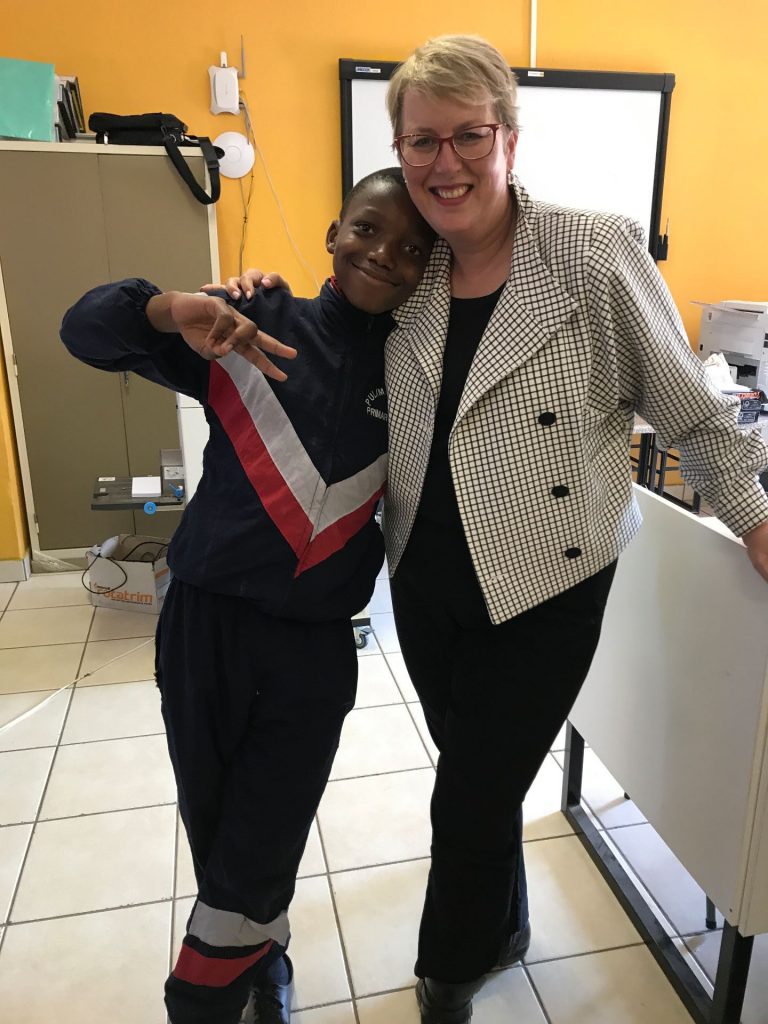 I will be boxing up some books this month and sending them so they have some new choices before the end of their school year. I can't forget these teachers and students and their needs for materials. The thing is, we can't do it alone.
This is the last post in the series and I hope that other teachers and students will consider joining our program or starting their own. Anyone who is interested can contact me through the Books to Africa Partnership website. Books can change lives. I've seen it come true and so can you.