"Mrs. Hembree, what's the new read aloud book?"
"Are you starting today?"
"We're going to choose it?"
"Wow, okay, I'll be there! Still at noon, right? Still on Tuesdays?"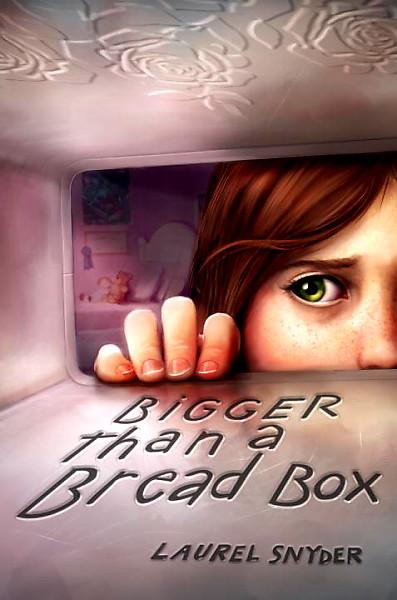 On Tuesday, the Read Aloud Club Kids chose Bigger Than a Bread Box as their next choice for me to read during our read aloud recesses.
Bigger Than a Bread Box is the story of 12 year old Rebecca who is forced to move to her grandmother's house in Atlanta with her mom and little brother while her mom tries to figure out her marriage. Dad is back in Baltimore along with all of her friends and everything she's ever known.
Rebecca is angry, confused and alone when she finds a magic box in the attic of her grandmother's house. A box that delivers her wishes. Like better jeans, and a new watch and new tennis shoes. She gets everything she wants, except her dad. Is having stuff enough to make Rebecca feel happy again? We will read Bigger Than a Bread Box to find out!
Watch the book trailer by Lily, age 12 who made the trailer with a Canon SD 1300 Digital Elph camera and iMovie.
But wait there's more!
The kindergarten-3rd grade students are starting Read Aloud Tuesdays too! From 12:30-12:55, Mrs. Hembree will be reading a chapter book to the younger students. We have something for everyone in the cold, wet, wintery months!
The men and older boys always go on a Dragonquest each year, but Darek is still too young to go. When they come back with a Great Blue, the largest and fiercest of all the dragons, Darek discovers a baby dragonling in the Great Blue's pouch. He decides to take the dragonling back to the fearsome Valley of the Dragons.
Dragonling is a moving and adventureful fantasy story, perfect for younger readers. It is my personal favorite for introducing readers to the fantasy genre.
So, remember, come on Tuesdays to the library for your chance to get out of the rainy, cold outside and into a world of books!
****************
What would you wish for if you had a magic bread box?
What is the best book you've ever heard?