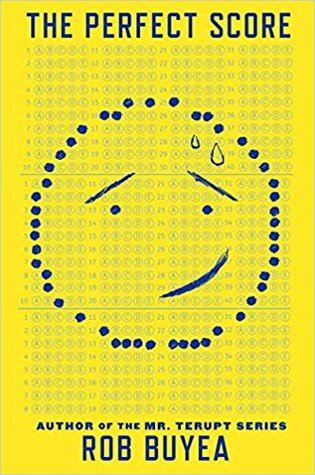 "Award-winning author Rob Buyea offers a new series of unforgettable characters in The Perfect Score. Kid-friendly and full of heart, this new series is further evidence of Buyea's masterful understanding of middle schoolers, a reputation first established with his popular Mr. Terupt series."From Random House Children's Books:
The Perfect Score is told through the voices of five students in 6th grade. Gavin loves football, but has never done so well in school, Randi is a gymnast who is trying to cope with her zealous mother, Natalie thinks like she is already an attorney, Scott who is almost always a hot-mess, and Trevor who really doesn't like school, but would rather be there than at home. While they are all different, they share their universal dislike for the CBA standardized tests coming up.
The book is told in a short chapter — switching voices technique similar to Buyea's previous Mr. Terupt books.  I personally yearned for a little more emotional connection with the characters. However, for Bob Buyea and realistic/school fiction fans, I think it will be a hit. A great choice for upper elementary or middle school students. 4/5 star rating
Realistic Fiction
*I was given a review copy by Random House Children's Books in exchange for an honest review.