Finally, the wait is over. The summer is a distant memory. We are four weeks into the school year. The behind the scenes project that took us an entire year to accomplish is in place and working!
Our everybody picture book area has been switched from a traditional book shelving system to a category based shelving system called  Picture Book City. Now we have a seamless system for early to intermediate readers to find books easily.
I was an early converter to a genre based fiction system. I've done some Dewey modification in animals and sports. There's more work to be done, but I'm happy overall with the changes we've made so far.
And then there's the everybody section. I couldn't stand seeing young children frustrated in their search for a book. They had more trouble finding books that the older students. I decided something had to change and I started the research process.
Lucky for me, other librarians paved the pathway before me. Amy Koesler, The Show Me Librarian wrote about her experience converting her picture book area in 2012 after going to an ALA conference session about re-organizing the picture book section. She coined the term Picture Book City. She also has generously licensed her work with a Creative Commons Share Alike License, so anyone can use her ideas! YES!
Storytime Katie, an early literacy public librarian near Chicago also wrote about her process in switching her library in a series of blog posts.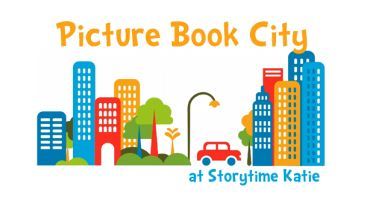 Then the icing on the cake was when our local public King County Library System converted the picture books in every branch in their entire system to a category based program. The blog post Finding Picture Books Can Be Child's Play published by the Urban Libraries Council outlines the innovative reasoning and research behind their decision to move away from traditional book shelves for their young readers.
If these three public libraries could take this innovative step, then so could I. We spent all of the last school year deciding on the categories and getting the books ready. After students left in June, I re-arranged all the picture books so we could open in September fresh with the new system.
Soon we will have a new logo. The temporary one I made will be replaced by one that a graphic artist at one of our high schools has designed. I can't wait to see it. I will also write more about our process from beginning to end in a series of blog posts.