Before reading book number 1 in the Global Read Aloud Lauren Castillo book study, we talked about this question. I asked students in grades 1 and 2, "What do you call your grandmother?" Because we have students from countries all over the world, the answers were varied.
The names  Grammie, Grammy, Grandma, Nana,  Gram, and Grannie were some of the common American nicknames students suggested.
Then we asked students who speak other languages what they call their grandmother and we had some of these answers. Grandmere – French, Oma – German, Nonna – Italian, Sobo – Japanese, Lola – Tagalog, Abuela – Spain/Mexico/Peru, South Korean – Halmoni, Russian – Babushka, Portuguese – Avo, and India – Awa.
We learned that in Chinese, you say one name for the mother of your mother, and a different name for the mother of your father. Thanks to one of our parents, we learned what the name looks like in Chinese characters. We even Tweeted it out on our CRReads library Twitter account.
Nana in the City is book one in our six week Lauren Castillo author study. Lauren was chosen as the featured author/illustrator in the 2016 Global Read Aloud program. This project started October 3rd and will run for approximately 6 weeks.
The idea behind it is very simple; teachers around the world read the same book aloud to their students and then use technology to share the reading experience with these other classrooms. It is a free project and it fits perfectly into the standards we have to cover.
Our school is one of the red markers hovering over Washington.  Each week we will be reading one of the selected picture books and then connecting with other classrooms around the world via Twitter,Padlet and this blog. Students will get an authentic global experience by talking about books with other librarians and students. Our library Twitter account is @CRidgeLibrary  We only tweet with other classrooms and libraries on this account.
We also played at BreakoutEDU game at the end of the author study. Here are some photos from our librarians playing the game.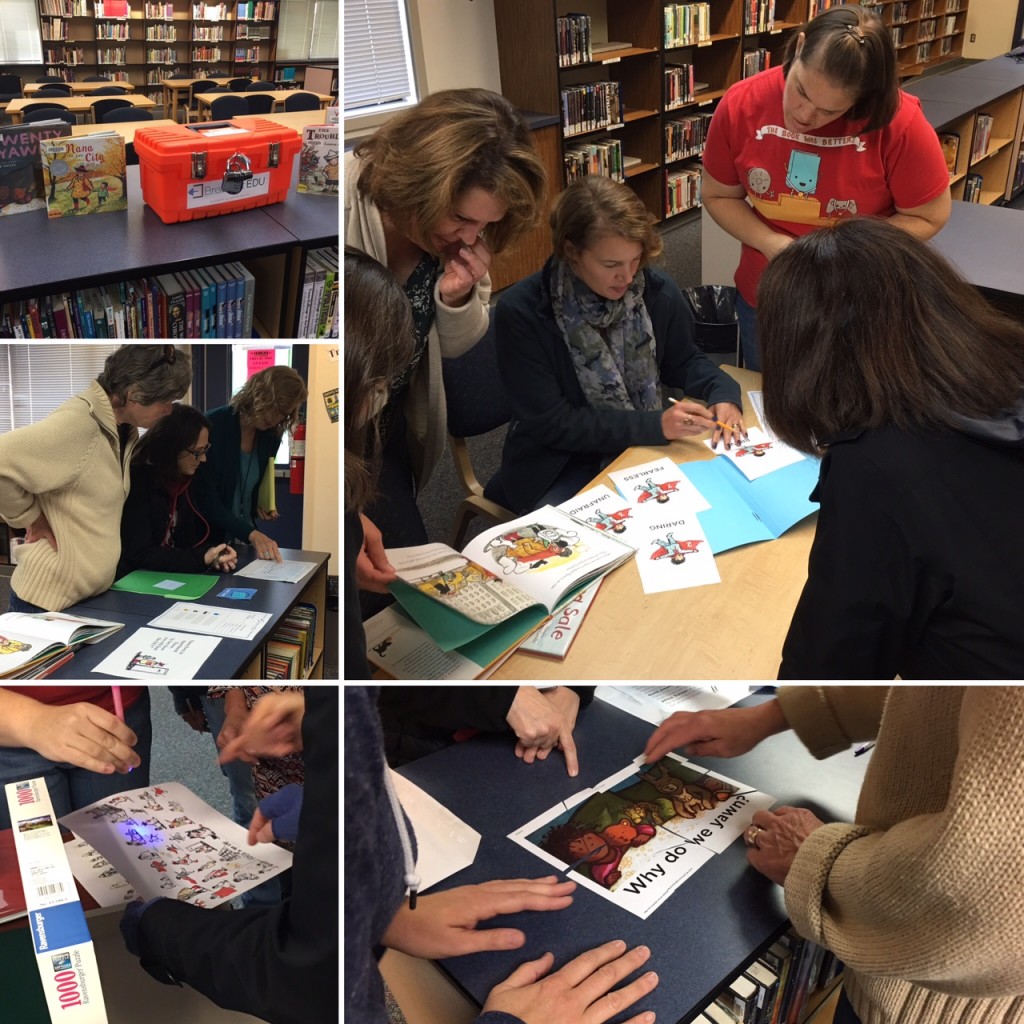 Have you ever played a BreakoutEDU game? Are you participating in the Global Read Aloud this year?