Our PTSA honors amazing volunteers each year with the Golden Acorn Award. The recipients are chosen for their excellence in service to the school community. They are dedicated to making our school a better place for all of the students.
This year's winners are Cynthia Lydum, Dara Schaffer and Celinda Hoover. As a tribute, we now have added three new Backpack Buddies to our collection. These interactive reading backpacks are ready for checkout for our primary age students.
Backpack Buddy "Ballet Cat" for 2017 Golden Acorn winner Celinda Hoover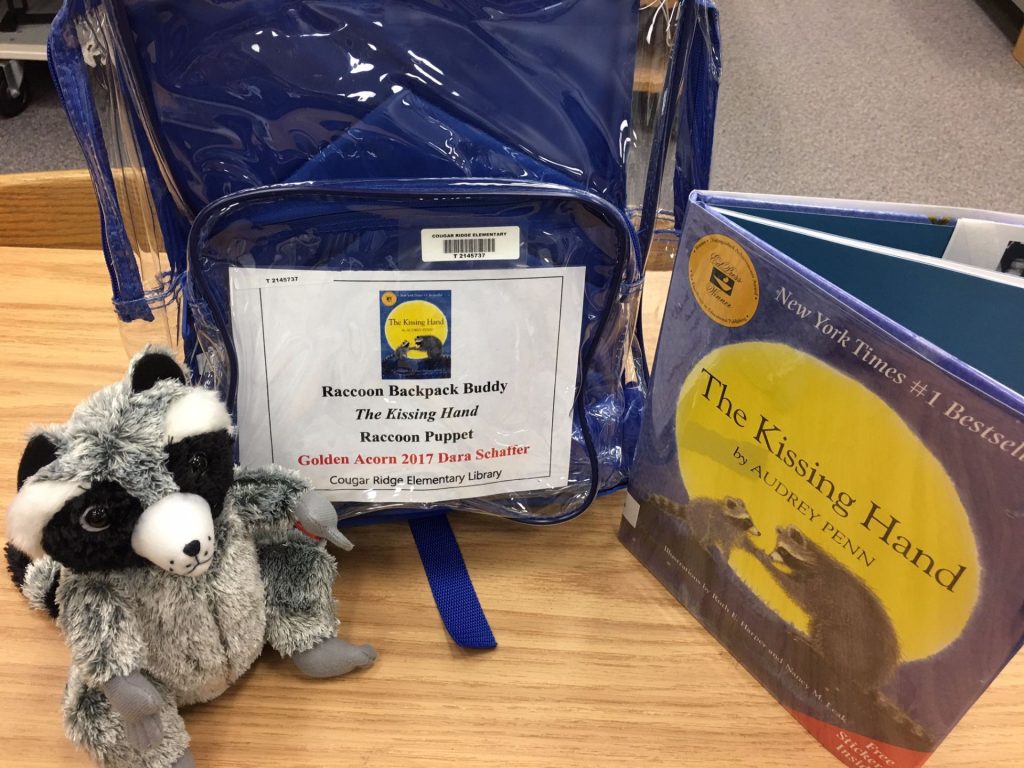 Backpack Buddy "The Kissing Hand" for 2017 Golden Acorn winner Dara Schaffer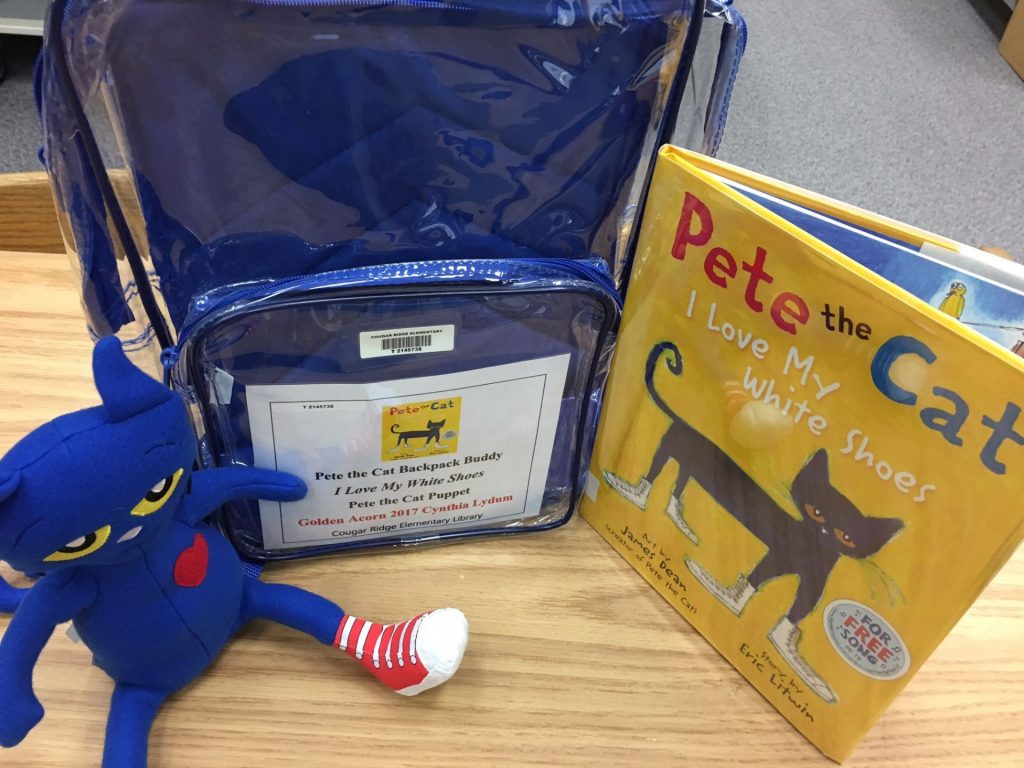 Backpack Buddy "Pete the Cat" for 2017 Golden Acorn winner Cynthia Lydum
I have been creating backpack buddies for many years, but recently started the program at my present school in the fall of 2016. Each backpack has a hand puppet or a stuffed animal and a matching book. The idea is for children to practice reading in a fun manner. I got the idea after working with my former Reading with Rover therapy dog. Students sat down and read to him. The format takes away the stress of reading because nobody is correcting the child if they say a word correctly or read slowly.
In the Reading with Rover program, children with reading difficulties actually read stories to a dog and the logs love to listen. a child that may be hesitant to read aloud to his peers is typically less stressed when reading to a dog and the dog never judges the child's reading ability. Click this link to learn  more about the local Reading with Rover program. There are local events at the Crossroaads Community Center in Bellevue and at the KCLS Sammamish Library in Sammamish.
Since we can't have therapy dogs on campus, Backpack Buddies are the next best solution. The stuffed animal or puppet is used as the listener and the child reads with a quiet and very attentive audience.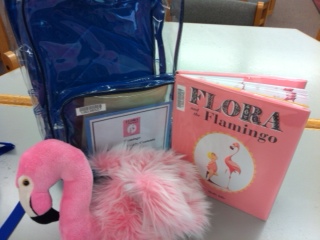 Example of a backpack buddy coming soon to the library!
We now have about a dozen backpack buddies with more to come this spring. Due to the limited numbers of backpacks, only students in grades 1 and 2 are able to check out backpack buddies at this time.
If you would like to create your own Backpack Buddies, I have found the clear, large take home backpacks from Lakeshore Learning to last the longest. I love the flush puppets and book character dolls from Folkmanis and MerryMakers. You can often find the same items in local quality toy and book stores.
I also try to have an assortment of fiction and non-fiction topics that appeal to primary aged boys and girls. The kids can practice reading non-fiction and using text features without knowing they are doing valuable homework.
If you have any other questions, please leave me a comment and I will try to answer your questions.
Happy Reading,
Julie