Welcome to the Bulldog Readers Blog! 
 I encourage guests to leave a comment. All comments are strictly moderated by Mrs. Hembree and only comments that are approved will be published. Blogs are a fantastic tool to share thoughts and ideas with a world wide audience.
 However, because a blog is a public space that is seen on the internet,
 it is important to follow the listed guidelines to make sure this blog is used in a secure and safe manner.
 All comments submitted must be approved by Mrs.Hembree before they are posted on our blog.
This helps me make sure that unwanted or rude comments are never seen by the public.
It is very easy to leave a comment on the blog.
 In fact, the comments are some of the most important parts of the blog!
 This is where we exchange ideas, meet new blogging buddies and learn from each other!
To leave a comment, click on the comment box directly underneath the title of the blog post.
This is will open up a new window with all of the comments listed in order received.
If someone replies to your comment, it is listed below it. This is called "threaded comments".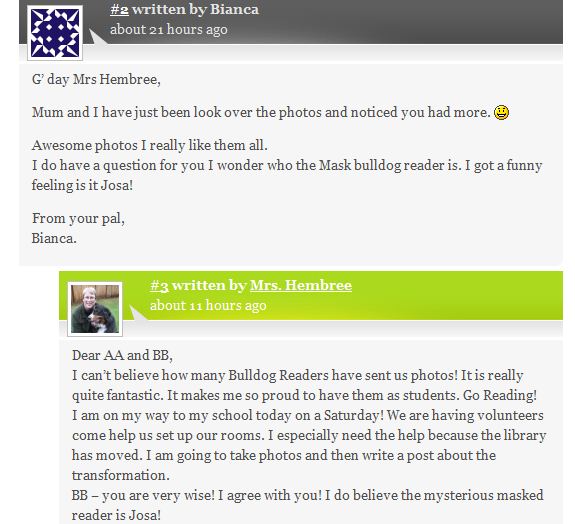 Scroll to the very bottom of the comments until you see the blank boxes.
This is where you will type in your comment.
The explanation of the boxes is below!

Include your first name only. Parent's please don't use your last name.
You can use initials or say "Joe's Dad" or Mary's Mom.
Your email address. It will not be published.
Website. This is where you can type in your website address if you have one.
Our blogging buddies from other schools often fill this out.
It is not required!
ANTI-SPAM WORD!!!
You must fill this is, so the computer knows you are a human being. Otherwise, we get lots of unwanted "spam" email.
This is the actual comment box. Type in your comment. It is just like writing a letter.
When you are done, push the submit button! Your comment will now go to moderation and wait for the moderator to accept it for publishing.
The Techie Kids have written an awesome post about how to write comments on their blog. They have also included videos from some of our blogging friends around the world. Click on TechieKids blog to view.
 Comment Rules:
 

There are some common rules that bloggers follow when making a comment.
The biggest one is being nice! It's a pretty easy one to follow!
Only first names or initials are used for comments or student posts.
Parents who leave comments are asked not to use last names either. (Please post comments as "Annie's Mom" or "Daniel's Uncle", etc.)
Any photos of students on the blog will be completely anonymous without any names connected to them, unless specific parent permission has been granted.
All comments or posts have to be approved by Mrs. Hembree before they are included on the blog. Inappropriate or sloppy writing will not be approved.
Be respectful and thoughtful always. Make sure your comment is something you would want everyone to see.
Proof-read your comments carefully and use appropriate language, grammar and spelling.

No text- or mobile phone language please! Full sentences and words only please!
Comment Ideas:
Wondering what to write in your comment?
Look at what other people have written.
Sometimes reading their comments will help you continue a conversation.
Here are some other ideas!
Are 2-5 sentences in length (could be more, but not less please)
Give new information (write a book review for example)
Give and support your opinion
Ask questions
Reply to another posted comment
Respond to others respectfully and thoughtfully
 

Possible Comment Responses:
This made me think about…
I wonder why…
This post is relevant/important because…
Your writing made me think that we should…
This is important because…
Another thing to consider is…
I can relate to this…
I was reminded that…
I don't understand….
I found myself wondering….
Many thanks to Edublogs and all the listed blogs on its guidelines page for ideas, tips and tricks for setting up blogging guidelines. http://theedublogger.com/2010/01/11/week-2-set-up-your-blogging-rules-and-guidelines/