Have you ever wondered how the astronauts do normal things in space?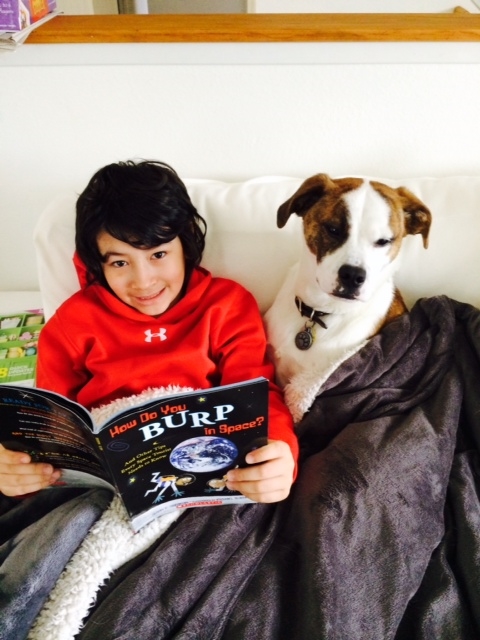 Kaito has the perfect book to answer those questions! I can bet he would like to meet Chris Hatfield to ask him this question and more. Who is Chris Hatfield you ask? Kaito, do you know?
Recently Miss Y, one of our librarian friends in Australia, drove seven hours from her home to Canberra to meet Chris Hatfield. Sadly she was not able to get a photo of a book signing with him, but she sent us this photo with some other astronauts and a blog post about her visit.
Last year I followed Canadian astronaut, Commander Chris Hadfield on
Twitter while he was on the International Space Station for 5 months.
Each day he would tweet incredible photos of Earth that allowed us to see
our planet in a new way. He also made videos of what life was like living
on the space station and he also sang and played guitar with Canadian
children to from space for Music Monday. You can read about this on our
LRC blog.
http://http://smotlrcblog.edublogs.org/2013/01/31/commander-chris-hadfield-at-the-international-space-station/

Commander Hadfield has written a book called 'An Astronaut's Guide to Life
on Earth' that I have read a few times now! He decided to become an
astronaut at 9 years of age and worked hard to make his dream come true.
When I heard he was visiting Australia for the first time I knew I had to
hear his talk called 'The Sky is Not the Limit'. I booked tickets to see
him in Melbourne where I live and also in Canberra which is a 7 hour drive
from Melbourne and both times he was truly inspiring! Sadly I didn't get
my book signed, but I did find two 'astronauts' in Canberra for a fun
photo.

Commander Hadfield has a new book coming out in October called 'You are
Here: Around the World in 92 Minutes' with photos he took from the Space
Station. Mrs Hembree and I are both very excited to hear he is also
working on a picture book with the wonderfully creative Peter Reynolds –
we can't wait until it's published!

When Commander Chris Hadfield visits Seattle make sure you go and see him."
Thank you so much Miss Y for sharing this post with us! We will have to be out the lookout for when Commander Hatfield comes to the Seattle area for a visit. I can't wait to see what he does with Peter Reynolds! Thank you Kaito for your photo! It was perfect timing to receive two photos about space and astronauts this week, especially one from another continent! Now we have photos from Australia, Europe, North America, and Africa.