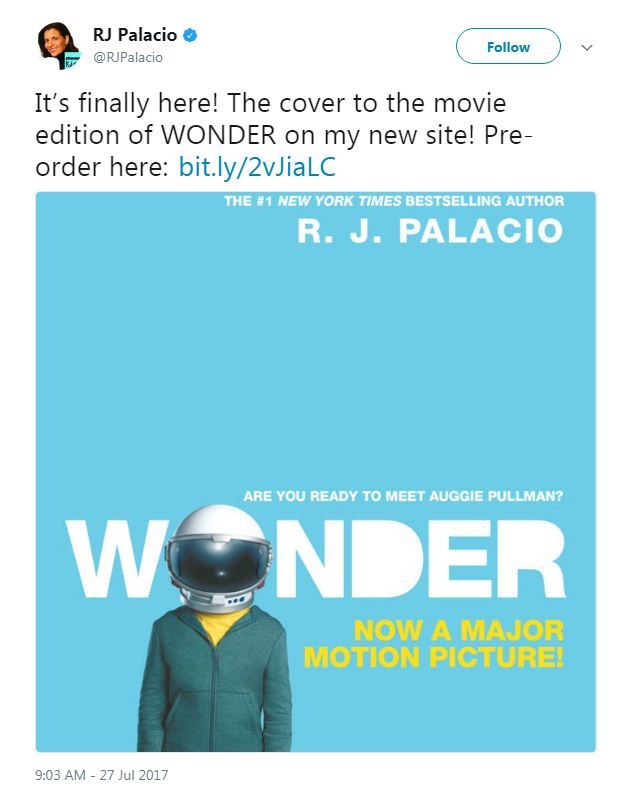 I first read Wonder in 2012 and lost track of how many times I've recommended it. This book about ten-year old Auggie who was born with Treacher-Collins Syndrome which affects a person's facial features.
"My name is August, but the way. I won't describe what I look like. Whatever you're thinking, it's probably worse." page 3
Now this #1 New York Times bestseller is being released as a major motion picture on November 17th, starring Julia Roberts, Owen Wilson, Jacob Tremblay, Daveed Diggs, and Mandy Patinkin.
We have a copy of the new version of Wonder which includes full-color movie photos, exclusive content and a foreword by Stephen Chbosky, co-screenwriter/director of Wonder.
I have adored Auggie, his friends and this amazing book for years. As Stephen Chbosky writes in the foreword, "RJ Palacio has given our world- and our troubled times-a ray of light. A silver lining big enough for any gray cloud. A standing ovation for empathy itself. She has taught us that no side "owns" kindness. We can only practice it."
I am looking forward to this movie. The previews look fantastic! I just hope I bring enough tissues…