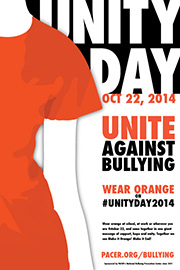 What do orange cookies, an enormous Green Giant statue sporting an orange toga, and Ellen DeGeneres wearing orange on national TV have in common? These are all ways people have celebrated Unity Day, a national event developed by PACER's National Bullying Prevention Center to show support for students who are bullied. This year, students, schools, organizations, businesses, and communities across the country will wear orange in support of Unity Day on Wednesday, Oct. 22.

This includes our Bulldog Readers! We will be showing our support by wearing orange at school on Unity Day on Wednesday.

Everyone can take a step toward ending bullying, which is why this year's theme The End of Bullying Begins with Me is so powerful.
"Unity Day is a great time to send an orange message of solidarity against bullying," said Paula Goldberg, PACER Center's executive director. "We encourage everyone to come together in schools, communities, and online to unite against bullying. When we stand together, no one has to stand alone."
Besides wearing orange, we will be reading bully prevention stories and handing out special bookmarks in the library.
There will be a special display of books for students to check out as well. Can't stop by? Here is a list of wonderful books you can find at your local library or bookstore. One book I will definitely be reading this week is The Invisible Boy by Trudy Ludwig.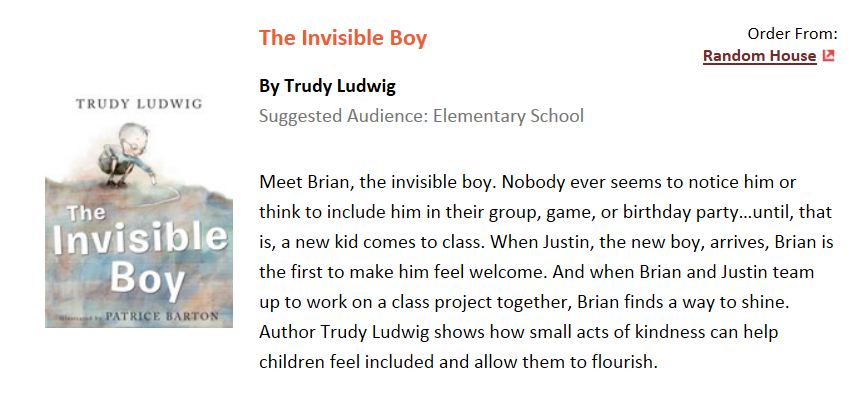 Trudy Ludwig is a Pacific Northwest author who wrote her first book My Secret Bully after her own daughter was bullied by her friends. Visit Trudy Ludwig's website for more information.
"Choose Kindness" is part of Disney ABC Television Group's efforts to create a bullying prevention campaign to encourage kids and parents around the country to help put an end to bullying by choosing kindness. Club Penguin has teamed with 14-year-old Alex Angelo, host of Radio Disney's "Saturday Night Party" with Alex Angelo (Saturdays, 8:00 p.m.-10:00 p.m. ET / 5:00 p.m.-7:00 p.m. PT), who is a big supporter of the bullying prevention cause. Watch Alex's video as he shares the message to "Be Heard" and stand up against bullying.
*All photos and portions of the text of this blog post came from the official National Bullying Prevention Center press release. When you visit their website, you will see lots more information including stories, videos, resources, and ways you can become involved.
************
How does wearing orange help prevent bullying?
What anti-bully or choose kindness books are your favorite?
Leave a comment and let us know!