lukexmartin via Compfight
As I scanned the room, I could see that every hand was in the air. I had asked my students to raise their hand if they had ever said or heard someone else say, "That's Not Fair!" No surprises to my eyes, or to a parent volunteer in the room who said, "I hear it everyday at my house". What is fair or not fair, was the topic of Amy Krouse Rosenthal's book for week 3 for the author study in The Global Read Aloud.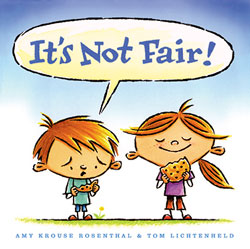 In this very amusing book, the characters whine about the unfairness of not having something another character has. The koala bear is unhappy about always being on the bottom tree-limb bunk, a child is angry because he can't have a pet giraffe, a girl is sad because she has to wear glasses and the pig is angry because the bird took all the wings. The babies are crying because nothing is the same. Every situation is unfair, unfair, unfair.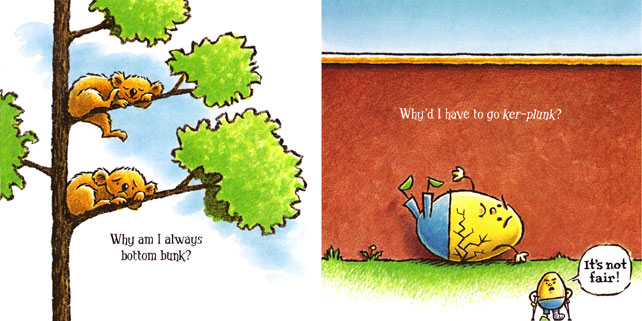 Or, is it?
Krouse's book is the perfect introduction about the definition of fairness vs. equality. Is fairness when everyone has the same thing? Is it good when we are always treated equally?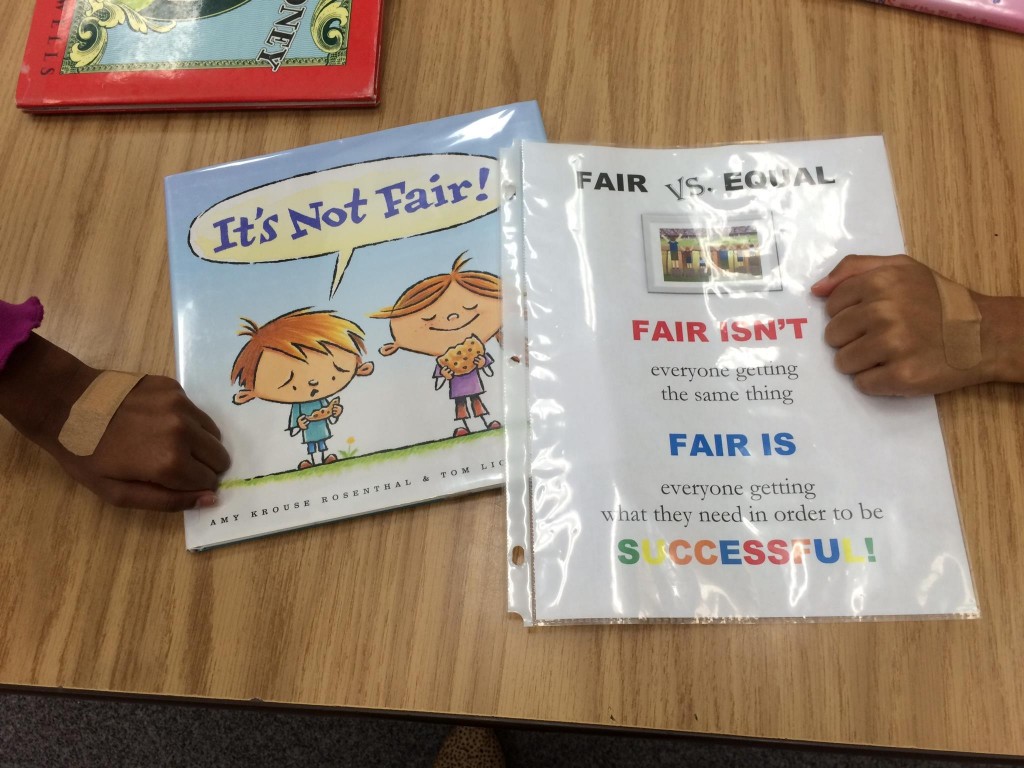 We talked about the definition of equal means that everyone gets exactly the same thing. For example, everyone get a fork to use to eat their food, or everyone gets a bandaide for their cut. These examples work until we think about the people who use chopsticks to eat and they have been given a fork to use. Is it fair or equal that the utensil they received is exactly like everyone else's when what they really need is a pair of chopsticks?
Fairness on the other hand is when everyone gets what they need in order to be successful.
This definition is not easy to understand at first. In class, I used the example of eyeglasses to illustrate the concept. I wear glasses to see and in every class, there was at least one or two students who also need glasses. We need glasses. If we don't have glasses, we can't see.  Then I posed the question, "Would it be fair or equal, if every student in class was told that they also had to wear glasses because I wear them?" We talked about their answers and they began to understand the difference.
Then I handed out a bandaid to each student. I asked them to point to a part on their body where they have been cut in the past and needed a bandage. We pretended to put the bandage on that part of their body to illustrate that it was fair for each person to put the bandaid on different parts of their bodies because it was where they needed it. However, then I asked them to put the bandage on the back of their hand in a place I decided what right. The students quickly understood that this situation was equal, but not fair because they couldn't put the bandage where they needed it.
At the end of the lesson, I followed up with the sentence that I will always be fair in how I treat students, but it won't always feel equal, and that's okay. Next week, we will learn about punctuation marks with the book Exclamation Mark, and slip in a favorite Halloween book as well!
Next week is also a Global Read Aloud Random Acts of Kindness week. Amy Krouse Rosenthal wanted to contribute to events for GRA15 and came up with the idea. You can read more about it on the GRA blog post here. Amy has videos with kindness ideas you can try at home and at school. What kindness will you spread? If you are a student, make sure you talk to your family and have them part of the conversation. Please use the hashtag #GRAK15 to share your ideas and acts! Leave a comment and let me know how it goes!