Did you know that if Benjamin Franklin had his way, our national bird would have been the wild turkey? Yes, it's true! After the 13 colonies voted for independence from Great Britain, the colonists decided they needed a national emblem or official seal.  Most of our founding fathers felt that the bald eagle represented freedom, spirit and integrity. At that time, tens of thousands of these magnificant birds lived in North America.
Benjamin Franklin was not a fan of the bald eagle however. He thought it was a bird of "bad moral character" because they were known for taking food from other birds! He didn't think the eagle was a "proper emblem for the brave and honest."
Instead….Ben Franklin thought the wild turkey offered a better choice. It is a respectable bird and an original native of American. "A bird of courage" he wrote.
Against Franklin's views, the Second Continental Congress accepted the Great Seal of the United States with a bald eagle in its center, not a turkey.  Now, we see the bald eagle on coins, paper money, many US stamps, and military coins and pins.
Our third graders have been learning about national symbols and emblems.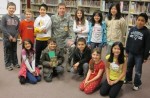 To tie-in with that theme, Ms. Valenta's 2/3  class did some bald eagle research in their library class. With the help from Mr. Monteith and Airman Anthony Hembree, US Air Force, the students were each assigned to research 3-5 facts about a specific part of the bald eagle. Then they recorded their facts and we made a movie using Microsoft Photostory3. You can view the movie below.
 
  
In the Seattle area, we are spoiled because hundreds of bald eagles call our area home. It is not unusual to see them perched high in the tops of trees or swooping down to the water to catch a salmon. 
 Recently, I found out about a live camera that shows a pair of bald eagles 24 hours per day from Mrs. Yollis's Classroom Blog.  Her students have been viewing the eagles and making comments on her blog. If you click on this Live Eagle Camera link, it will take you to the eagle camera in Iowa. Please note that when you first click on the link, there is a 20-30 second advertisement, and afterwards, it switches to the live camera.
There is also a live camera on a bald eagle nest on Lake Washington in the greater Seattle area. This camera is maintained by the Department of Fish and Wildlife. Click here to view the WildWatch eagle camera in Washington.
Have you ever seen a bald eagle in person?
What new fact did you learn from our Bald Eagle video?
Leave us a comment and let us know!