Category Archives:
EZ chapter books
Ola is, I think, our resident Rainbow Magic Series expert. She has read nearly all of them, which means I need to get to the bookstore soon to find some more to keep her happy! Thanks for writing these wonderful reviews Ola and of course, …keep reading! Mrs. Hembree
Recently she submitted these reviews on 3 of the books….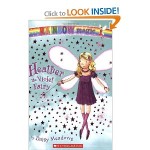 Rachelle and Kristy are excited. It's their last day on vacation. They want to save Heather the Violet Fairy. They spot a ribbon that says, "Follow me", so they follow the ribbon. The Ribbon leads them to Heather. Fairy rescued! Now they need to go to the pot on the rainbow and she and her sisters are saved. Yay!
Everything in Fairyland is normal until one day a goblin comes in and steals all the "fun-day" flags. The flags help people have fun. Kristy and Rachelle are ready to help. So they find the flag and go and return it to Fairyland. Six more flags to go…
Oh No! The goblins are up to no good again! They stole all the Christmas presents! Rachelle and Kristy have to find Holly. They are supposed to find 3 special presents. So they do. They give the presents back and save Christmas Day! Now everyone will have a great Christmas thanks to Kristy, Rachelle and of course, Holly.

Now the dance fairies are in danger. They lost their ribbons. They help Bethany find her ribbon at the ballet. They make a trick. They trick the goblin and get the ribbon back. Six more ribbons to find!

Lily found a seed. Lily and Iris are planting the seed. Now since the seed grew, everybody is asking Lily about the stink that is coming from the plant! Is something wrong with it? Lily tells everyone nothing is wrong with it. I wonder what will happen next! Read Lily's Pesky Plant to find out! (This book is one of the Disney Fairy Series books)