Who says February in Seattle is cold, rainy, and dreary. Not in our library!
We are celebrating Love Your Library Month with a little fun!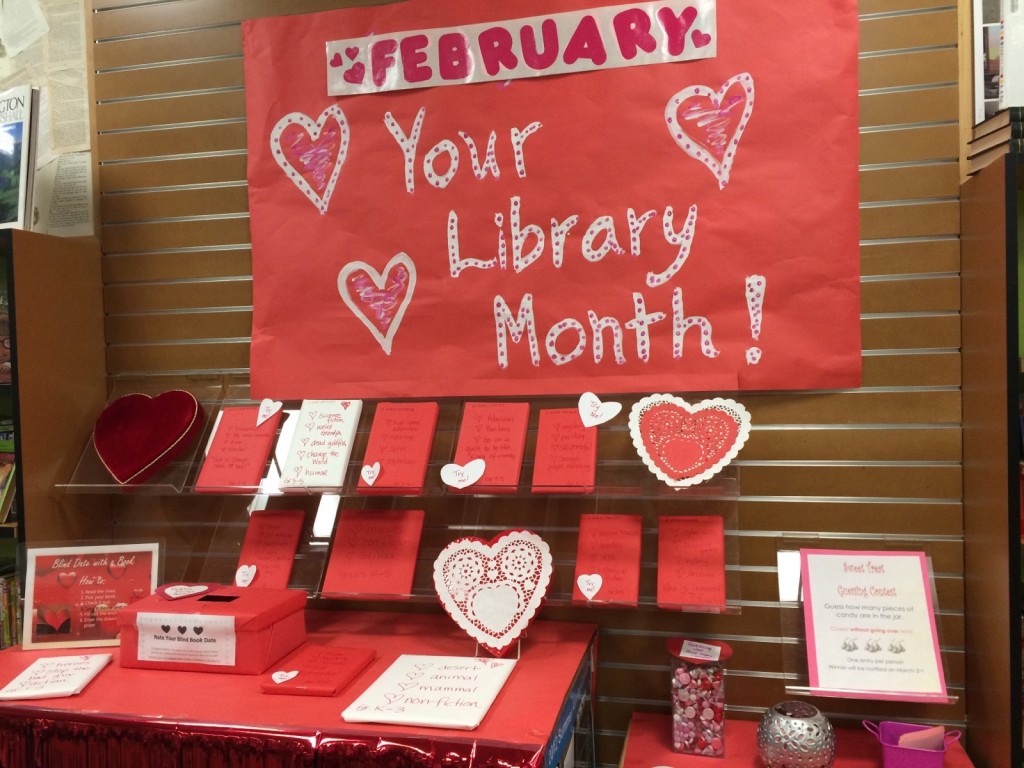 Go on a Blind Date with a Book – Everyday I put out 5-8 Blind Date books for students to check out. Each book is wrapped and has hints on the outside. Inside, there is a rating sheet where students can read the book and then rate their reading date. They make comments on the cover and how they liked or didn't like the book. Return rating sheets are eligible for a daily prize.
Candy Guessing Jar – How many candies are in the jar? Combine the library and math and you get a fun guessing contest. Each day I pull a random guess slip from the container and that student wins one of the daily prizes. The Big Prize goes to the student who has the closest guess, without going over. The prize winner will be announced on March 2nd, Dr. Seuss' birthday!
Why I love My Library – We also have a comment sheet where students can share why they love our library. Again, students who participate may win one of the daily prizes.
Love Your Library Bookmarks – We partnered with Mrs. Camp, the librarian at Benfer Elementary School in Klein, Texas for this activity. Her second grade classes made our students bookmarks and we did the same. Now they are in the mail and traveling to their new homes. This is the second time we have partnered with Mrs. Camp's classes. Last year we shared poems during Poetry Month. Check out the acrostic poems on their blog.
Lollygrams – The Books to Africa club is also selling lollygrams next week. All proceeds will go to purchase postage to send books to our partner schools in Africa.
If you are looking for ideas you can use in your library check out the dozens of ideas on Pinterest. Nearly every student who has come to the library to participate in one of our contests has also left with a book! It's a win-win Reading Month!