There are just some lessons in the library that can be drier than sun burnt mud no matter how much I have tried to make them interesting. Librarians you know what it's like. You have to teach THAT LESSON, but 3 minutes into it, the kids are picking at the carpet, staring off at the corners of the room or waving their hands and pointing at  the cobweb they found in the art installation. Trying to ignore it all (and secretly hoping full chaos doesn't start) you keep going because it's the required curriculum topic.
Alper Küçük via Compfight
We all have those lessons. My struggle has been helping students understand the difference between fiction and non-fiction in a fun way. The lessons have been okay. Nothing great. Certainly not newsworthy. And I'm pretty sure they aren't part of the conversation at the dinner table when the kids tell their parents about the best part of their day.
I had some extra time yesterday and was searching AGAIN for a quick mini-lesson to go along with an author/illustrator study emphasizing that Lauren Castillo's books are fiction, not non-fiction. I admit, my effort was a bit lackluster. I was scrolling through my browser on one screen and deleting old email on the other. Then I came upon my reminder email about my subscription to Flocabulary. Flobaculary teaches concepts through hip-hop music
I'd signed up in September, but hadn't tried anything out yet. I was supposed to do a review, but I hadn't done that either. Okay I thought, I wonder if there's a video on fiction and non-fiction in Flocabulary? Sure enough, the first video in the Reading and Writing section, was one on Fiction vs Non-Fiction.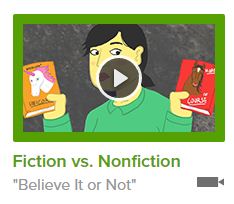 Could it be my lucky day? Fridays are notoriously NOT lucky days, so I admit, I wasn't exactly holding my breath. I pushed play and the next thing I knew I was rockin' in my school chair. (thanks Pete the Cat). I liked it. Now, the question was would the kids AND would the info stick in their brains?
Four Friday afternoon grades 1-3 classes later, I can say yes, the music video worked! Hurrah! I pushed play at the minute they sat down and they were engaged from the first beat. If there was ever a lesson we could learn from Sesame Street or any other children's show, is the combination of music and learning works. Make that music hip-hop and these 21st century learners are ready, engaged and learning.
Later when we finished reading Twenty Yawns by Jane Smiley and Lauren Castillo, I had a sea of hands to choose from when I asked,  "What kind of book is this, and how do you know?"
Thanks Flocabulary for turning what is usually the dreaded lesson into, "Can we watch that again next week?" 
Blogger note –
I did not get paid for this review. Nobody made me write it. I like Flocabulary because it worked for me. If you would like to learn more, you can sign up for a free trial on the Flocabulary website. They have songs & videos for the major content areas, plus the Week-in-Rap videos that summarize the major news stories for the week. The teacher handouts have the CCSS listed, quizzes, handouts, lessons – the basics you need to supplement your lesson. Check it out. Rock on….