I am pretty sure that I was born to be a librarian. I read at all hours of the day and night. I can't eat breakfast without reading something to keep me company. I read on vacation in really peculiar places.
I love also teaching, but we all know that even though you may have a dream job, every day in the classroom isn't a perfect day. Some days are trickier than others. When you step through the front doors of the school, you can never be sure of what kind of day it will be. Will it be good, okay, or one of those you need to forget?
Today was one of those days. No, not the bad one. The kind where you sit back, smile, and pinch yourself that you are lucky to be a teacher. The magical kind of day.
The day actually started a couple weeks ago when one of the teachers at school walked in the library and asked if I had any recommendations for a read aloud for her class. She was hoping to start the year with fantasy, but didn't want anything super long.
It just so happened that I had just finished reading The Dragon of the Month Club by Iain Reading. I handed the book over, with a brief overview and off she went. Periodically I would see her in the hall and she updated me on the book. Each time I heard the comments, my day would get a little brighter. Her students were LOVING it! I was thrilled that my suggestion was working out so perfectly. That, however, is not my story.
My story, my magical story happened this afternoon at about 1:30 in the afternoon. I was knee-deep in paperwork and trying to make sense of the mess that was my office when a group of girls ran in yelling, "Mrs. Hembree, Mrs. Hembree, you've got to come see our dragon!"
I stepped out of the room to see a group of giggling and ever so proud girls. They were tumbling their words over each other in their excitement to show me what they had made. In their hands was a brown cardboard dragon. More specifically, it was a Dell Technology Dragon made from the left over cardboard they found outside the computer lab. It had a wavy long tail with a wide point at the end. The mouth opened and closed. The body was made from the packing material covered with a wide set of wings.
Inspired by the dragons in the book, they had decided to create their own Dragon of the Month. The magic of the story for me at least was to see a group of girls, take a book they so clearly love and make something original and creative. They made a made project, and NOBODY asked them to! It wasn't a homework assignment. It wasn't something they had to make for a book project. This was a dragon born from love of reading, a bunch of trash cardboard, and a big slice of creativity!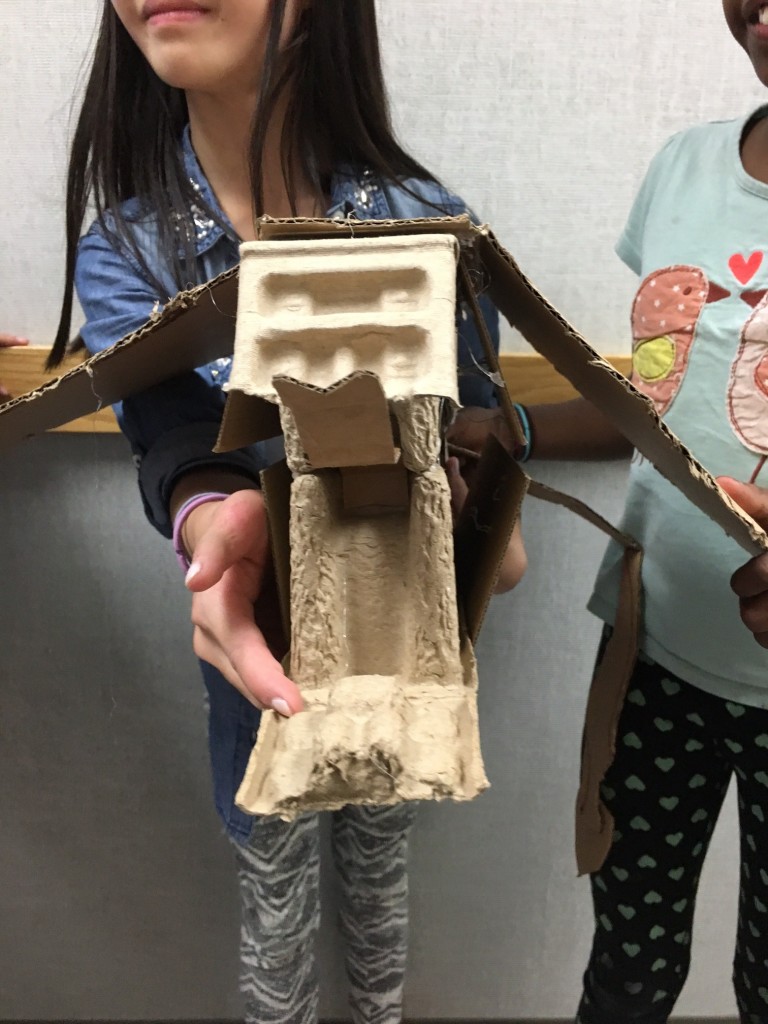 I quickly grabbed my cell phone and captured photos of the designers and their Technology Dragon. I sent them back to their after school class and got back to work on my mess with a big smile on my face.
At 4:00, I was still there (although the mess was manageable now) when the girls ran back inside the library again. This time, the dragon was decorated with brightly colored duct tape on the wings and a silvery tape for the body. They found hot pink tape for the tongue and while they only found one wiggly eye, they figured out how to craft another one that looked almost the same. This Dell Technology Dragon had bloomed into a vibrancy all its own. The girls were on cloud 9 too. They showed me the hand signals they created for the dragon (something from the book). They told me about their plans to write to the author and tell him about their dragon.
As they left the room, I was given the responsibility of Dragon-sitting for the evening. In the morning they would be back to bring the dragon to their classroom and show their teacher.
I have a feeling that she is going to have a magical day tomorrow…
I hope too, if Iain Reading ever reads this post and finds out how special these students think his book is, that he too will have a magical day as well.
This is the power of books. They can bring the magic out of students in ways you would never believe could happen.