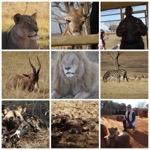 To correlate with my library curriculum, Common Core Standards,  and our Books to Africa project, my second graders have been researching facts about land mammals in South Africa. We used our library iPads, the database PebbleGo (I LOVE PebbleGo!!!) and the app ChatterPix (aka ChatterKid).
I am thrilled with the results because the kids were highly engaged through each stage of the process, including the end where they got to record their mini-report on ChatterPix. I documented the process in this Sway.
If you are interested in making a Sway, check out this link. I love Sways because they are incredibly easy to make and embed in blogs without hassles.
This is my first experience with using iPads in the classroom and as with any project it came with its own set of problems because of my learning curve. I really wish there was a way to transfer files with a USB. After working out how to get files from five different iPads to my iPad (thank you Dropbox), I found one BIG area for improvement next year. I have five second grade classes and the video management quickly became very complicated. Next year I will definitely limit each class to an indepth study of one animal. Lesson learned!