"Mrs. Hembree, can you help me find the wolf (substitute any animal) books?"
"Did you look on the poster to find the number?"
"Yes, but I can't find the number on the shelf, can you help me?
Sound familiar?  I moved to a different school this fall. The library has a big collection and is very well organized. We have a big poster with all the important animal Dewey numbers listed in alphabetical order. Yet questions about how to find books happen daily in my library and I'm willing to bet it's happened in yours.
We have signs with numbers on the edge of the shelf.  However, when you are 8 or 9 years old, trying to find a book with Dewey numbers extending two and three numbers past the decimal point is….well….pointless.
They can't find the numbers on the spine and give up. Even our parent volunteers find it difficult to shelve the books sometimes.
 Student frustration with finding the books they want to read is the major reason I switched to genre shelving in my fiction area.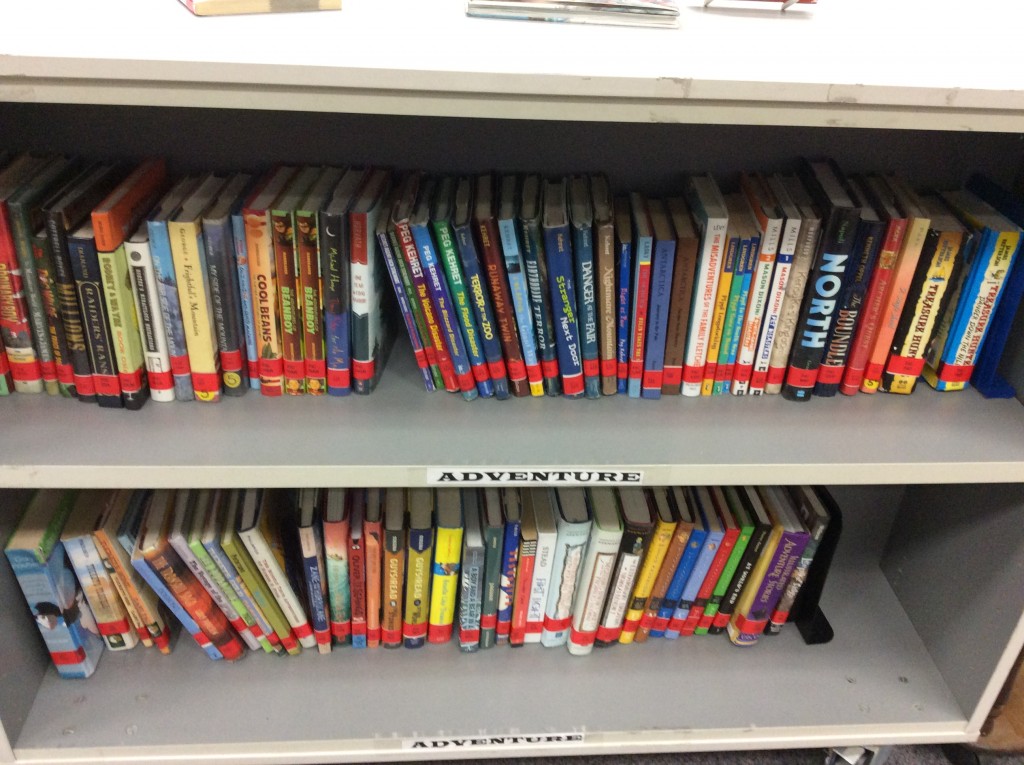 It's also the reason why last year in my former library I switched to a subject/theme organizational system in the picture books.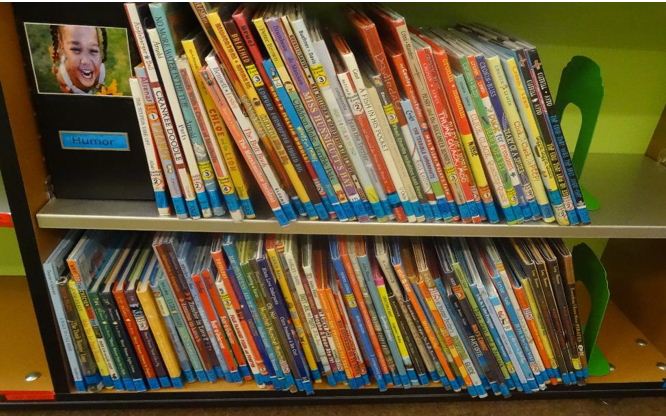 I plan to do it again in my new library, but that's a project for next year. When I do, it will be modeled after the method the King County Library System is now using with their picture books in the 48 public libraries in the system. Their changes came after research with parent focus groups to determine how parents think books should be organized. After analyzing the results, the picture books are now arranged by categories and have as many face out books as possible.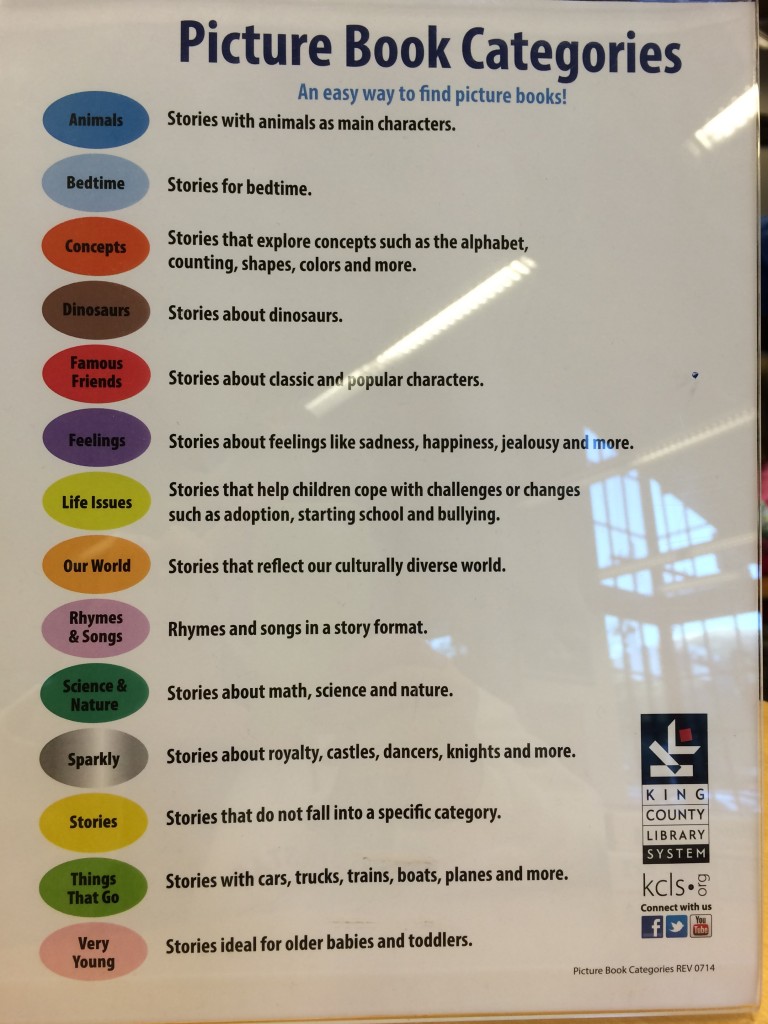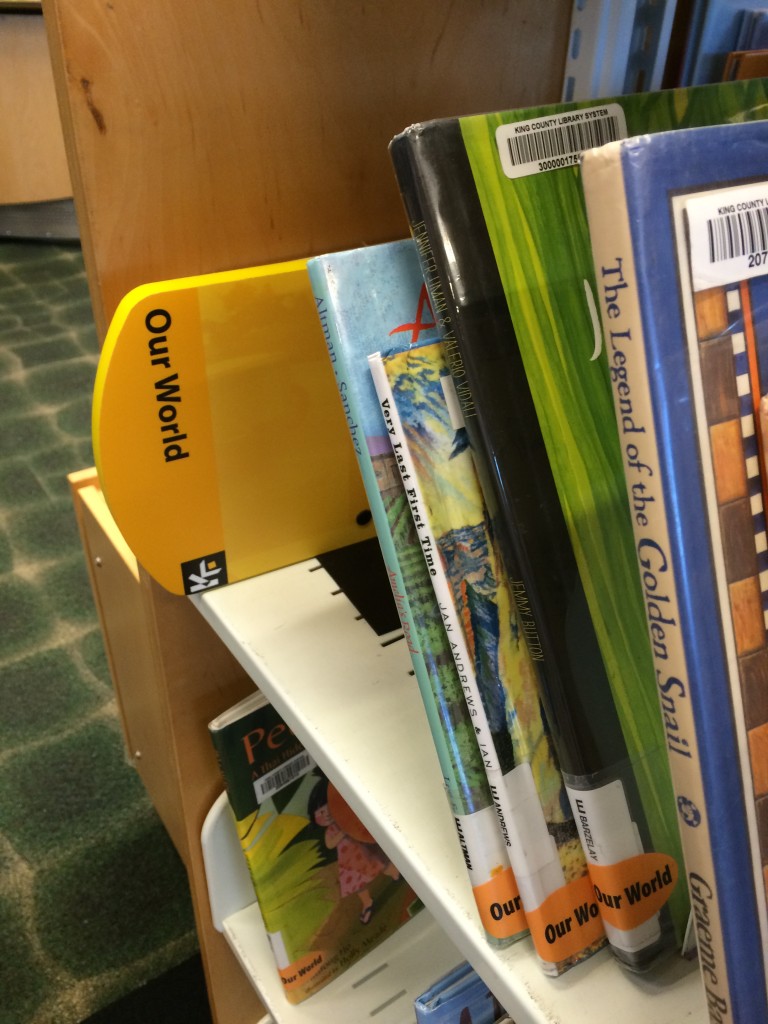 If it works for the largest library system in the country, I think it can work in my elementary library. While this bird walk into the KCLS shift may seem irrelevant, seeing the books on the shelf this way actually helped me take action on doing something about the non-fiction problem.
Back to the non-fiction books. I've never touched or messed with the non-fiction books.
Until now.
I've read countless blog posts and articles about librarians who ditched Dewey completely. I may not like Dewey 100%, but I do like the basic organizational system. In many ways it really works.  I wasn't ready to destroy a system that had its merits. I just wanted to re-vamp it, but I didn't know how. 
Then this fall I read a blog post on the Wrinkle in Tech blog by Mrs. J who simplified Dewey with a whole number dewey system. No more decimal points! She's made terrific signs to use to lead students to the area they are looking for. We exchanged a few emails as I asked some more clarifying questions. I thought I had an answer to my dilemma. I bought the signs on TpT and started adopting this method in certain sections. Yet, I still had the animal problem.
When students go to the shelf to find books on panda bears for example, they expect that all the panda bear books will be together, as in next to each other. Not some here and some more 5 books away farther down the shelf. After all, isn't that the point of the numbering system? It's what the kids think. Of course, that's not how it works in reality. I still needed to figure out how to keep the animals together on the shelf. I went back to the drawing board and dug deeper in my research.
To my absolute delight, I found a 2013 blog post Mammals: A Dewey "Do-over" by Sarah Ducharme on her Try Curiosity library blog. She figured out the solution, that is so obvious. Hallelujah! She organized her land mammals by animal and changed the call number to reflect the area and subject of the book.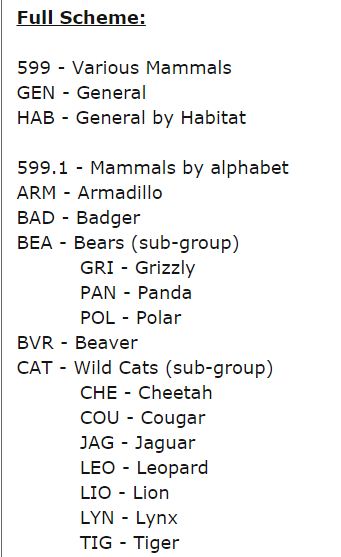 Generalized books on multiple mammals are 599, but all land mammals are 599.1 plus the animal name. For example, 599.1 ELE (elephant) All the elephant books have the same call number and are placed on the shelf next to each. Instead of having to remember an author's last name, a student can search for a book on the shelf in alphabetical order by animal. You can read a more detailed explanation of Sarah's system here. It's simple. It makes sense. It meets my objective of making it easier for kids to find books on the shelves independently.
Winter break gave me some time to think about how I could interweave these two systems in our library. It's also when I walked into the KCLS library and saw their complete changes. In addition I was reading Passionate Learners: How to Engage and Empower Your Students by Pernille Ripp for a book study group.  In chapter 2, I read this:
"Once again, reflection is where we begin. Ask yourself, would you like being a student in your own room."
I want our school library to be a place where students can successfully and easily find the books they want. It's not a book depository that must uphold the merits of an organizational system developed in 1876. My students are frustrated by our system. That part is obvious. If I was an elementary aged student, I wouldn't like how complicated it is to find a book in the library when it's so easy at a bookstore. Pernille's two sentences cemented my belief that change was not only important, it was necessary for students to be successful library users.
There's nothing like a new year to begin a new system. Not to be overwhelmed by the vastness of animals, I started small with the pet books. All the cat, dog, horse and other small pet books are together in 636 with a whole number dewey system. I typed up new call numbers, changed the numbers in the catalog and got to work re-labeling and shelving books.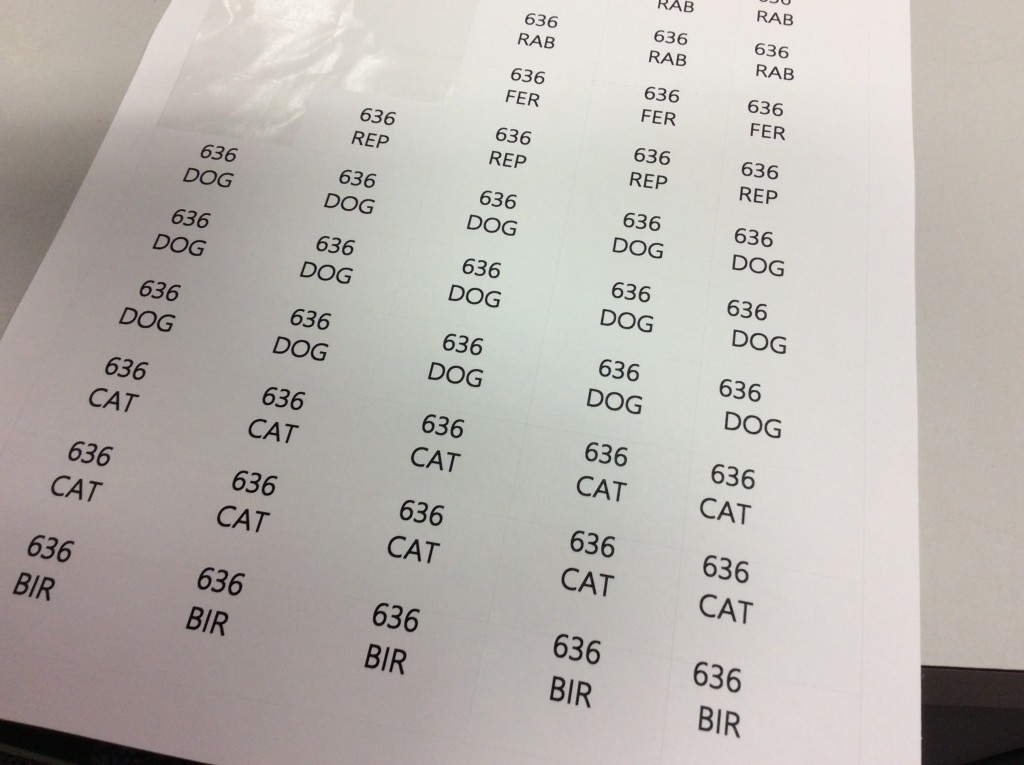 Furthermore, I decided that pigs, sheep and cows would be removed from this section and shelved with the other land mammals.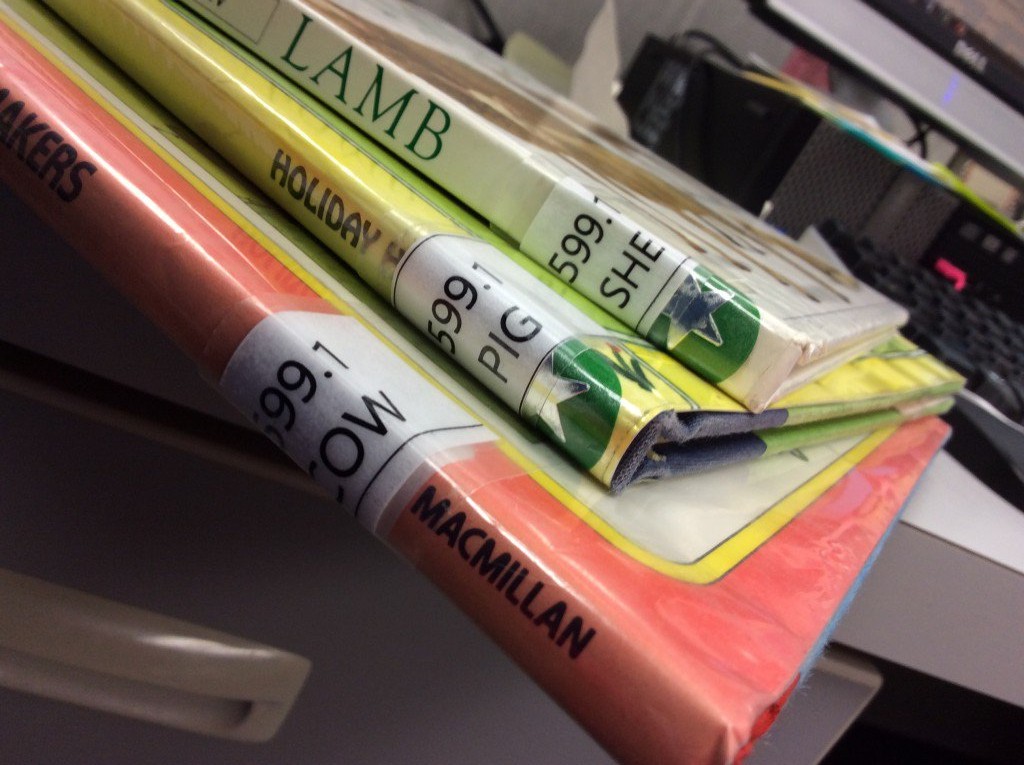 Yes, they are farm animals, but it's 2016. We live in a suburb near a large metropolitan city. My students don't think of cows, pigs and sheep as being anything other than a mammal. I doubt more than a few have ever seen a farm, let alone know what animals live on a farm. I can't tell you how many times I've seen quizzical looks from students when they see cows near the pet section. The farm animals were moving.
Here is the final result of stage one of our revamped Dewey project. I'm not sure if the sign at the top is what exactly what students will find useful, but it's a start.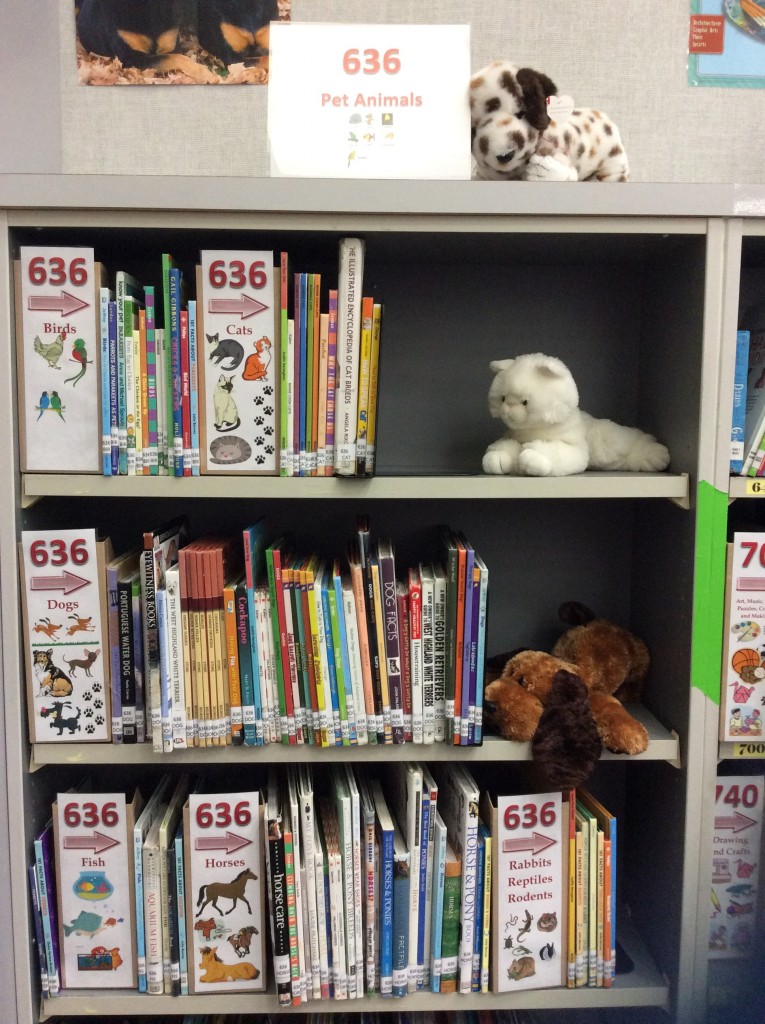 Now I can't wait to see what the students say! Check back in the next few weeks. As I move through other areas, I will publish more photos and share student reaction to the changes.