What do you get when you combine 120 students in two classrooms in two different continents to share their research? A cross continent learning round up of course!
This morning (7:30 am Seattle) and afternoon (5:30pm Durban) our two schools – Cougar Ridge Elementary in Bellevue, Washington, USA and Highbury Preparatory School in Hillcrest, South Africa made the world a little smaller via Skype.
Our students walked into the library with breakfast and the boys at Highbury were looking forward to a South African "braai" which is similar to our barbeque. Their head master (principal) was cooking a special kind of sausages for all the 5th grade boys.
These students broke down the physical classroom walls and connected virtually for nearly an hour. Their conversations crossed two continents and 13,000 miles. It's a perfect diagonal line between our schools from the northwest corner of the US to the southeast corner of Africa!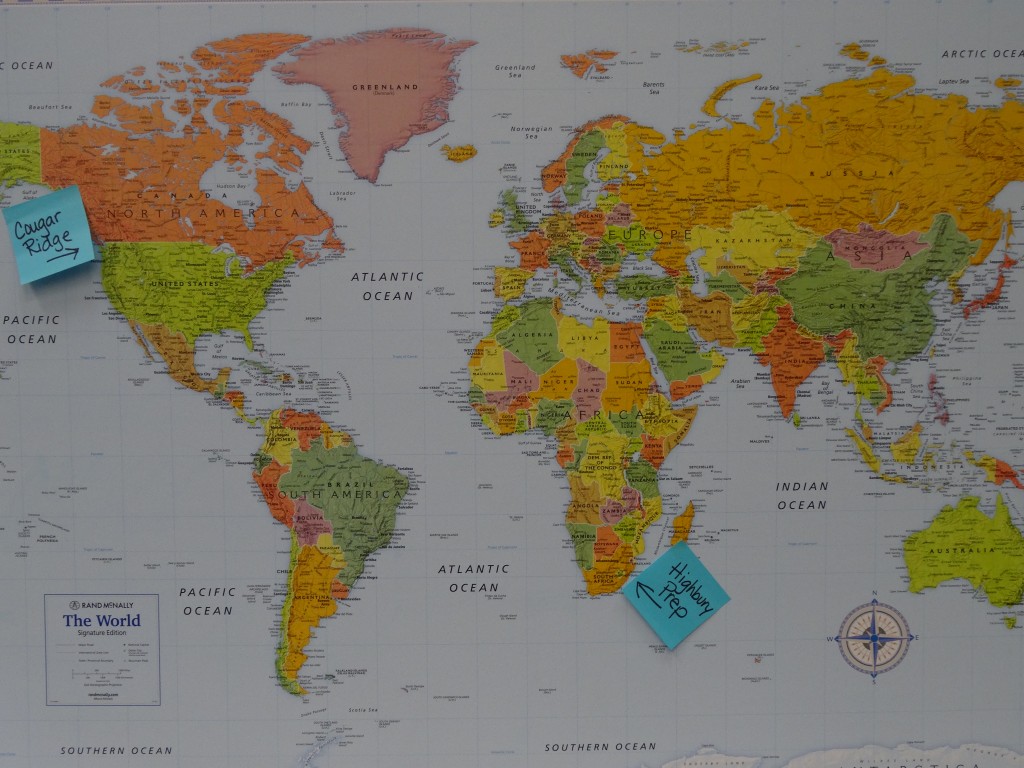 What did they talk about? Fun topics that kids are interested in like what does your school look like, what kind of classes do you take, what can you play on outside during recess and breaks, what sports do you play, what are your favorite books or where do you go to get some fast food?
When the librarian Louise MacLeod, technologist Desiree Dunstone and I spoke at Highbury in July, we agreed that our goal was for our students to get to know each other as peers and therefore, the topics they would research and share needed to be kid-friendly. We divided up our 5th grade classes into groups, assigned topics, and the students got busy. For the past 5-6 weeks, the teams have been collaborating and collecting information to share with their counterpart classrooms. Today was celebration and share day!
Topic by topic team representatives spoke via Skype sharing pieces of their cultures with one another. With only an hour  and 22 topics, we couldn't go in depth on camera. Each team was only able to share a sentence or two of the highlights of the research. However, with OneDrive, we are able to share the complete research projects with each other and will use class time to view the student work in our respective schools.
It turns out we both enjoy going to MacDonalds and KFC! Starbucks isn't in Durban yet, but we both have Burger King. One group also helped us understand what the Durban "bunnychow" is (a bread and curry sandwich).
We learned about the Big 5 animals and how there is a serious poaching problem of white rhinos in South Africa. The rhinos are killed for their tusks which are then sold to people in other countries who believe the tusks have medicinal qualities. This group in the video explains that the African elephants have ears shaped like the continent of Africa.
I've never taken on a Skype experience on this scale before, but I can say it was worth every second of preparation time. I have listened to the excitement build for weeks and then to see students connecting with each other today was priceless. This morning we were all a little nervous and a lot excited before our call began. Yet, the nerves melted away as everyone discovered we are all the same – just separated by continent. These virtual connections make the world a smaller place and bring the learning inside – without borders. It was hard to say goodbye and I know this is the first of many learning opportunities our students will make.
If you want to learn more about how you can use Skype in the Classroom, visit the website. Join the Skype-a-Thon on December 3-4, 2015 and be part of a global movement to celebrate learning without borders. If you would like to learn more about our connection with Highbury Prep and Books to Africa program, here is a post about my trip to South Africa, a video , and a recap of three years of friendship.