Start the new year by helping our friends in Africa!
January is the month when the Books to Africa club kicks into fundraising high gear. This is our 3rd year of raising funds to use for postage to send boxes of books to four schools in Ghana, Lesotho, and South Africa. Last year we earned $1665.00 and our goal is to raise $1700.00 this year.  Every penny…every dollar…we raise is important and will go to help some very needy children. There are four ways you can help!
At the Multicultural Night we will be selling "stamps" at our Books to Africa booth. Every person who donates will have their name written on a stamp which will be displayed on our Books to Africa bulletin board near the library. We hope you will stop by our booth, see photos of the children we are helping and buy a stamp.
We are also hosting a Friday Fun Night on January 30th from 7-9pm at NW Aerials. The cost is $15.00 per child and the proceeds from this fundraiser will also benefit the Books to Africa program. A purple flyer went home last week with the permission form. We had 60 children participate last year. Who knew jumping in a foam block pit could help raise money for reading?
Just in time for Valentine's Day, we will sell Lollygrams again! For $1.00 students and staff will get a 2″ swirl heart shaped lollypop and a Valentine's card to be delivered to anyone they choose (at school). It's a sweet way to support our program and help those in need.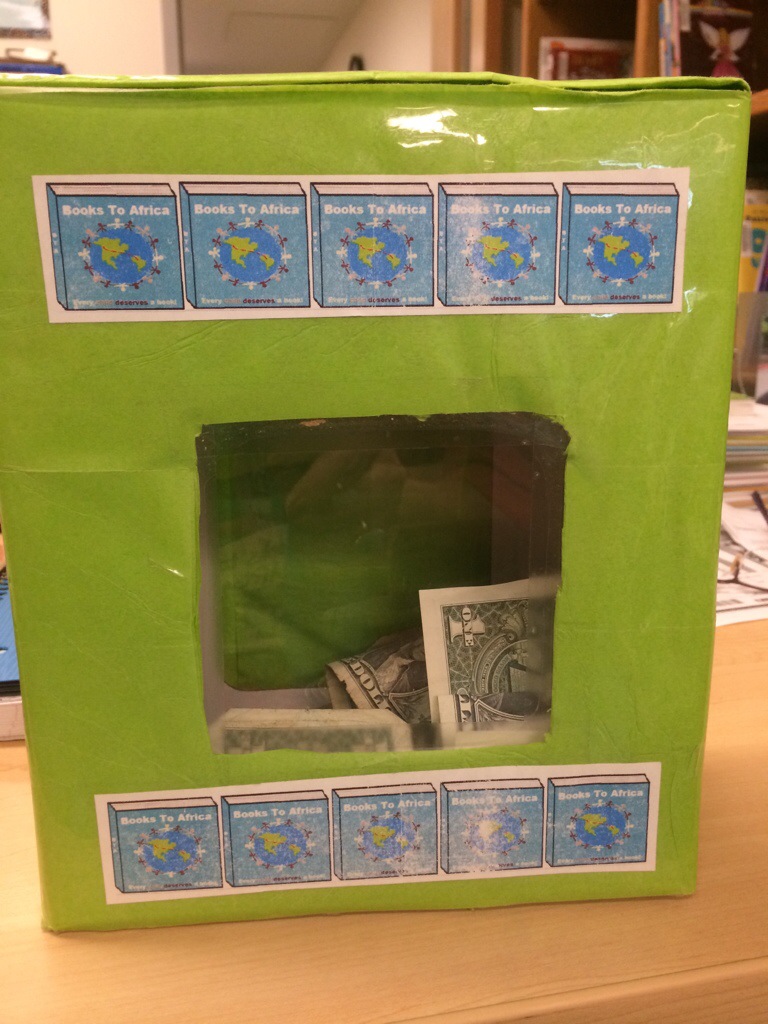 If you still want to help, but can't make it to any events, you can always donate at school in our Books to Africa box in the library. Hopefully we will have enough money to send 20 boxes of books overseas. That will be about 1700 books we will be able to send.
If you would like to read more about the Books to Africa club, you are welcome to read older posts here, here, here, and here. The tab at the top of the page, also has a link to our older pages that has lots of information and photos.
On behalf of our Books to Africa club and our friends in Africa, we thank you for your support! It takes a village to make a difference in a child's life.
Every child deserves a book!