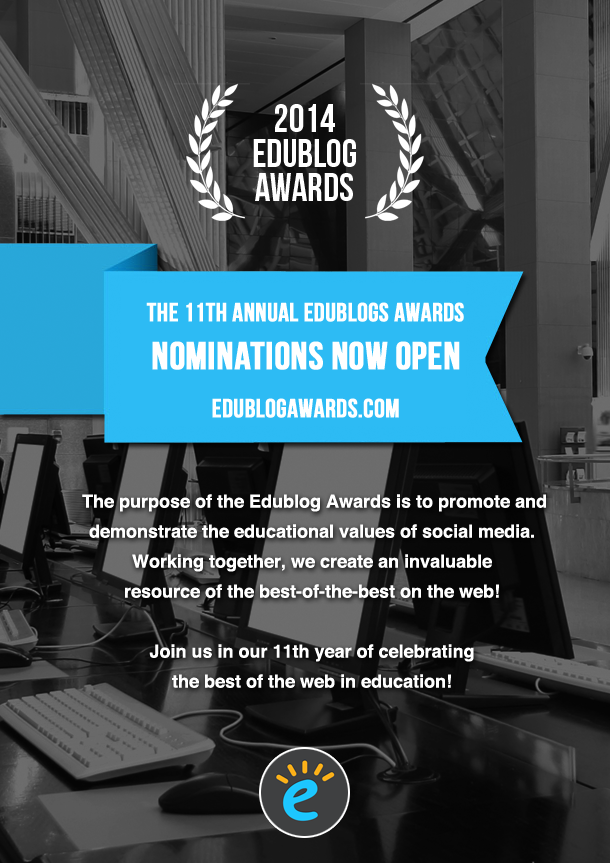 It's that time again! Nominations for the Edublog Awards are open for the 11th year!
The purpose of the Edublog Awards, also known as the Eddies, is promote and celebrate the educational values of social media. One of the benefits of educational blogging is to give students an authentic audience for their ideas, writing and projects. Blogging gives them the opportunity to become educated global learners, connected and ready for the 21st century world. I urge you to participate in celebrating those educators and students you respect in the social media world. Share your nominations with the world!
The process is really simplified this year. Simply fill in this nomination form and you are done. If you also have a blog, you can publish your results, but it's not required this year. Get the word out!
*Nominations will close at 11.59 PM EST USA on November 24th
It's never easy to make a choice because there are so many fabulous blogs and teachers to choose from. My nominations all stem from how their posts, tweets, or influence made a difference in how or what I taught this year.
Best Individual Blog – http://www.freetech4teachers.com/
Best Group Blog- http://nerdybookclub.wordpress.com/
Best Class Blog- http://aroomwithaview.edublogs.org/
Best Ed Tech- http://www.edutopia.org/
Best Teacher Blog – http://www.globalreadaloud.com/
Best Library Blog – http://vanmeterlibraryvoice.blogspot.com/
Most Influential Blog Post – http://yollisclassblog.blogspot.com/2014/11/november-is-family-blogging-month.html
Best Individual Tweeter – https://twitter.com/#!/coolcatteacher
Best Hashtag -#comments4kids
Best Free Web Tool – http://www.pinterest.com/
Best Use of Media – http://tlvirtualcafe.wikispaces.com/TL+News+Night
Best Open PD – http://www.globaleducationconference.com
Best Mobile App – Goodreads
Lifetime Achievement – Vicki Davis
Now it's your turn! Give a voice to your favorites and make a nomination today! *Nominations will close at 11.59 PM EST USA on November 24th