It's new! It's fun! It's creative!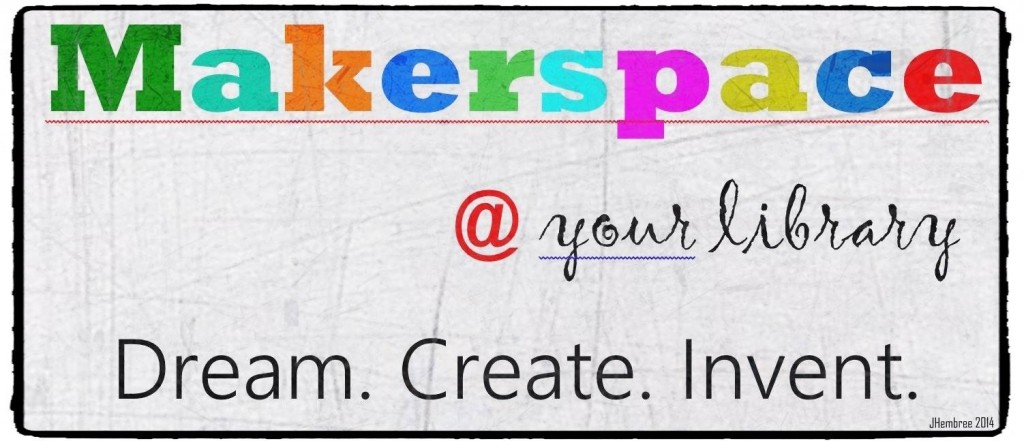 What are Makerspace Mondays? Every Monday during the lunch recess students can come to the library and participate in a Makerspace event. Makerspace Mondays are all about dreaming, creating and inventing. The activities focus on  Science, Technology, Reading, Engineering, Art and Math.  Think Legos, K'Nex, Cardboard creations, origami, LED light crafts, 3D MagnaTiles.
In September my Makerspace Monday Magic Donor's Choose project was fully funded. Within days, the materials began arriving and the fun began. Each Monday, I include the topic for the makerspace event on the morning announcements. Then I post an update on the Makerspace Monday bulletin board with a photo of what we are doing.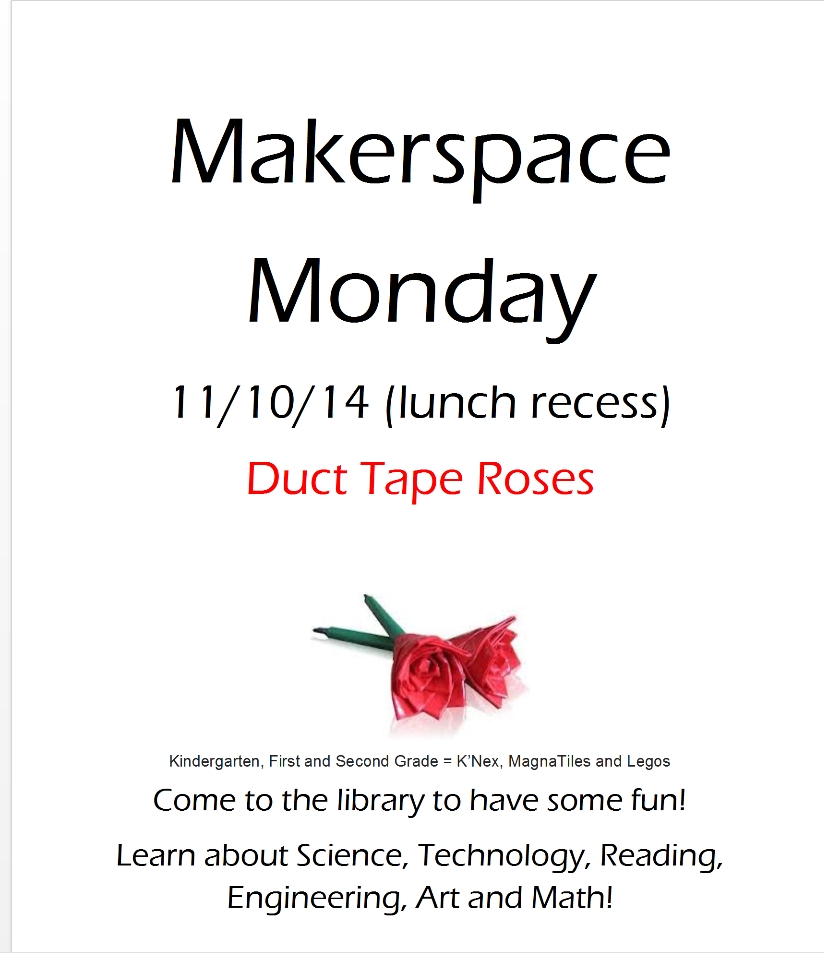 The topic rotates from week to week. It is introduced on Monday, and then the students can experiment with the materials all week when the library is open at recess. Sometimes, as in the case of the Duct Tape Roses, the activity is not offered to all grades at all times because it's not appropriate for the age range of all of my students. I either modify the project or choose a completely different one. The younger students are completely enamored by the Legos and K'Nex right now, so I chose not to offer duct tape crafts to them this week.
Where do I get my ideas? Mostly through posts from my PLN on Facebook, Twitter and on Pinterest. I can lose hours sifting through ideas for lessons, centers and makerspace ideas on Pinterest. Vicki Davis @coolcatteacher on Twitter, recently published an article Essential Information on Maker Movement on her blog explaining what the Makerspace Movement is all about. I've been reading about the idea online for the last year or so, but thought if I didn't have a 3D printer,  a laser cutter or other expensive equipment, then it wouldn't really be a "makerspace". I don't have a regular classroom, so I couldn't figure out how Genius Hour could fit with my circumstances. Then I attended the Puget Sound ESD Teacher Librarian Summit, where one of the sessions was on Make Room for a Maker Space. In a video presentation, Sylvia Martinez, coauthor of Invent to Learn, explained that that libraries are perfect places for makerspaces. Students can come to a safe learning environment and have the freedom to create and experiment. Between her explanation and the hands-on projects we did with Conn McQuinn and others, I was convinced. The rest is history.
Is it working? Absolutely! Sometimes I have to limit the number of students who come on Mondays now or it would be too crazy and crowded. I worried about this at first, but then I watched the authentic collaboration that happened every Tuesday. Once a few children learn, they all teach each other during the rest of the week. I'm also getting lots of feedback from students like, "What's next week Mrs. Hembree" or "That was really fun!" or "I can't wait to try this at home!" They are continuously asking me to take a photo of their creation and post it on our closed library Haiku Learning page or on this blog.
One STREAM area I have neglected so far has been Technology, not because I didn't want to incorporate technology, but rather because I've had to figure out some logistics in making the technology available to students during recess. The entire month of December is going to be devoted to technology, and especially coding. I'll be the first person to admit that I know absolutely nothing about coding.  The other thing I've ever done is minute adjustments with HTML code on this blog. Other that that, coding is a language that is a complete mystery to me. Luckily, the Hour of Code organization has lots of resources to help out.  Between their resources, what the kids already know and some parent help, I know we'll be fine.
Here are some examples of the Makerspace Mondays we have held so far this year.
What makerspace activities have you added to your library or classroom? Leave a comment and let me know!