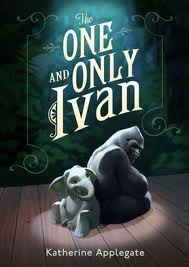 You HAVE to read this book!
I tell my 3-5th grade students every year. You HAVE to read this book! It is the BEST book in our library, it won the Newbery Award and kids who have never liked reading chapter books before, LOVE this book.  I show them the book trailer I made, and then I watch all four copies fly off the shelf and the reserve slips stack up.
I did it again this year, and Thyna took the book home and then brought me this review!
The book that I read is called The One and Only Ivan. My favorite part was when Ivan was in a long time, but he got to go to a zoo. This book is about a mighty silverback, which is a type of gorilla. His name is Ivan. He was raised by a guy named Mack, until Mack decided for Ivan to go in a cage at a mall where Mack worked.

Ivan had friends like Stella the elephant and Bob the stray dog that came in the crack in the window. Ivan has been at the Big Top Mall for a very long time, but he is sad even if he does have friends. There is a guy name George and he works at the mall also. George has a daughter named Julia and she gives Ivan some paper and crayons so he can make art. Eventually Mack finds the paintings and sells them at the gift shop.

Then there is a new elephant named Ruby and she does shows at the mall. One time Stella asked Ivan to keep a promise. The promise was to get Ruby safe at a zoo. Lastly, Ivan got Ruby to a zoo. Ruby and Ivan were happy and Bob the dog lived with Julia happily.

Thank you Thyna for your awesome review! It sounds like you are a fan too! The other great news is that a picture book version will be published on October 7th. It's called Ivan: The Remarkable True Story of the Shopping Mall Gorilla It will be available for check out as soon as we get a copy!
Katherine Applegate came to our school a couple years ago for a visit. You can read more here. This is the book trailer I show to my classes to advertise her unbelievably amazing book.