Where are they reading?
It's not everyday that you see people reading near hanging origami creatures. Have you guessed where Josa, Ulises and Pakal are yet? It's in Bellevue, not far from the mall and is a big museum. Yes! that's right! It's the Bellevue Art Museum!
The boys went there recently and visited the Folding Paper: The Infinite Possibilities of Origami exhibition. This display features the work of 45 master origami artists. The 140 pieces portray the history and evolution of the art of paper folding by artists from around the world. You can learn more about the exhibition here. If you live in the Puget Sound and love origami, maybe you would like to go to one of their crafty Saturday classes. The Bellevue Art Museum is having a series of Saturday classes called Samurai Hats and Tiger Armor. In this class you will learn how to make a Samurai paper hat and foam tiger armor to protect you from fierce ninjas! You have to register for the class and the cost is $2.00. Here is the information link.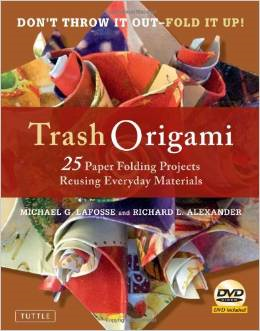 Don't have time to go to the museum? No problem! Visit your local school or public library and check out an Origami book or two. You don't even need special origami paper either. The book shown above in our library is filled with examples made out of ordinary household materials.
I wonder if Josa, Pakal and Ulises were motivated to create their own origami. Maybe they can teach me too. An origami station is going to be one of our new MakerMonday recess events. More details to come in the fall, but trust me, MakerMondays will be Science, Technology, Reading, Art and Math Terrific! Legos, K'Nex, Cardboard, origami, LED light crafts….just saying and hinting!
Keep reading and thank you boys for the awesome summer reading photo. Did you know that the New York Public Library is also doing a #IREADEVERYWHERE campaign? Kids and adults are reading everywhere this summer. The New York Public Library even has a temporary  outdoor reading room set up this summer, when it's not raining of course!
You can do it too and send it to our blog.  There's still a couple weeks left for anyone to send in a photo. The deadline is August 31st, so I can get our poster made for the first day of school. Have your adult family member send the reading photo to:
If you don't hear from me for a few days, don't be discouraged. I'm going to be internet free for a few days. Read tomorrow's post to find out why.
Happy Reading! Mrs. Hembree
****************
What do you like to make with origami?
Have you ever been to an art museum?
What book have you read this summer (or winter for our downunder readers)?