The Bulldog Reader Blog is FOUR years old!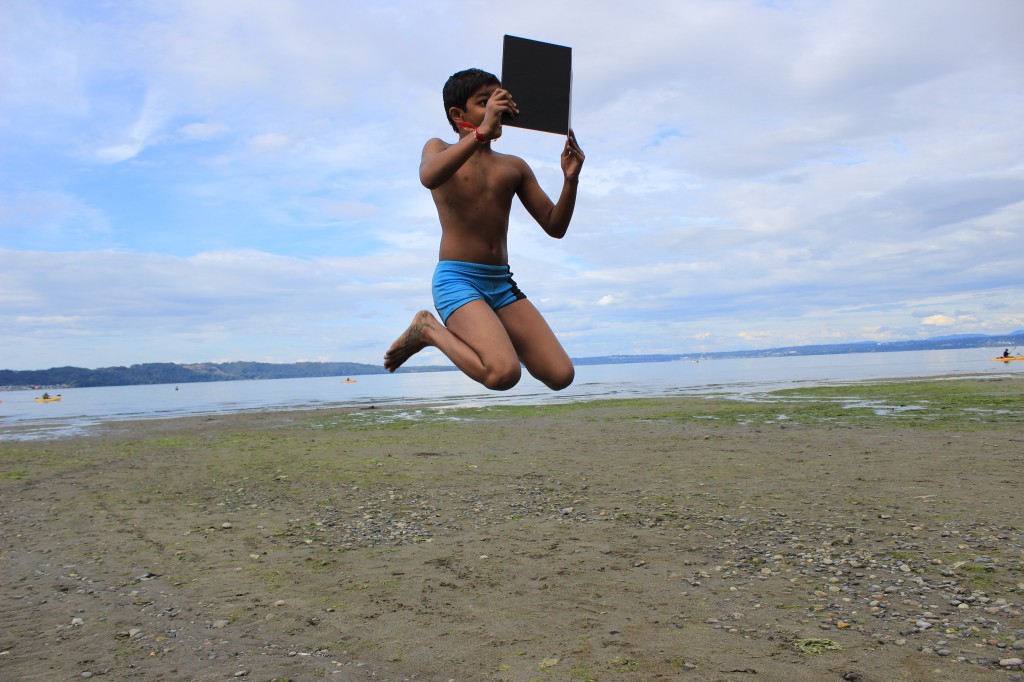 Yes, I can't believe it either! This blog has been going strong for four years and one month. (I couldn't celebrate on the actual date because I was on vacation.) The Bulldog Reader Blog began on July 2, 2010 after I took a class on different technology tools I could use in the library. Blogging was one of the tools shared, and within a few days, we launched on a virtual journey into the reading, tech and library world. Oe of the first posts was about Theo Boone: Kid Lawyer, a series by John Grisham.. That series now has had four installments since we began.
 It's amazing to me how many visitors we have had through the years. The ClusterMap above shows how many have visited since July 9, 2013. Sadly I made a bad mistake last year, clicked the wrong thing at the wrong time, and the original visitor map disappeared. Poof – and GONE! I was very sad, but you know, sometimes things like this happen and you just have to move on. In the last year, people from every continent except Antarctica have visited the blog, including over 21,500 from different states within the USA and over 8,000 from countries around the world.
 The one counter I haven't touched since the beginning is the visitor counter. I didn't set it up on the first day, but close enough to the start. We have had over 171,000 page hits on our blog, and almost 100,000 of them are unique hits. A page hit is when anyone clicks onto the blog from wherever they are. A unique hit is when a person who has never been on the blog before visits. Returning, unique, first time, returning visitors is all kind of confusing for sure. What matters is that people from around the world connect with us everyday!
We have formed friendships with wonderful students and teachers. We have exchanged presents, holiday cards, reading photos, and countless comments through the years. I'll never forget the day a box arrived from a teacher in Russia. She and her class had put together a box with a teddy bear, a flag and other items to celebrate our new friendship and share their country with us.
Another box came from a very small primary school in the Shetland Islands, including a book that none of us could read because it was written in the native language of the islands. They just celebrated their third anniversary as well! Congratulations Burravoe Primary School!
Mrs. Yollis, my mentor from California and I have had lots of fun conversations, dinner and photo exchanges. She runs a classroom blog and also a photo 365 blog that I try to contribute to periodically. She introduced me to Mrs. Morris in Australia, who introduced me to a very special blogger named BB.
No mention of the history of this blog could happen without mentioning AA and BB in Australia. When BB and I first met virtually, she had a blog of her own, and we commented on one anothers' posts regularly. BB is now older and busy with other activities, but her mom AA still visits us and keeps us up to date on what is happening in Australia. We have talked to each other via Skype and online, but have never met and sat in the same room. Someday, I hope to visit Australia, and then we will meet! In the meantime, we have fun comment conversations and share photographs with each other. The conversations that happen via blogging is what I cherish the most.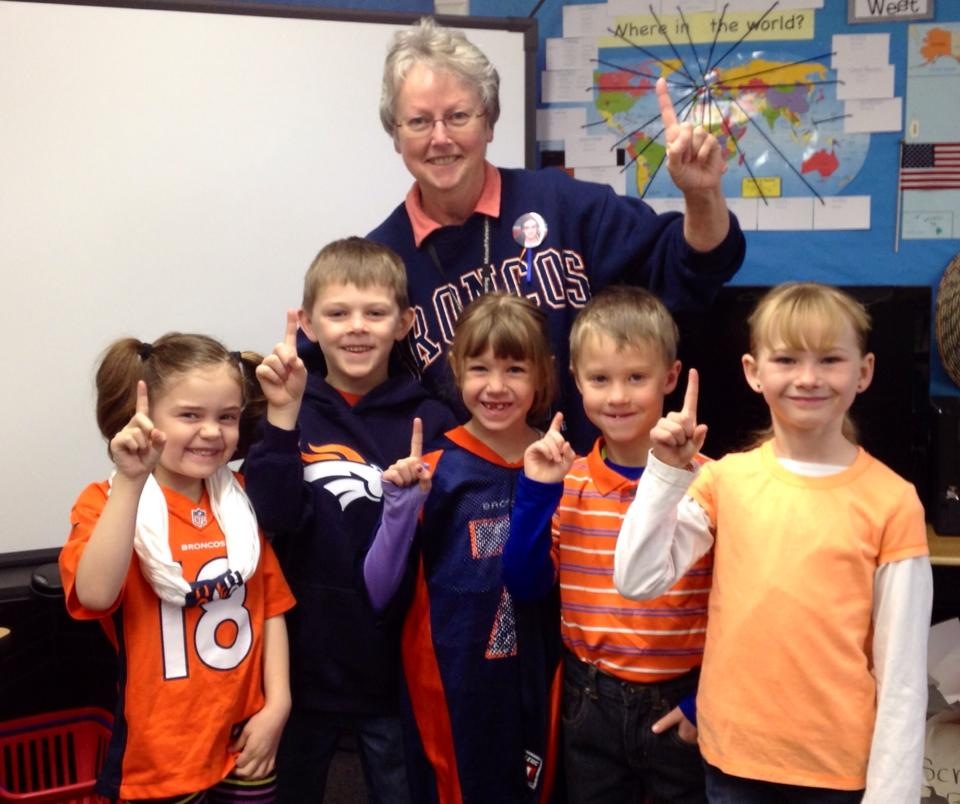 Last year during Super Bowl series, Mrs. Arnett's class dressed up in their Broncos gear. We had a fun exchange about football and what it means to be a good sport.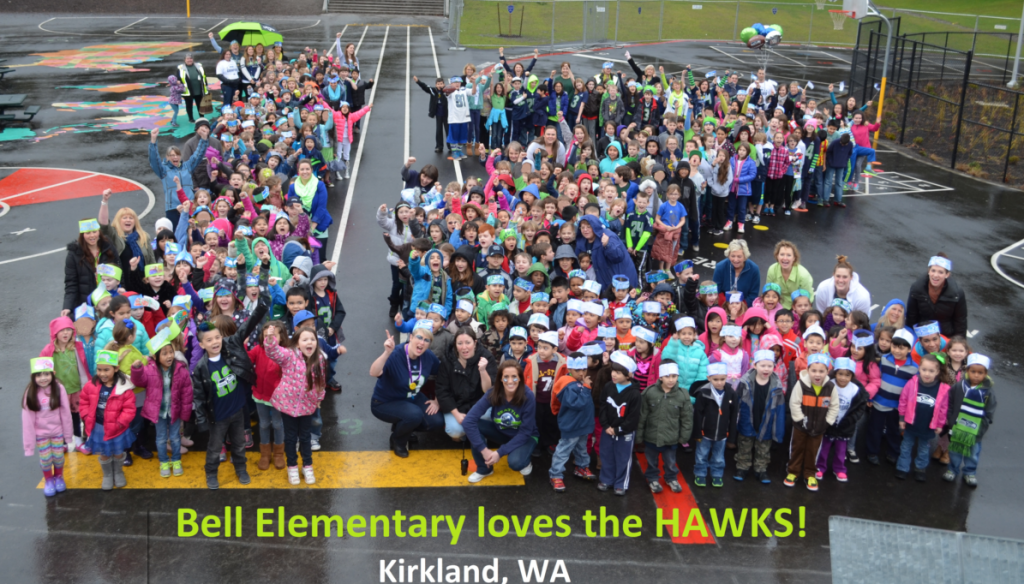 During the Poetry Month we exchanged poems with Mrs. Camp in Klein, Texas. Our students wrote acrostic class poems which we published on our blogs.
So much has happened in the last four years, that I can't begin to mention all the highlights. What I do know through writing 368 blog posts is that I love blogging. If it wasn't for blogging and the Incredibly, Awesome, Fabulous, Newbery Winning book The One and Only Ivan, we wouldn't have met Katherine Applegate at our school!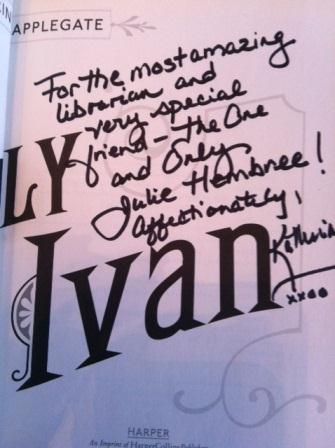 On October 7th, her new non-fiction picture book will be released and
she will be visiting the University Bookstore here in Seattle!
Woo-hoo! We can all share some Ivan love all over again! Here is a link to the premier of the new book trailer.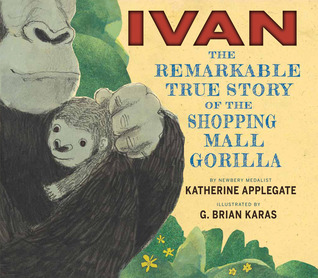 Another connection that really matters to me is our partnerships in our Books to Africa program. In September we will begin year three of sending books overseas. This summer I had that opportunity to Skype with some children in Sovenga, South Africa who had just received a shipment of books from us. Wow! Look what technology does for us now!
Recently I had a chance to meet a fellow librarian who follows this blog. "Don't you ever take the summer off?" she asked. "Nope!" I never do. Blogging is certainly not something I have to do because it's assigned to me. It's something I have to do because the words are just itching to get out of my system. I like to write, not as much as I love to read, but I enjoy writing. Until four years ago, I thought I would eventually write a children's fiction book. I slogged through some drafts and kept putting it aside. The book wasn't working at all. Then book trailers entered my world. I  love to make book trailers. It's my style of writing. The One and Only Ivan, Breadcrumbs, Real Boy, Duke – book trailers have played a huge role in my life in the past two years.I don't make as many as I would like, but everytime I read a book, I think about how I'd make a trailer for it.
The creative juices are always churning in my head. Because of blogging and my experiences with book trailers, I've learned what kind of writer I am. I'm not really a fiction writer at all. I much prefer creating something that is a mixture of fiction, non-fiction and storytelling. What a relief! You don't have to be just a fiction writer, or a non-fiction writer. You can be a mixture of it all. It doesn't matter! I do have a book goal in mind, but it won't be a picture book or novel. I think it will be a non-fiction book series for K-2 readers. Now, with all the advancements in technology, eBooks and eReaders, the question is more about when I will make the time to write the words.   Which leads me to my goals for the upcoming year. Next year will be our 5th anniversary. What do I hope to accomplish by next July?
Continue the fabulous connection with our Books to Africa program. I had the chance to Skype with some students in South Africa this summer. Those few moments weren't enough – I want to get there somehow, some way!

Create a makerspace area in the library and begin incorporating more STREAM activities into blog posts and classroom lessons. STREAM = Science, Technology, Engineering, Reading, Art and Math.

Experiment more with digital tools to advertise books whether it's through book trailers, or podcasts, games or other activities.

Write the draft to a book series.

Celebrate reading with our students and teachers!
That's it – 5 goals. I don't have to be perfect, I just have to try. If you noticed, none of them are "do it now or fail" type of goals. They are all long-term. By next July, I need to review these goals, see what's worked and figure out what to change to make it succeed. That's what blogging has taught me. Things may not work out the first time or fifth time. You just need to persist, try again,figure it out and have fun!.
**************
What goal have you made recently?
What post do you remember the most?
How will you connect with someone this year?
Leave us a comment and let us know!