How much do you love your dog?
Are you brave enough to give him away?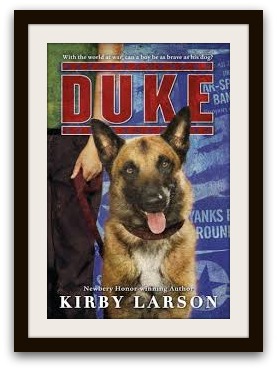 I originally wrote this post in November 2013 after Kirby Larson's book launch for Duke. Recently I had the chance to create a book trailer for her book, so I decided to update and repost the article. I took the majority of the photographs myself in Seattle. Using the PhotoStudio iPhone app, I artificially aged the photos to make them look old. I also used Creative Common photos, where people give permission for you to use the photo. I did obtain permission from the artist of one photograph and received another from Kirby herself. I wonder if you will know which picture is of Kirby's dad?  Usually I make book trailers using Photostory3, Windows MovieMaker or Animoto, however, this time I decided to try out the iMovie app on my iPhone. There is a book trailer template available, and within an hour or so, I had the rough draft of my book trailer made. Really, anyone with a little patience, some photos and love for a book can make a book trailer! Here is the original post, with the book trailer at the end.
The poster in his classroom seems to be screaming at him. Are YOU doing all you can?  Hobie struggles inside. Is he really doing everything he can to help his dad? He's saving all his dimes to buy war stamps. He's helping his Uncle Tryg and trying to be the man of the house for his mom.
Is it enough? Hobie hears about the Dogs for Defense program where people with well trained dogs can donate them to help the war movement. Hobie has spent hours training Duke and the military could use him to sniff out mines or help patrol borders. It is important work and Duke would be a great defense dog.
From the moment Hobie says yes, and watches Duke leave, he regrets his decision. What if Duke doesn't come home? What if his Dad doesn't come home? Does Hobie have what is takes to be this brave? You will have to read Duke and find out!
Kirby had a book launch party at Third Place Books in the fall of 2013. She talked about her love of history, the research about Dogs for Defense and the backstory she used from her own family that developed into the book. You can also watch an interview with Kirby talking about her book.
Kirby is a serious dog lover and a portion of the proceeds went to Reading with Rover, a local reading organization where children read to dogs and practice their reading in a fun and non-stressful way. Along with some other Reading with Rover teams, Reese and I had the opportunity to attend the launch of Duke at Third Place Books.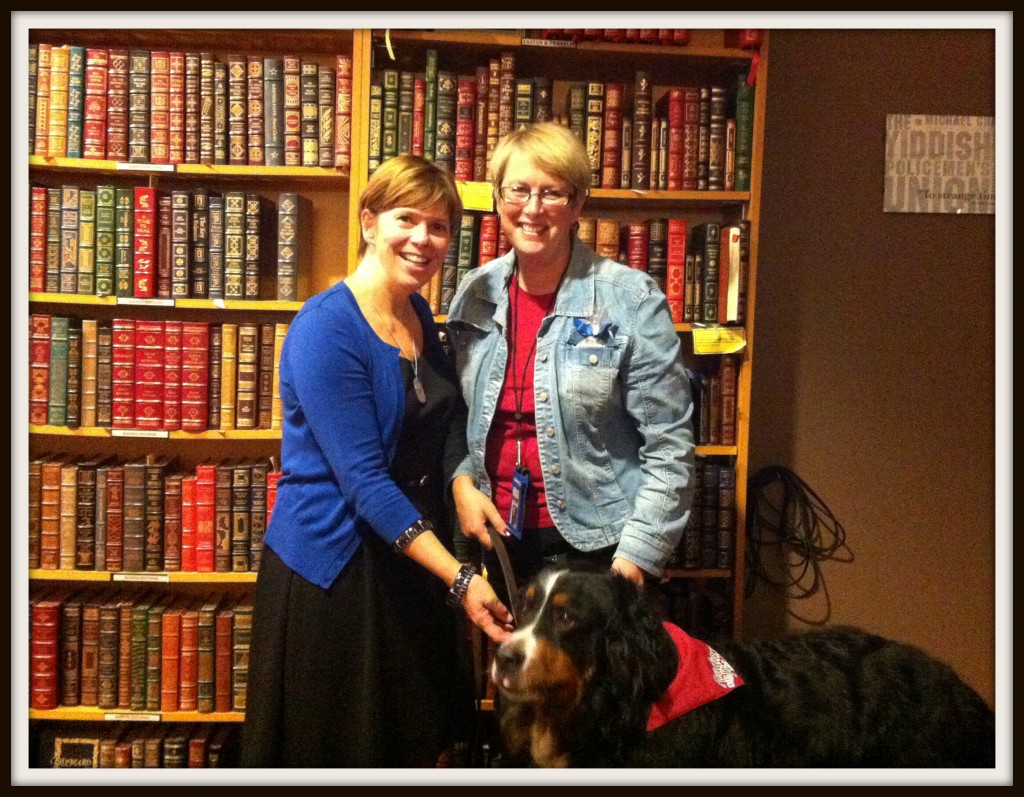 If you would like to learn more, visit Kirby Larson's website and find out about other books she has written. Update: April 2014 – Reese has now retired from  Reading with Rover. At almost 7, he is  considered an old dog in the Bernese Mountain Dog breed.  He really likes his naps and occasional walk around the block. The Duke launch was his last official outing and I'm thrilled it was to promote a book featuring a fabulous dog!