April is here. Winter is over. Birds are chirping. Flowers are blooming. Days are longer.
 It's the perfect time of the year to celebrate poetry.
National Poetry Month is a month-long celebration of poetry established by the American Academy of American Poets in 1996. We are celebrating all month as well with special poetry displays, lessons, and book features.
Each day a poem is read on the morning announcements, and a copy is on display on the library door. We began our poetry lessons before spring break. Here are some poetry highlights. The first photo shows 5th grade Blackout Poems. The second set of Tiger Poems were written by some second graders.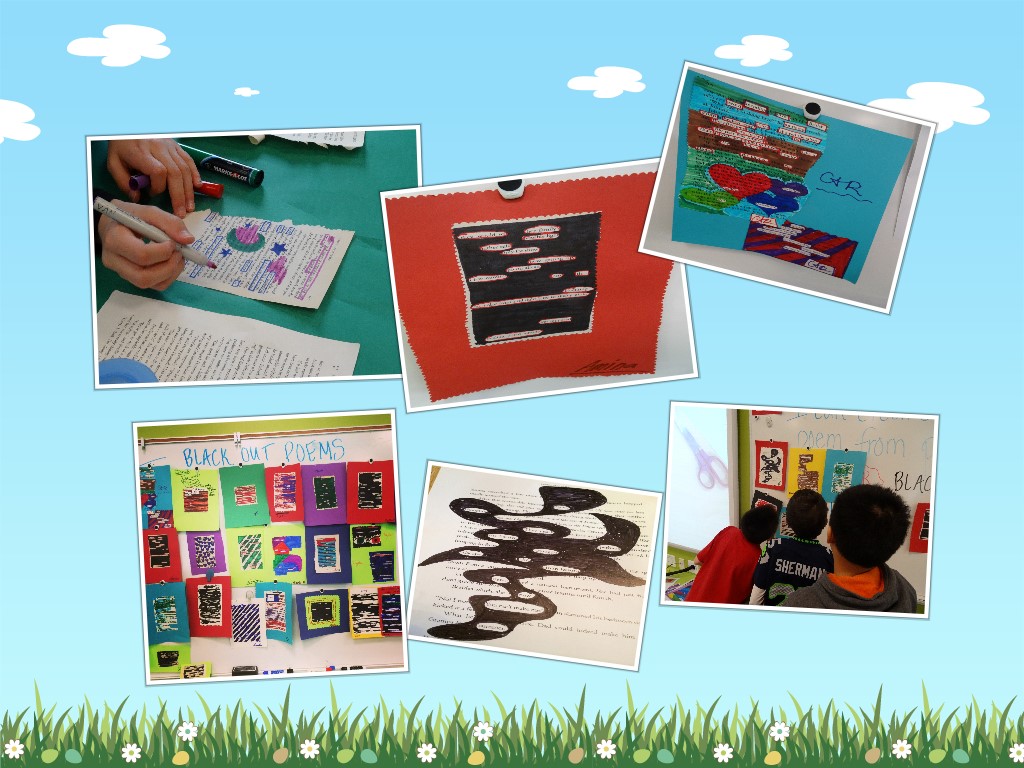 On Poem in Your Pocket day, April 24th, we are having our First Poetry Café during lunch. When I was looking for ideas, I saw that the students at Barrow Elementary Media Center would be having a Poetry Café at their school and thought it was a terrific idea!. Now that we have a stage and a microphone in the lunch room, we have all the equipment needed for performance poetry.
Students will read or recite an original or favorite poem up on the stage. during lunch. This is a completely optional event. Students can perform solo or with a partner. It's going to be an awesome celebration of poetry at school and I encourage anyone to sign up and give it a try! Come to the library to sign up. Poets from kindergarten to 5th grade are welcome. Families can come and watch as well. All performances will be during lunch: K-2 (11:50-12:10) and 3-5 (12:20-12:40) Spring Break is a perfect time to visit your local public library and find a book of poems. You can also find wonderful poems online. Be sure to ask your family for help. You create a poem with interactive websites. I have links on our school library catalog page. Look for the Poetry section.