Have you sent in a photo yet?
Audrielle took a little trip to California with her family and here she is in California Adventures. I've never been there, but people tell me it's a fun place to visit.
It's August 1st and there are still 30 days to send me a photo of you reading. I am going to make a poster  of all the Bulldog Readers and display it in our brand-new library. I know you want to be part of this! Tell your friends too! Our poster last year was the most viewed bulletin board in the room.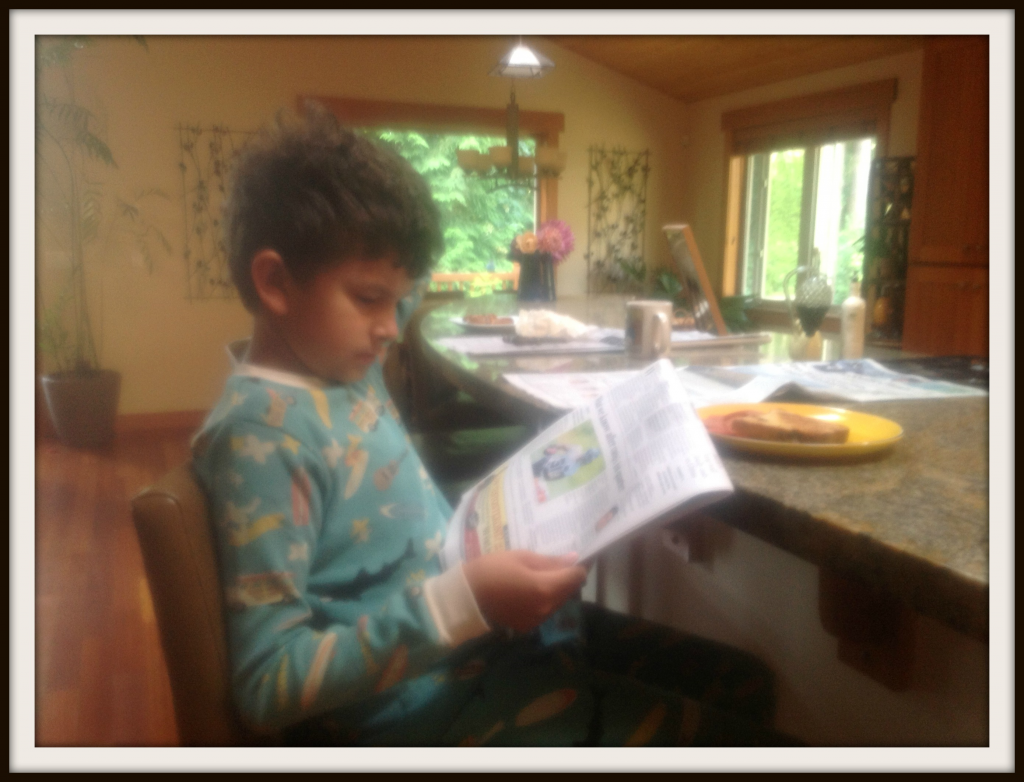 Now, here's a great example of how you don't have to go far to get a great reading photo. Josa is in the comfort of his own home reading the newspaper.
Remember, reading is reading. It can be a magazine, a newspaper, a book, an eBook, a brochure, a map, the dictionary, the encyclopedia (does anyone have those anymore?) – whatever you are reading is great! Just have your family send it to this email address and I will get the photo posted within a few days.
Maybe I could get an author to send a photo of them reading one of their books! Maybe I should ask Geoff Rodkey!
Hey Geoff – if you have a spare minute, would you send me a photo of you reading Deadweather and Sunrise or New Lands? PLEASE?! Our readers would love to see a real author reading too!
If you missed my last post and poll to vote for your favorite Deadweather and Sunrise book cover, here is the link. People have been voting for their favorite cover. So far, it appears that the US cover is the favorite, although Germany is rising to the top in second place.
Since I posted that, a new Israeli cover came in and Geoff has it posted on his blog. It's a blast having this book cover/blog/author/librarian conversation. Please visit and read about More Fun with Foreign Covers and tell us what you think about this Israeli cover. I will go on the record saying my favorite cover is the one used in Australia, Italy and Turkey. The title is bold and grabs my attention, and the pirate ship is larger. It communicates the important details of the story without emphasizing one item over another. The cover works for me.
This is a great adventure book to read, so stop by your local library or bookstore and pick up a copy. The sequel New Lands is out too!
**************
What reading photo are you going to send in?
What do you think of the poll results?
What surprises you about the Israeli cover?
Leave a comment and let me know!