Have you been to the library lately?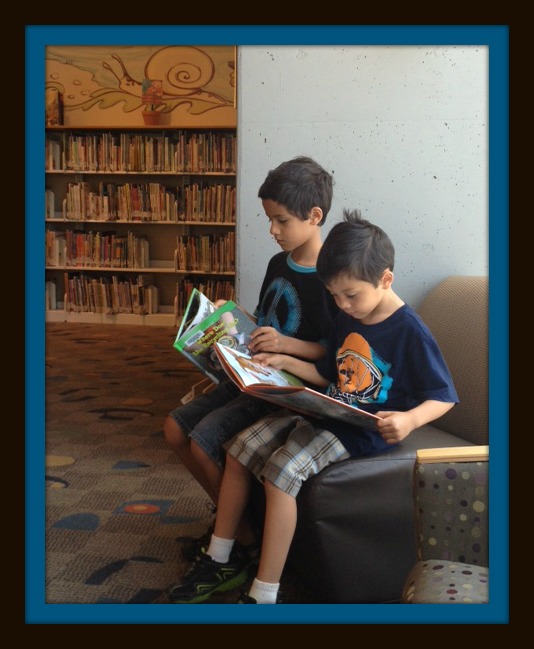 check out Ulises and Pakal are at our local library earning more minutes toward their summer reading goals for the KCLS summer reading program. They have already read 500 minutes and earned their halfway prize. Now they are on their way to earning the finisher prize! Every year the KCLS offers a free summer reading incentive program. It's easy to participate.  Just stop by your local branch of the KCLS library and pick up worksheet. Not in town?  Download a reading log or sign up online and track your minutes virtually. Go here and sign up now! Just remember, the deadline to submit your minutes is August 31st! Thanks for sending in your photo Ulises and Pakal!
I have also been reading this summer.  If you like Pirates of the Caribbean or wild adventure stories, especially ones with kids, pirates, blood, stumps and gore, then you will want to read Deadweather and Sunrise by Geoff Rodkey. Josa gave me this copy with high recommendations. I agree with him. This story of Egg, a 13 year old boy who lives on Deadweather, a pirate infested island with his Dad and siblings will take you on a fun, read-in-the-summer entertaining romp of a story! (You can read it in Australia in the winter too, but since it's summer here, it seemed an appropriate description.) The sequel New Lands is already published, so once you finish one, get the next one and read it too. Then tell me about it, but not too much. I want to find out what happens to Egg, Millicent and Guts and the rest of the crew when they leave Port Scratch.  I tweeted yesterday that I really enjoyed the story and today I noticed this on the author's  Twitterfeed:
Geoff has his own website http://geoffrodkey.com/ which I highly recommend you visit. Look for yourself, especially the letters to his son at summer camp. The underwear issue is particularly good.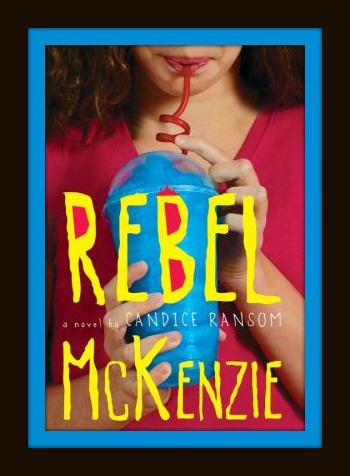 I fell in love this summer with Rebel McKenzie. Rebel is an aspiring paleontologist and wanted more than anything to go to the Ice Age Kids' Dig and Safari summer camp. Instead of digging up prehistoric bones, she has to dig deep into her bucket of patience and discover ways to keep her nephew Rudy occupied while she babysits all summer. Things get really crazy when Rebel decides to enter into the Miss Frog Level Volunteer Fire Department Beauty Pageant. I love Rebel's free-thinking ideas and love of science. She knows how to speak her mind, although not always with the best manners. But that's why I love her!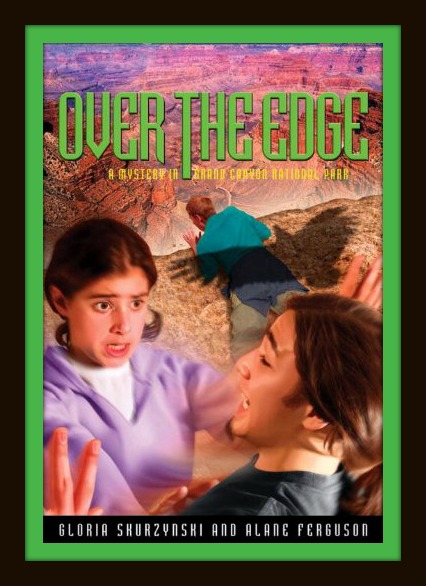 Most readers who know me also know I love a good mystery! I think I was born a mystery reader because all my best childhood reading memories involve a mystery story. I also love to travel. That's why this series about our national parks is so awesome. You can travel to one of our parks and enjoy a great mystery all at the same time! This book takes place at the Grand Canyon, and brought back great memories of my recent trip there.
If you are a baseball fan, then Shoeless Joe and Me should go on your reading list. This is one of the Dan Gutman baseball card time-travel adventure series books. Go back in time and learn more about why Shoeless Joe, one of baseball's greatest outfielders was banned from baseball. Was he given a raw deal? Check it out and find out!
When I was a kid, I loved going to "sleep-away camp". The food, camping, swimming, games and dirt was the highlight of my summer. However, Eleanor hates camp! She hates the bugs, the dirt and especially the lake when she finds out she has to be in the "baby" swim group. Will she change her mind about camp, or get out of dodge and back home where things are normal? The book is the sequel to Pickle Juice on a Cookie, but you don't have to read one before the other.
Do you remember Darth Vadar – specifically the voice of Darth Vadar? Here is a link to a video some of his best quotes. The man behind the voice is James Earl Jones and what you may not know is that he barely spoke for eight years. His stuttering problem was so severe that he chose not to talk, rather than deal with the hardships of stuttering. The book Paperboy is set in Memphis in 1959, and 11 year old  Victor, has a similar problem to James Earl Jones.
"The reason I hate talking to people who don't know me is because when they first see me I look like every other kid. Two eyes. Two arms. Two legs. Crew-cut hair. Nothing special. But when I open my mouth I turn into something else. Most people don't take the time to understand what's wrong with me and probably just figure I'm not right in the head" (page 5)
Once I started Paperboy, I couldn't put it down. Paperboy is about stuttering. It's also about facing problems head-on as a kid and dealing with reality. Reality is when you take on your best friend's paper route, talking to strangers and working through the hardships of not being able to communicate what you really want to say, when you want to say it. If you have ever  struggled with stuttering, or know someone who has, then this book will have even deeper meaning for you. Like James Earl Jones, the author Vince Vawter suffered through a stuttering problem in his childhood years. This book is partly his story, and partly the story of a boy you won't soon forget.
I went  hiking today with Reese and Mrs. Adair. I brought along Secret Zoo just in case I had a chance to read a couple pages. It seemed like the perfect book to have on a hike in the Pacific Northwest, home of the infamous Sasquatch! A whole bunch of angry, nasty Sasquatches is who the scouts find when they ventured into the Secret Zoo after Megan. This is book one of a fantasy/adventure series. Except for the huge pawprints Reese made in the river mud, thankfully we didn't see any signs of Sasquatch.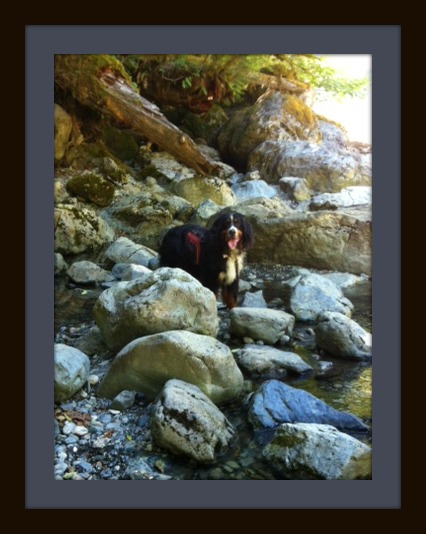 ***********
What have you been reading this summer?
Leave me a comment and let me know!
Send me those photos too!