On Saturday, the rare 1909 Honus Wagner baseball card sold for $2.1 million  in a public auction to an unnamed bidder. Honus Wagner was a Pittsburgh Pirates shortstop in the early 1900's and considered to one of the greatest baseball players of all time.
There are only about 50 of these cards left in existence, which makes them extremely rare. The story is that Honus Wagner made the American Tobacco Card pull the card because he had not granted them permission to print the card. He did not want children buying cigarettes to get his card.
The story of Honus is the first book in Dan Gutman's baseball adventure series. It's the story of a boy who finds the Honus Wagner card and finds he use it to travel through time.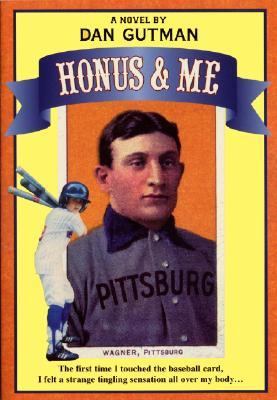 Dan Gutman wrote this book in 1993. He submitted it to a publisher in 1994 and within two months it was rejected. He tried again and it was rejected again. He was rejected SEVEN times before HarperCollins – publisher #8 said, "yes! we like it!" You can read more about his rejection story on the Dan Gutman website.  
The book is now available in an audio version, was made into a TV movie called The Winning Season, and a play that was performed in four different cities, including Seattle. The importance of persistence is an important message that Dan shares with his readers on his website:

The good news is that there are now ELEVEN books in his baseball adventure series! Ted and Me is the latest book to be published. It's about baseball legend Ted Williams and is Gutman's 100th book to be published!
If you would like to learn more about the story of the T206 Honus card, ESPN has produced a 15 minute video about the history of this baseball player and the famous cards. Click here for that link. You can find Gutman's adventure series in the sports section of our library.
*************
Why do you think this collector paid this much money for a baseball card?
If you could create a sports card about a person, who would it be and why?