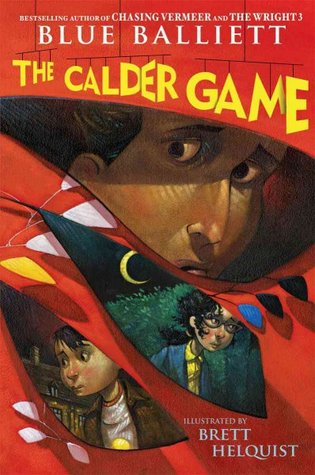 The Calder Game by Blue Balliett is a mystery story linking art sculpture with intrigue. The book description reads, "When Calder Pillay travels with his father to a remote village in England, he finds a mix of mazes and mystery…including an unexpected Alexander Calder sculpture in the town square.
Calder is strangely drawn to the sculpture, while other people have less-than-friendly feelings toward it. Both the boy and the sclupture seem to be out of place…and then, on the same night, they disappear!"
I thought about this book on the weekend, when I visited the Olympic Sculpture Park in Seattle with Mr. Hembree. It was a beautiful sunny day, and the first thing we noticed was the gigantic Alexander Calder sculpture called The Eagle. We walked around it and under it and looked closely at his signature on the side.
 In this view from underneath the sculpture, you can see what looks like the eagle head or beak (or at least that is what it looks like to me)!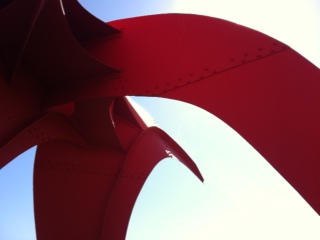 The last picture shows Calder's signature on the side of the piece and the date.
I don't think this is the Calder that disappeared from The Calder Game, but isn't it fun imagining it could be? Here is a link to a book trailer  I found for The Calder Game by Gaia, a student in Mrs Scavone's class from June 2011.
The Calder Game is available for check out  F BAL  MYSTERY.
************
What sculpture did you see in the book trailer?
Have you ever seen an Alexander Calder sculpture before? Which one?
What piece of art would you write a mystery about?