Look what came in the mail from Australia!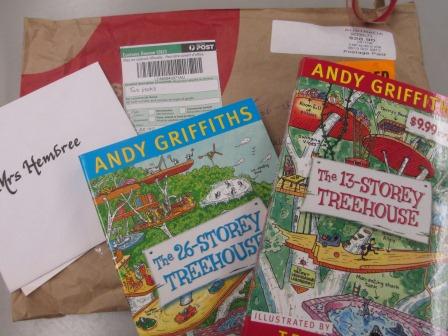 That's right, two books and a wonderful note from Miss Y in Melbourne, Australia. She is a librarian at the St. Martin of Tours Primary School. We have been blogging buddies for over a year now, exchanging ideas for books back and forth.
These Andy Griffiths books are going to be BIG hits in our library. You can't NOT laugh when you read them. They are just that funny! Look at this photo of him from his website. Does he look like a serious kind of guy? I haven't had a chance to read the books yet, but here's what it says on Andy's website: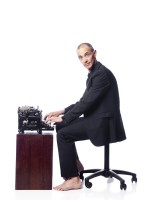 "Andy and Terry live in an incredible ever-expanding treehouse and create very silly books together. Andy writes the words and Terry draws the pictures… well, when they're not too distracted by all the amazing things going in their incredible ever-expanding treehouse! Last year they opened a new school with a brand new library."
I think these books sound like some crazy fun. If you are in 3-5th grade, this might be the just-right book for you. Stop by the library and put in your reservation. They will be available for check out early next week.
It's been quite a week for connections. First a phone call from New Zealand and then a package from Australia. I love these reading connections! Miss Y's students have been enjoying some Mo Willems books we sent her last year and now we have some Andy Griffiths books here! It's a full circle of reading fun!
Here's a photo of what the school looks like outside, courtesy of the magic of Google maps! I hope you will visit Miss Y's LRC blog soon and leave her a comment.  I just watched a new book trailer she made about a new book in the Clementine Rose series for girls by Jacqueline Harvey. This is the author of the Alice Miranda books we already have in our library! Jacqueline visited Miss Y's school last year. Here is the post about this visit. I sure hope if Jacqueline ever visits the Pacific Northwest on a book tour, she will stop by our library!
******************
What do you think about our surprise package?
Have you ever read any Andy Griffiths books before?
Look at the title.What word do we spell differently?