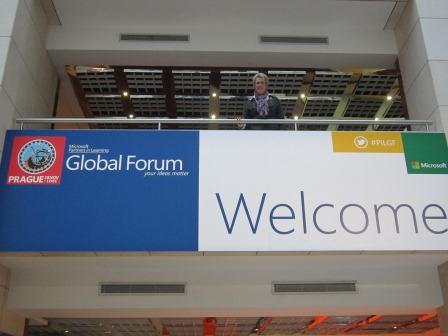 From November 28- December 1st, I was part of Team USA at the Microsoft Partners in Learning Global Forum in Prague, Czech Republic. Sixteen teachers from different regions of the US brought their student projects to Prague to compete in the Global Forum Educator Awards. We were a group of nearly 200 educators from over 65 countries sharing  how we link everyday subjects like reading, science and math with  technology to make learning fun, engaging and memorable.
In addition to the teachers, there were also school leaders, education leaders and policy makers, bringing the total of people there to over 500 from more than 70 countries. To say the very least, it was a very exciting place to be!
All of our activities were at the Hilton Hotel, a very modern hotel located only minutes from the heart of Old Town Prague. The opening day of the forum was on Wednesday afternoon, which left Mr. Hembree and I a little more time for sightseeing! I made sure I purchased some books from the local bookstore. I loved seeing that the books like Diary of a Wimpy Kid, or Big Nate or Origami Yoda were as popular with children in Prague as they are in Kirkland!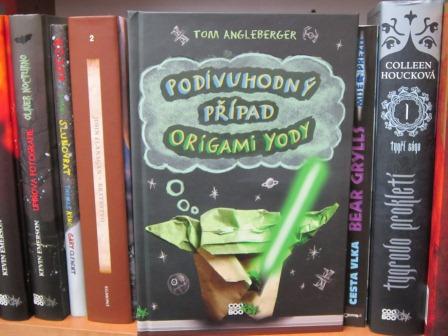 In the afternoon it was time to set up the teacher booths. Each project had a booth to use for showcasing their work. We hung posters and decorated our spaces so people who walked by could get a quick idea of each project. Our booths were arranged in alphabetical order by country. When you look at the top, you can see the name of the project and then the country of origin.
We had a welcome reception that evening. Each country wore something to indicate their team. It was a lot like going to the opening ceremony of the Olympics. Some people had team jackets, others had hats, or scarves. We all had our special name tags that we had to wear everywhere we went.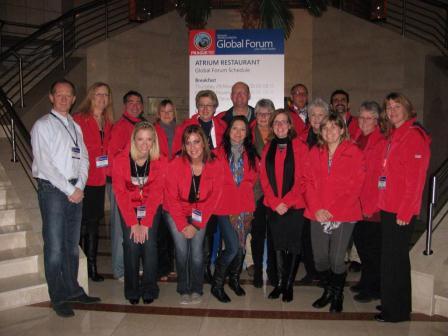 Thursday was our first day of competition. Each project was given three judging times over the course of two days. A judge would come to your booth for 15 minutes and ask you in depth questions about your project. I had two judging times on Thursday and then another on Friday. It was a very busy time. When we weren't being judged, most of us tried to go visit other booths to connect with other teachers and hear about different ideas.
In Let's Go to the Movies students in Colombia used Moviemaker to record movies they had written, acted in  and created about life in Colombia. All of these projects, plus many more are now churning around in my brain. I hope to use them as inspiration for what we will do in our library classes in the future.
We also exchanged little trinkets and pins with one another as memory keepsakes of the experience. I gave out some pins and book marks. In this photo, you can see one of the teachers from Madedonia who gave us a drawing and flipbook her students had made for us. They had made something for every person at the competition.
During part of the afternoon, I was also incredibly fortunate to take part in a roundtable discussion with Laura Ipsen. She is the corporate vice-president of the world-wide public sector of Microsoft. She wanted to talk to teachers about how the Global Forum and technology has impacted the learning in our classrooms. There were about 15 of us there and we each had a few minutes to share our experiences. The best part of this experience was hearing about how other teachers are using technology, whether it was a school with lots of technology available, or very little. It really opened my eyes to possibilities I had never thought of before. Can you imagine using Kudo or X-Box in the classroom?
'Your Ideas Matter' was the theme of the forum, and each of our teacher workshops centered on this theme. It's a 21st century world. How can teachers help YOU – the student– be ready for a digital learning world? How will YOU matter in school and in your future? What role will technology have in this process? These were big questions to think about.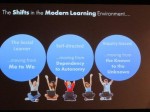 At one point, one of my friends joined us in the discussions! That naughty, silly Pigeon and his friend Alex the Bulldog spent an afternoon at our table.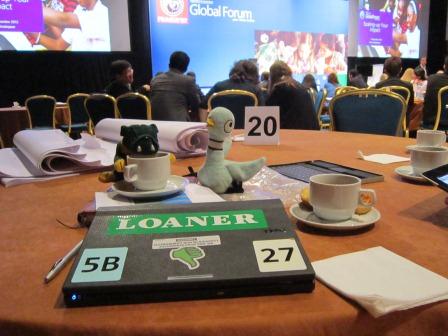 One of my goals when I got to Prague was to learn as much as I could about other projects that use digital storytelling, so I could bring those ideas home and try them in our library. I tried to look at all the projects, but had to center my limited time on literacy ones. I already showed photos for "Let's Go to the Movies." Here are the four projects I had a chance to learn more about.
What's Up Egypt? by Mr. LaVogue in Florida had his students combine a news television show with rap music. They created a video show in moviemaker showcasing what they had learned about life in ancient Egypt in the lyrics of the music.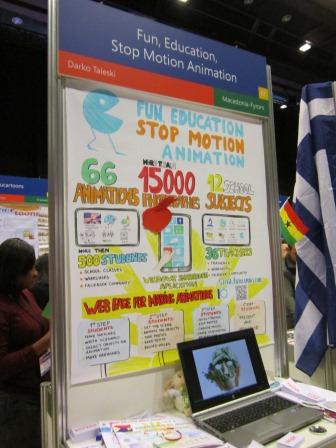 Fun, Education, Stop Motion Animation was a project from Macedonia. They made stop motion animated movies for primary aged children about all kinds of subjects, using MovieMaker.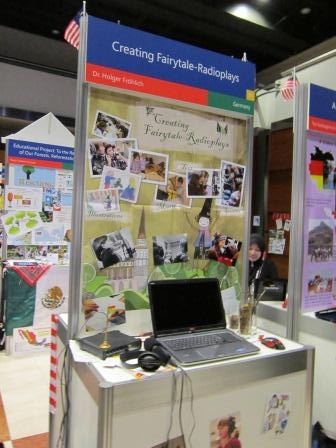 Creating Fairytale Radioplays was a project where teams of students drew scenes from a fairy tale, imported them into Movie maker, added narration and subtitles, plus background music and sound effects. The students wrote their own music and recorded it for the movie. Dr. Froehlich had headsets available so you could watch and listen to the radioplay.
Pay Forward for the Blind was a project that had students make Braille Memory cards and educational games, plus record MP3 storybooks and original stories for the blind. They are now used all over South Africa for blind children in their classes.
My other goal in Prague was to meet some teachers who might want to partner with our Books to Africa literacy project. Although the details are not completely mapped out, I think we will be working with three different teachers – one in Ghana, one in Lesothos and one in South Africa.  It was really exciting to make connections with these teachers and learn how our students could give the gift of books to some children who may have never owned their own book before.
The highlight of the last day of the Global Forum was a reception in Rothmayer Hall, followed by a gala dinner and awards ceremony in the Spanish Hall at the Prague Castle. The Spanish Hall is one of the most beautiful state rooms at the castle. Going to the castle on this last night was like going to the Academy Awards! As trumpeteers saluted our arrival, we walked up the red carpeted stairs to Rothmayer Hall.
Then it was time for dinner in the Spanish Hall. Each country sat together at huge rounds tables underneath the most magnificent chandeliers and stucco decorations I have ever scene. All of us were in awe of the surroundings.
Between courses of the dinner, the String Ladies performed. They are a Czech string instrument trio playing both classical and electric violin and cello.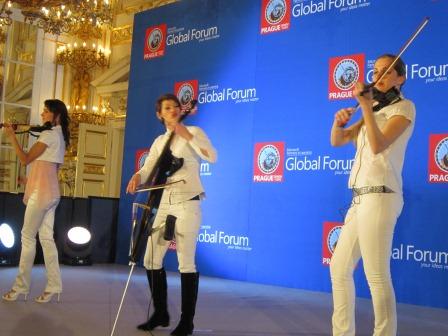 Before long, it was time for the awards ceremony. I have never been to the Olympics, but I think this event closely matched what it must be like at the awards ceremony. As teachers from diffeerent nations proudly wore their flags and came to the front for their awards, the rest of the room clapped and screamed in support.
 It didn't matter where we were from -where were all part of the "teacher family". Twenty-one teachers went home with an award recognizing their innovative use of technology in the classroom.
Five US teachers came home with a prizes from the forum- Mr. LaVogue, (Florida), Mr. Joseph and Mrs. Roberts (Michigan), and Mrs. Lowell and Mrs. Hahn (Washington). Our Team USA was very proud!
I have been asked many times if I won an award, and when told "No" wondered why I wasn't disappointed. Those are easy questions to answer. First, having an all-expense trip to Prague was my prize. I had the trip of a lifetime and got to share most of the experience (he couldn't go to the Microsoft events) with my husband.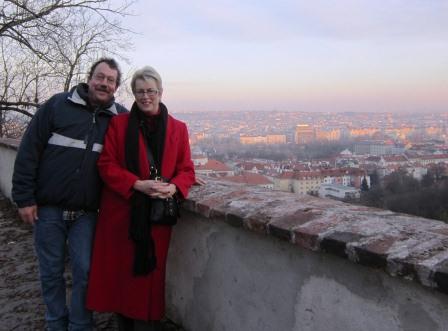 Second, I came home with new friends and connections with people I may never had met, if I hadn't gone to the forum. We are already sharing ideas with one another.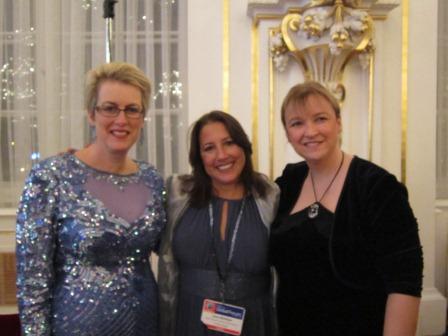 Third, this trip was a game-changing learning event. How I teach and why I teach will be forever changed by what I learned from the other teachers at the forum. I am going to bring those lessons into the library this year. If I have the opportunity to try again, I certainly will do so.
Lastly, I know this isn't directly kid-related, but if you are a teacher reading this post, I urge you to join the Partners in Learning Network. It's free to teachers and schools. Microsoft announced at the forum that it has committed $250 million to the PiL, bringing their total ten year commitment to $750 million. Thousands of projects, including all of the projects from the Global, US and other country/regional forums are there for you to see. It's free to teachers and schools. Your Ideas Matter!
*************
Have you ever been on a big trip that you will never forget?
If you could win an award, what would it be?
What ideas did you get that would be fun to try?
How can you make a difference? How do your ideas matter?