It's an exciting time in the Bulldog Reader Library!
We are one of the finalists for the Best Library Blog on the Edublog Awards!
All of the finalists are on this Google Doc, including many of our blogging friends around this country and the world. Click on the tabs at the bottom of the page to view the various categories for awards. I hope you will include a vote for them as well.
Voting is now OPEN for the International Edublog Awards 2012!
All we need is your vote!
Voting closes at 11:59 pm US Eastern Standard time on Sunday, December 9th. We are on the West Coast, so that means the deadline here is 8:59pm Western Standard time.
Here are the steps to vote:
1.   Go here: http://edublogawards.com/vote-here/
2.   Click on the drop down menu where is says "What category would you like to vote in? Select Library/Librarian Blog.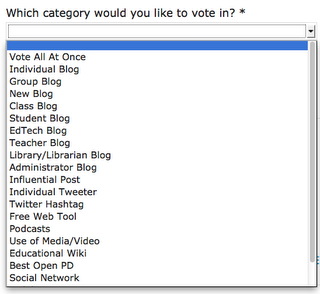 3.  Click on the circle that matches your vote. We hope you will vote for the Bulldog Reader's Blog!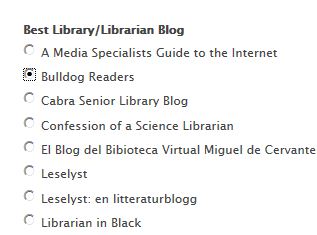 4.  Click on the word VOTE!!!
5. Then I hope you will vote for another category. There are many fabulous students and teachers to honor! Investigate and explore! That how we improve, by learning from others.
6. You can vote in as many categories as you want each day!
7. You may want to put in a vote for me as well! I have been nominated for a Lifetime Achievement Award! I can't even believe my name is in the same list as many of my teaching and librarian heroes!
You may vote every day!
You may vote using different devices! Smart phone, iPad, laptop…
Please note only one vote per category per day will be counted per IP address.
8.  That means since our school has one IP address, you will need to vote from your home, work, or phones as only one vote at school will count each day!
Forward this post to your friends and family!
Every VOTE counts!
Please consider voting for some of our friends, especially BB's Awesome Blog! She has NEVER missed commenting on a post and has an awesome student blog in Australia!
Some other class blogs to consider are Mrs. Yollis' Classroom Blog, Mr. Avery's 6th Grade class blog, 4KM and 4KJ, Mr. Salsich,Techie Kids.  
 Let's vote and have some fun!