It's mid-October.  The leaves are turning. The days are getting shorter and the nights colder. Are you looking for a new book? Check out what Angela drew for the library yesterday!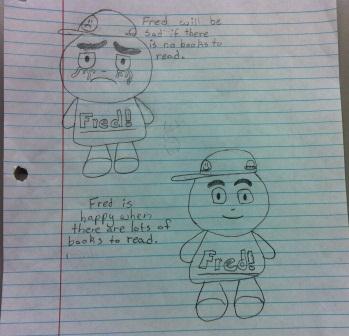 Maybe you are thinking that it's getting close to Halloween and you want a spooky book to thrill your reading time!
Spooky stories are always popular with some students (not me – I get nightmares). This past weekend when I was in Yakima at Washington librarian conference I had the opportunity to listen to the author Royce Buckingham talk about his love of scary books and movies!
Royce shared how the movie Jaws was particularly scary when he was a kid! I remember seeing it too and I didn't swim in the ocean for a month afterward! However, he loves scary monsters and books like that, which is why he now is both an attorney and a writer of spooky stories.
Do you remember seeing the photos from when Hitu visited the Jaws set last summer and did a little reading in Jaws! This is the movie Royce is talking about! Yikes! That is a scary photo!
If you love this kind of book come in soon and check out the new books by Royce Buckingham.
You don't have to like monsters to like all the new books in the library! Look at this selection available!  From graphics to humor to fantasy or mystery we have something new for you!
Visiting Yakima was a lot of fun! I had a chance to talk with lots of other librarians and share ideas with them. If you are a teacher librarian looking for a link to my slides, here you go!
****************
Do you like to read spooky stories?
Have you seen Jaws at Universal Studios?
What new book will you want to read?