Ivan, the 50 year old Western Lowland Gorilla died today at Zoo Atlanta. And so, today, I am sad. His story touched me deeply.
If you have not read Katherine Applegate's novel The One and Only Ivan inspired by the real Ivan, I urge you to borrow a copy at your library or buy one at your local bookstore and read it. His story will make you laugh and make you cry. Mostly it will make you feel.  This link will take you to the official book trailer.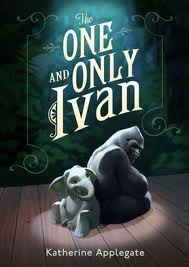 I would like to thank Katherine Applegate for telling Ivan's story. I would also like to thank Mr. John Schu and Ms. Kouri for sharing their photos this summer of their visit with the real Ivan at Zoo Atlanta. Their photos will now be the closest way I can fullfill my dream of meeting Ivan. You can view Mr. Schu's photostream here.