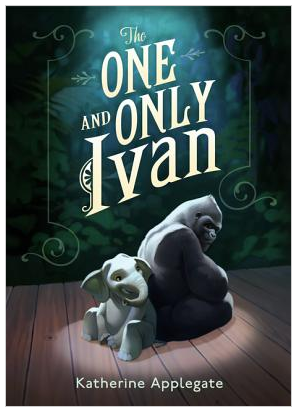 Everyone at our school knows that I am a little bit crazy about the book,
The One and Only Ivan!
They know that the highlight of our school year was the day
Katherine Applegate, Julia and Anne visited our school!
I have given this particular book to my family, friends and blogging buddies as far away as Australia.
Fast forward to July 2012!
I am writing this post today in green, because I am green with envy!
Why?
 Because the Super-Librarian Mr. Schu visited the real  Ivan yesterday at Zoo Atlanta.
He and  Donna, another librarian,  are on their annual summer reading trip. This year they called it "Let's Go South 12" and they decided to drive to Atlanta, Georgia to visit the real Ivan in person! I am very envious of their experience! I have never been to Georgia and to see Ivan up close would be pretty awesome. He has given me permission to share these photos with you.
The traveling plush Ivan got to meet the real Ivan too!
 How could a trip like this be any better that that? By getting the real Ivan's autograph!
Congratulations Mr. Schu for visiting Zoo Atlanta and sharing your photos with us! You can follow the other places they visit on the Let's Go South 12 blog. You can also read more on Mr. Schu's blog Watch. Connect. Read. He'll be writing in greater detail about his visit with Ivan.
In the meantime, I am getting ready for my trip next week to the  Microsoft Partners in Learning US Forum to showcase our Kid Lit Movies project. I'm also bringing Ivan, the inspiration for our book trailer project. Check back next week for updates and photos on this incredible experience! Did you know our student book trailers have had over 6,700 views now from people in 150 different countries? How's that for incredible?
*************
How did seeing the real Ivan make you feel?
Is there a place you would like to visit because of a book you read?