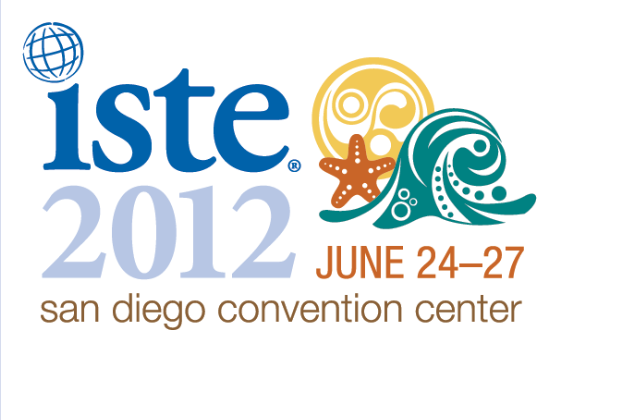 I'm back from the ISTE 12 conference in San Diego! My brain has been swirling with all that I experienced at this huge technology conference. I took Pete the Cat with me to San Diego so he could get out and see the world.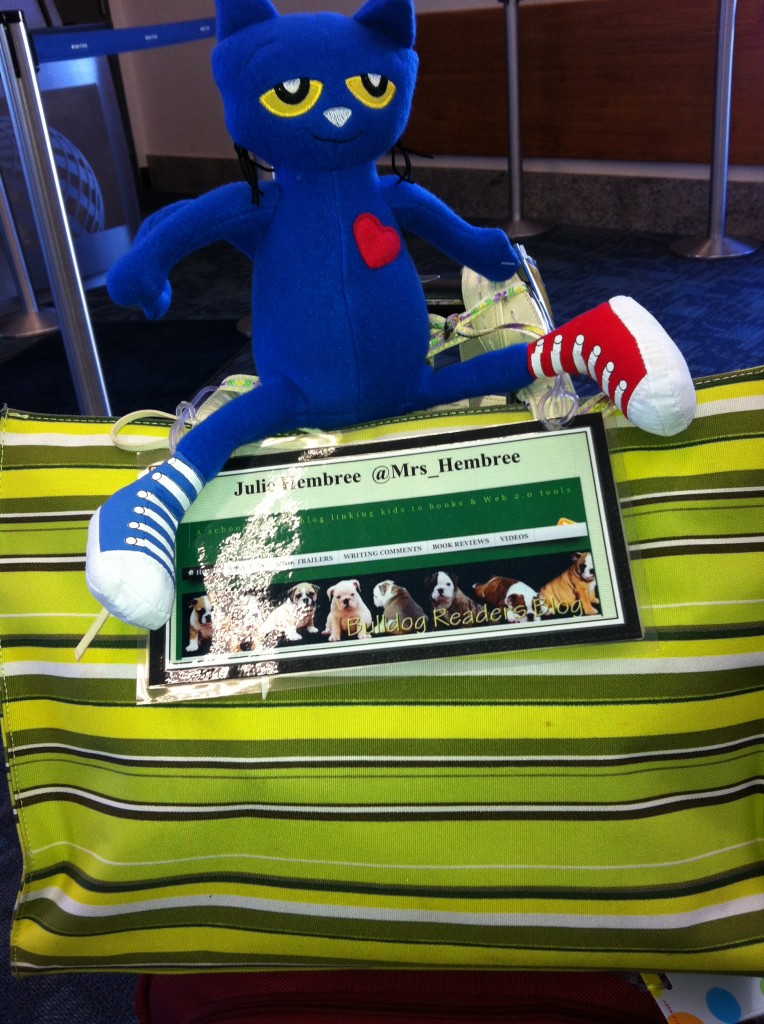 I arrived on Sunday and walked over to the conference center. Imagine 10 football fields put together! That's how big this conference center is! Believe me, I did lots of walking while I was there!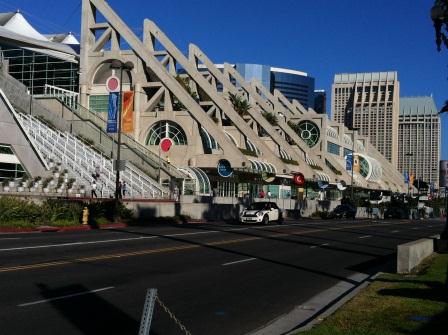 I was a little worried that since I was alone, I wouldn't find anyone I knew in such a large place! That didn't last long however! The first person I saw was Mrs.Jacobs from Hawaii. She leaves us comments all the time on our blog and sent me beautiful photos of exotic Hawaiian flowers during our dreary winter months. We had some fun times together while we were there!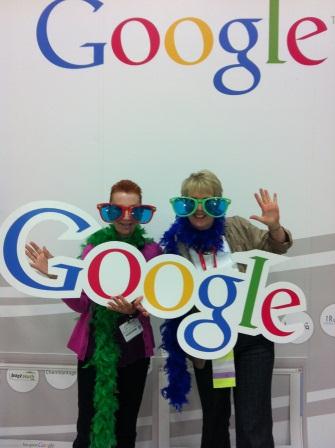 The first keynote was on Sunday. A keynote speech is an opening speech that outlines some of the topics that will be covered during a convention.Sir Ken Robinson talked about how to encourage students to find their passion to do well in school.
 I tried to get inside the room, but it was all full. Instead I hung out at the blogger's café with lots of other bloggers and we watched the speech on a small digital screen set up there.
The highlight of the day came after the speech when I meet Mrs. Morris from Australia and her husband Nate and Mrs. Yollis from California! We have been blogging buddies for two years and it was fantastic to see them in person.
 Ronnie and Sue from the Edublogs Team were there too, along with Miss Wyatt who visited us last September from Tasmania, Australia and Mrs. Watanabe from Arizona. We all went out to dinner and had a great time.
The first full day of the conference started on Monday. Boy was it crowded! Between all the conference and exhibiter people, there were over 19,000 people there! If you ever had a question, all you had to do was go to a person with an "Ask Me!" sign, and they would help you!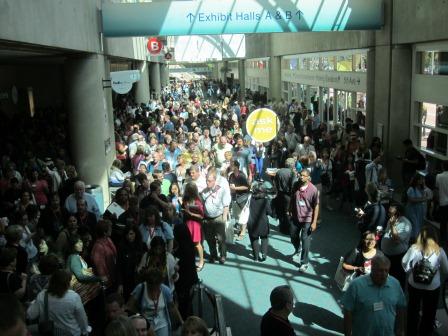 I spent the day going to hour long classes learning about new ideas and techniques I can use in our library in the fall. I especially like one about fun research projects and another about using Google Earth.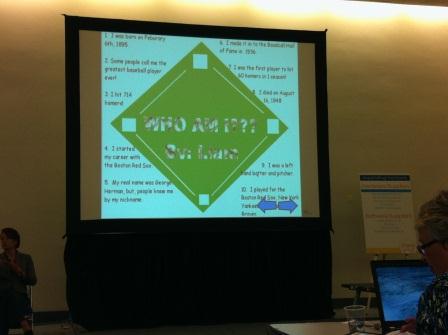 I had lunch with Ronnie and Sue and saw the USS Midway as we walked back to the convention center.
The USS Midway was retired from service a number of years ago and now you can take tours on board and experience what it's like on an aircraft carrier.
We had more sessions in the afternoon and evenings were filled with social events. Most of the librarians got together on Monday where I got to meet Mrs. Miller from Iowa. Our idea for the Summer Reading Contest came from her and Mr. Schu in Illinois.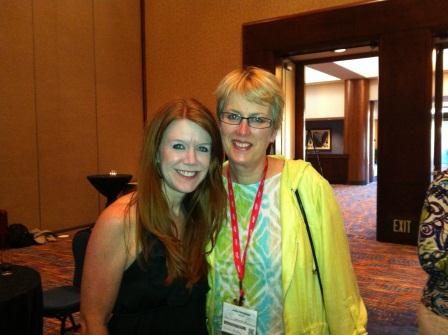 Tuesday was a repeat of Monday. Lots of workshops, classes and learning! My head will filled to the top with everything I was learning! We had another keynote and this time I got smart! I was in line at 7:30 am to get inside the conference hall to see Dr. Yong Zhao speak. I got inside this time and was way up front where I could see him up close.
Dr. Zhao talked about how important creativity is in school. I enjoyed his speech so much, I stood in another line afterward, bought his book and got it signed too
Getting around the convention center took time and lots and lots of walking! Even with the size of the convention space, halls were crowded with everyone going from session to session.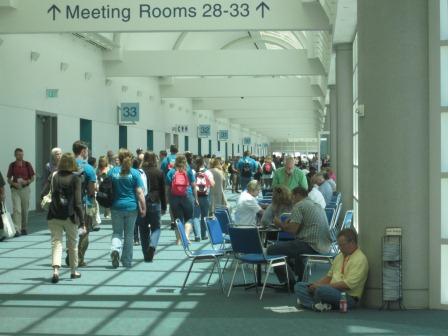 Sometimes I couldn't get into a class, so I hung out and talked to other teachers. Mrs. Young from the All Kids Can Flourish blog and I had some great conversations.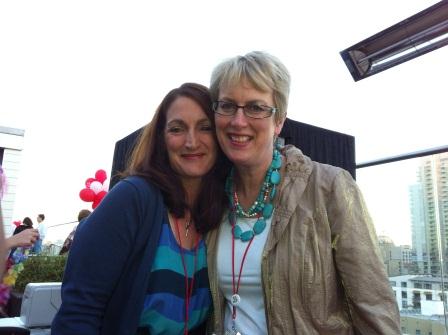 Outside of the classes, meeting people and talking about our schools and technology ideas was the best part of the trip. I feel so lucky to have met such wonderful people there. I look forward to showing you their blogs in the fall.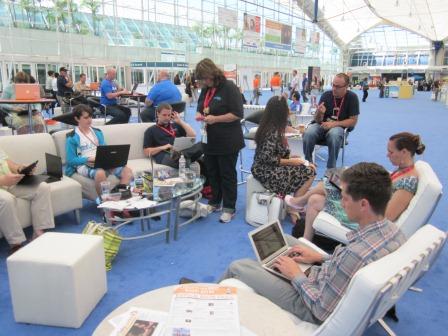 The last day of the conference was on Wednesday. Mrs. Yollis and Mrs. Morris had a class on their experiences blogging together.You can read more about their class here.
Many of their blogging buddies were in their class and we all had our picture taken together to celebrate.Mr.Miller in the back row Skyped with us last year from his classroom in California.
Mrs. Morris brought us a gift too! BB in Australia told us about the Australian Alice Miranda book series. Even though there are many books in the series, only a couple are available here. Mrs. Morris brought us two more to add to our library! Thank you Mrs. Morris! The author, Jacqueline Harvey is going to be touring the US in the future! Hopefully we can convince her to come to meet the Bulldog Readers!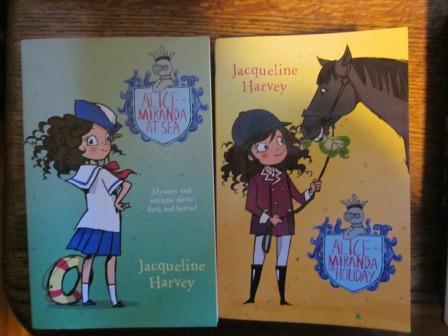 Between classes I had time to visit some of the learning stations. There were student teams showcasing projects they had done in school.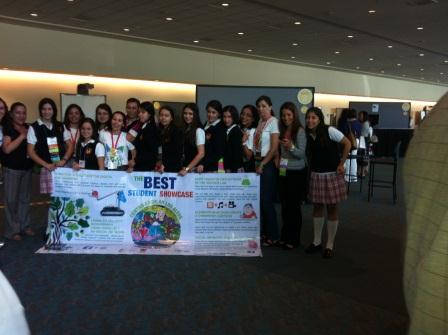 Teachers could also showcase their projects in these learning stations. Instead of sitting in a big room, a station was hands-on and you could walk right up to the teacher ask questions about their work.I hope maybe I can showcase some projects we do in the future at an upcoming ISTE convention.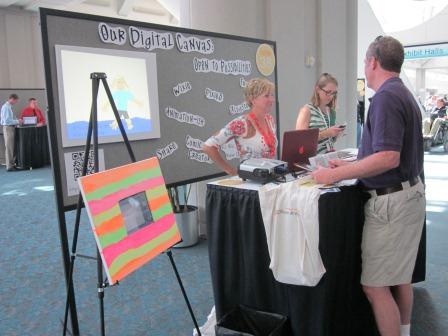 I also went inside the exhibit hall! It was 5 football fields in size with over 1400 booths. I looked a little bit, but was a bit overwhelmed with the size of it all!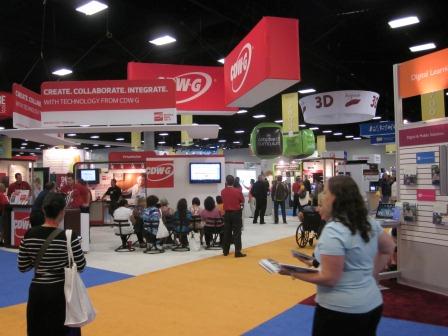 We had more time for conversation in the Sails Pavilion. Pictured is Mrs. Jacobs, Mrs. Watanabe and Mrs. Young.We talked a lot about blogging and collaboration.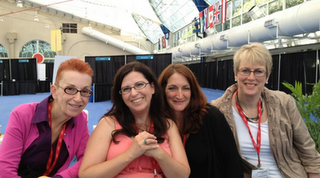 Pete the Cat joined me for some ISTE fun too!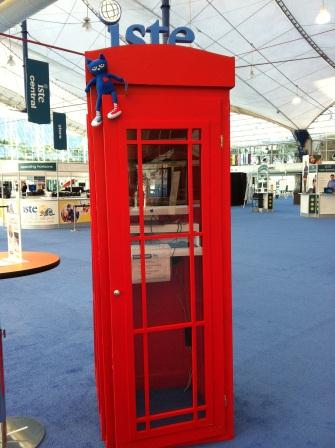 Before long though, it was time to say goodbye to San Diego and all the wonderful people I met there! I had such a great time and I learned so much! Look out kids, we are going to have some creative library fun in the fall! I also hope that next year when ISTE 13 comes around to San Antonio, Texas, I'll be there too.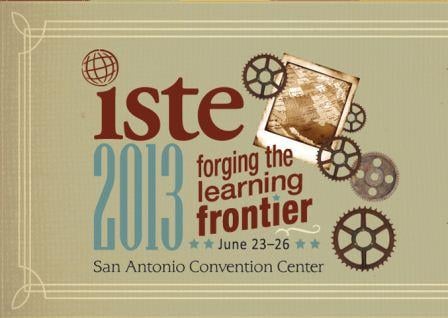 *******************
What do you think would be exciting about going to a convention?
What questions do you have about ISTE 12?
Who would you love to meet in person?