Have you ever been to the movies and watched the previews for upcoming attractions? If you are like me, you have seen lots and lots of them!
Those previews for movies got me thinking.  What if we took that same idea and applied it to books? We could have previews for awesome books in the library! And…..what if instead of me making them like the one I made for The One and Only Ivan, the STUDENTS made them? How awesome would that be? That's how our book trailer project got started!
After watching the 'Ivan" trailer, some 4th grade students asked if they could make one too. A new technology and literacy project was born!
To start,  we watched some other book trailers in our 4th grade library classes to get ideas. Then we watched some book trailers that I made. The One and Only Ivan trailer is the one that Katherine Applegate saw and asked to come to our school and meet us! You can see them here on my book trailer page on our blog.
Then next step was to form cooperative groups. Each group could choose it's own members and then they had to pick a book for their project.
Once a book was selected, it was time for the storyboard plan. Here students were required to figure out what parts of the plot was important to include, how that could be transformed into a visual, and what text needed to be included to get previewers interested in the book.
The purpose of a book trailer is very different than the purpose of a book report. In the typical book report, you write about what happened in the book. In a book trailer, you are selling the book, to make other people want to check it out and read it! The tricky part is to share some goodies, without giving away too much of the book!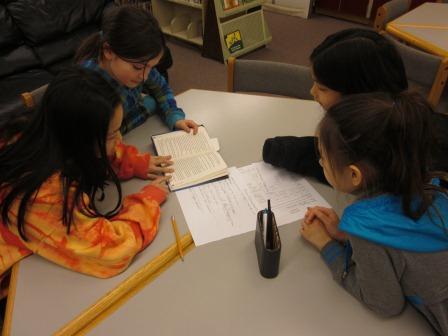 Once the storyboards were complete, groups moved to the computer were they used MS One Note to record their storyboard notes and begin importing creative commons photos for their trailers.
One huge advantage of using OneNote its the linked note component, that allows you to import photos and keep the link to the original source. This is especially helpful when it's time to write the credits slide. Flickr also allows you to save photos with the original link in galleries, but Flickr is not available for student use at our school.
Finding Creative Commons photos was hard work! You have to think of the words to search for, and if those words don't bring up the images you are looking for, you have to try again with other term or synonym. The students discovered that a lot of Creative Commons images are available via Community Clips on the Microsoft online site. That made it a lot easier for some groups. Once all the photos were found, it was time to load them into MS Live MovieMaker!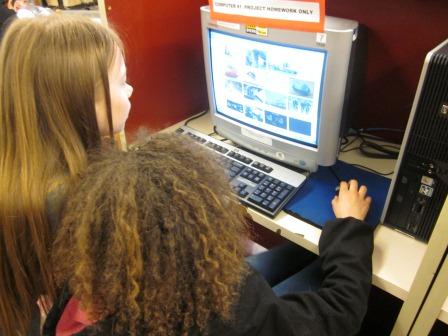 After a 10 minute "how-to" demo, students were on their own as they imported photos, added words, transitions and animations to create visual interest in their books.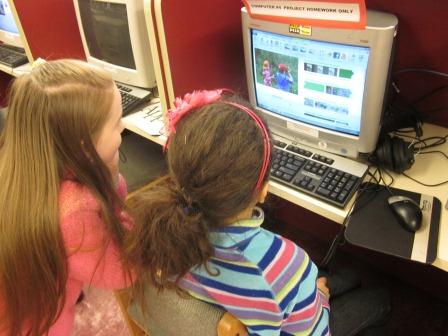 The next to last step was finding the perfect music for the trailer. Some students experimented with creating music using Songsmith. Ultimately all teams decided to use royalty free music. I had already created a Digital Kit of royalty free music from Kevin MacLeod at Incompetech.com  He shares his music for free for others to use as long as you give him credit. The resource is AMAZING! The students had fun listening to different songs and figuring out which music would give the correct mood to the trailer.
Once the Credits slide was completed, the book trailers were complete and ready to be rendered into a movie! Each was uploaded to our SchoolTube account and our blog where others can view them. I also created QR codes linking the book trailer to the book and placed them on the covers of our library books and on a special bulletin board! Each student received their own QR code on an index card to take home and share or hang on their refrigerator doors for everyone to see!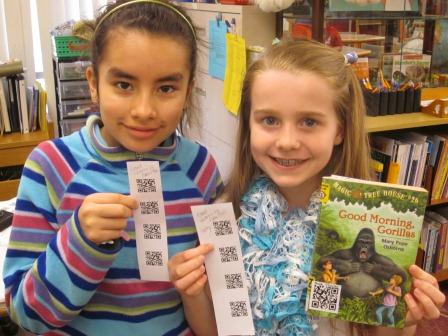 The biggest question is, "Do book trailers work as good advertisements?"  The answer is "YES!"  Our books are being checked out and read at home! I couldn't ask for anything better! Try it sometime! Book trailers are a lot of fun to create! Who knows…maybe someday one of our students will be the next Hollywood movie director!
***********
Have you ever made a book trailer?
What book would you choose?