On Friday, the 5th graders welcomed Aleca Gleser to our library to share her form of poetry. Aleca writes a rap style of poetry. And as Kris commented, "Poetry + Rap = Prap"! She is a Prapper!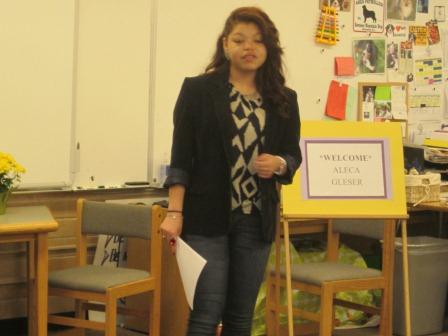 Aleca finds writing a way to release her thoughts and emotions about subjects important to her. In this excerpt from her poem, The Tragic Mulato, she raps about what it is like to be bi-racial, and not completely accepted her ethnic cultures.

She got the idea for her next rap when she was learning about different styles of poetry in class.
It's always interesting to hear how writers get their ideas or begin the writing process. Because Aleca's writing completely rhythmic, she relies heavily on the alphabet! At the top of each rough draft she writes the alphabet, which helps her to think of rhyming words for her pieces.
Like Katherine Applegate, she keeps an idea box, but it's a slightly different style. She stores ideas on her phone! If she hears something that triggers an idea, or sees something, her phone acts as her storage device, ready at any given time.
Aleca writes free verse, preferring socially and politically movitated verses, similar to the origins of west coast hip hop in the late 1980's and early 1990's. Drawing attention to racial inequities or social injustice is the essence of her work. In her last rap, she talks about elevating the game, pushing a battle to rise above commercialism.
 
Thank you Aleca for visiting our school for National Poetry Month! We hope you keep writing!
****************
Have you ever listened to rap poetry before?
What topic would you write about?