Amazing, fabulous, wonderful, spectacular, superb! Those are only a few of the ways we could describe our visit with Katherine Applegate this week!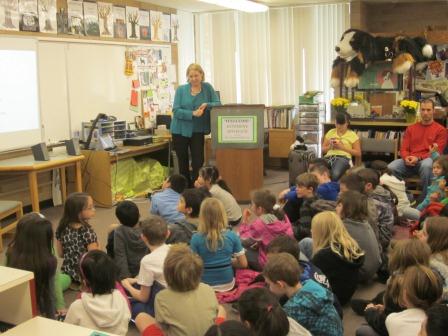 Katherine came with her daughter Julia, and HarperCollins editor, Anne Hoppe and gave us a presentation on her book The One and Only Ivan. Ivan is dedicated to Julia, and her name is also used for one of the main human characters in the book.
Katherine is the author, and co-author with NYT bestseller Michael Grant of over 150 books for children and young adults, including Animorphs, which has sold over 35 millions copies. In the library world, she is a ROCKSTAR, yet, a nicer, more humble author you could not meet.
In a fabulous presentation created by her 15 year old son Jake,Katherine led us through the story of Ivan, the "shopping mall gorilla," who spent 27 years in the B & I shopping Mall in Tacoma, and the inspiration of her novel. After reading a newspaper article many years ago when Ivan's future was being debated, Katherine learned about this silverback gorilla stuck inside a 14 x 14 cement cage.  She later saw a National Geographic documentary on urban gorillas that included Ivan's history. "I couldn't get this story out of my head," she told us.
She told us she remembered Toni Morrison's quote,
She did research through the years and even went to Tacoma to get more information. Yet, she knew his story would also have to be fictionalized. Stella, the older elephant and Bob, the dog didn't really live with Ivan in real-life, and neither did Ruby, the baby elephant. These were the touches she added to his story to give it depth, poignancy and heroism.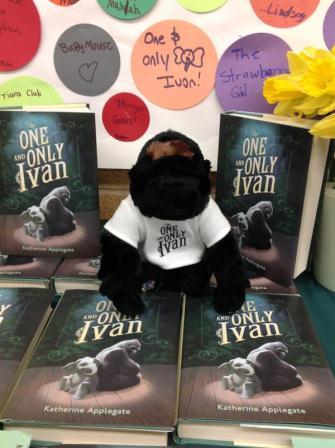 Students also had a chance to ask Katherine questions where she let us know that her best advice for student writers is summed up in two words:
what if ….
Put yourself in any situation, and ask yourself "what if" and you have the basis for a new story! It's as simple as that! She also urged student writers to be proud of what they write. She spent many years as a ghost writer for some well known series like Sweet Valley High, or used pseudonyms before she took the plunge to write under her own name.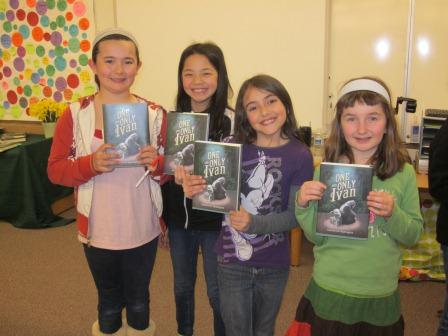 The culmination of the morning was lunch for eight lucky students, who spent an hour with Katherine, Anne and Julia talking about books, Ivan and her life as a writer.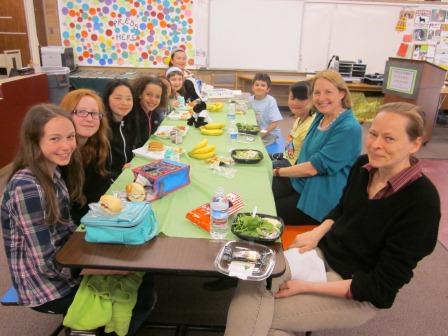 We even had a special cake made for the occasion! I got the idea for this cake from Mr. Schu. You can visit his blog here.
Following lunch, Anne signed a book for each of the "Applegate Lunch Bunch" and had their picture taken with her.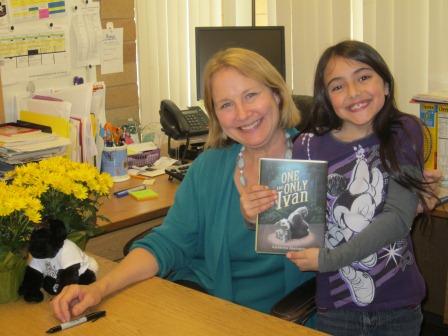 Sadly, the morning came to an end and we waved Katherine, Julie and Anne goodbye! They we off to enjoy the day in Seattle and then return to Parkplace Books in Kirkland for another visit the following day with students at two other local schools.
If you live in the Seattle area, she will be at Elliott Bay books this afternoon, Wednesday, April 18th at 3pm doing another book signing!
We can't thank you enough for visiting our school!  It was truly an honor and a day I will personally treasure close to my heart.
 Here is the special bulletin board we prepared especially for her visit.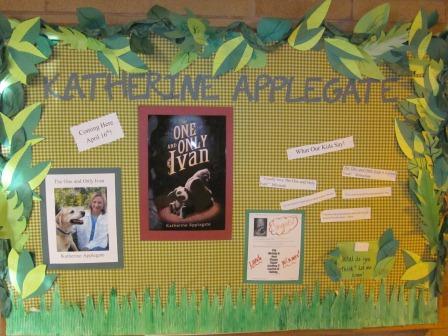 Anne Hoppe, editor for The One and Only Ivan visits with Katherine and Julia.
 Katherine with Mrs. Hembree and her husband. Mr. Hembree remembered visiting Ivan in Tacoma when he was a child.
 ***************
Have you ever met an author in person before?
What is your "what if" story idea?
Do you have a special animal story?