Calling all girls who like to read fun mysteries! I have just the book for you!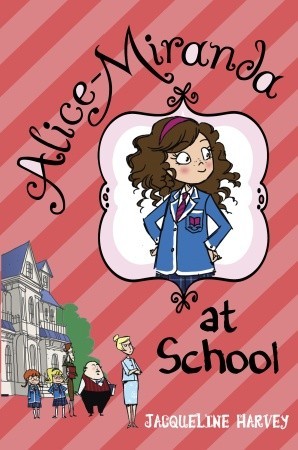 Alice Miranda at School is a story of 7 and 1/4 year old Alice-Miranda Highton-Smith-Kennington-Jones who is attending boarding school for the very first time! When she gets to her new school – the Winchesterfield-Downfordvale Academy for Proper Young Ladies, she quickly realizes that there are some strange things happening.
Why doesn't the headmistress Miss Grimm ever come out of her office? Why aren't there any flowers growing on the grounds of the school? Why can't Mrs. Oliver go on vacation to visit her grandchildren? Leave it to Alice Miranda to find out the answers to these questions and more!
This is book one of a very popular Australian series. Our blogging buddy BB told me about it months ago, and finally it arrived! Here is what she had to say about it!

So girls, here's what I have to say. I thought it was a very funny story and I love how spirited Alice Miranda is without being rude. However, you don't have to listen to me!  Listen to BB! She knows her Australian books and is the same age as you! Better yet, visit her blog and leave her a comment! BB's Awesome Blog
Who is going to be the first one to try this awesome Aussie story I wonder??? In the meantime, Miss Yeoman in Melbourne, Australia told me her library is hosting Jacqueline Harvey on March 23rd! You can read about it here. Ms. Harvey also has her own blog which you can visit.
Plus, if you love blogging and Alice Miranda, why not comment on her blog too? Yes, Alice Miranda has a blog and loves visitors. You can visit it here.
***************
What is your favorite series of books to read?
Do you think you would like going to a boarding school?
Should we buy more of this series for our library?