It's easy to hug dogs or cats or bunnies or goats. But how to you hug a porcupine! Author, Laurie Isop, author of How Do You Hug a Porcupine visited our school for World Read Aloud Day to help us find out! This was also the day we dressed up as favorite book characters!
 Laurie presented to the kindergarten – second grade classes. First she talked to them about porcupines and their quills.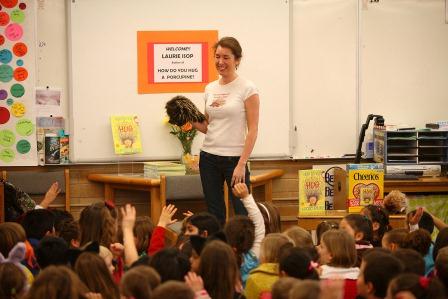 They even had a chance to touch a giant quill from an African porcupine.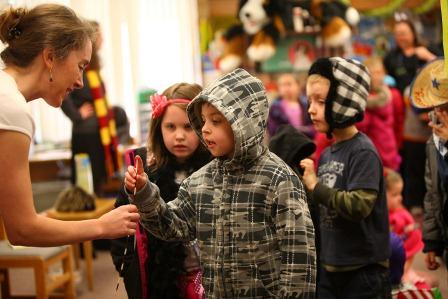 She explained that after she won the Cheerios -Spoonful of Stories Award last year, Cheerios put a small paperback copy of her book in both English and Spanish in every single Cheerios box! Then her publisher Simon & Schuster published the book in the hardcover version. You can read about this prize here.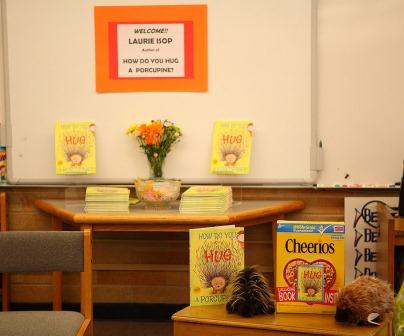 Then she treated the students to a reading of her book.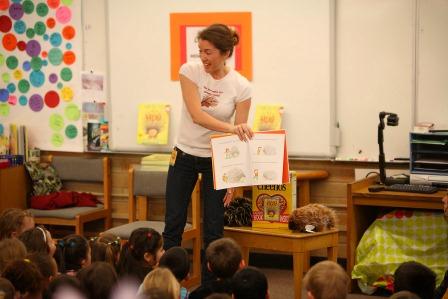 We had a special raffle and 4 students won one of the paperback copies and one student won a porcupine puppet.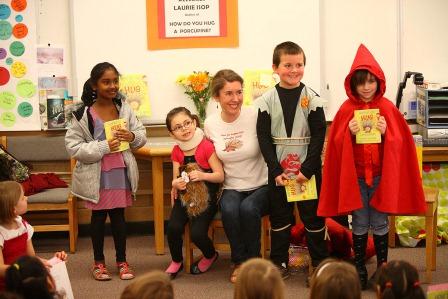 Following her presentation, students who purchased copies of her book stayed in the library and watched Laurie sign their book.
Laurie's visit was courtesy of our local independent book store, ParkPlace Books in Kirkland! Thank you Park Place!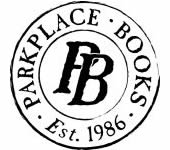 When Laurie is not writing books, she and her husband Paul run a wedding photography business. All of the photos for this blog post were furnished by Paul Isop of Studio 6.
If you are wondering who the winner is for this year's Cheerios contest, look in the cereal aisle of your local grocery store! Josh gave me a sneak peek on what he found this weekend.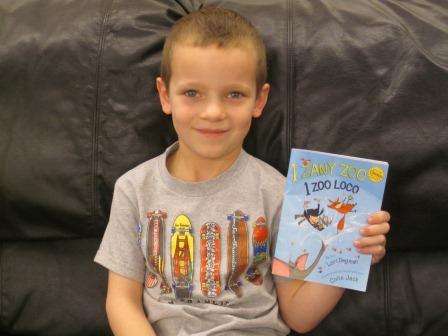 ***************
What authors have you met at your school?
What do you think about Cheerios offering books in cereal boxes?
If you could have any author visit, who would it be?