After a nail-biting series of battles, the Book Wizards won the final battle to become our building champions! They will now compete against other building teams across the district for the district Battle of the Book championship. We will compete on a computer in a Skype-like format the week of February 27th.
The Book Wizards competed in the final round of battles against the Sugar Covered Candy Canes. It was a close battle from the beginning and only one question separated the two teams.
Battles started last week in the library. The ten teams were divided up into two groups. Each group competed twice answering 16 questions about the assigned books. At the end of the week, the top 4 scoring teams moved on to the semi-finals on Tuesday.
Teams had the option to make up a sign for their team.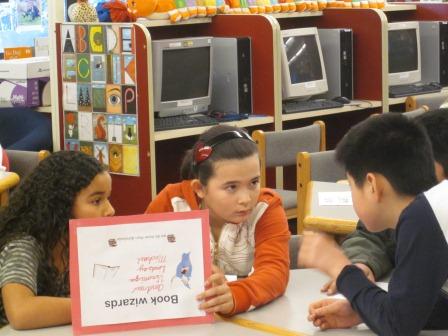 After each question was read, the teams had 30 seconds to huddle and figure out their answer.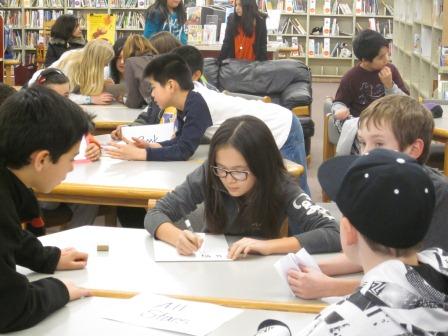 They wrote them on the white board and when I said. "flip!" they had to reveal their answer. Correct answers received 2 points and incorrect answers got no points.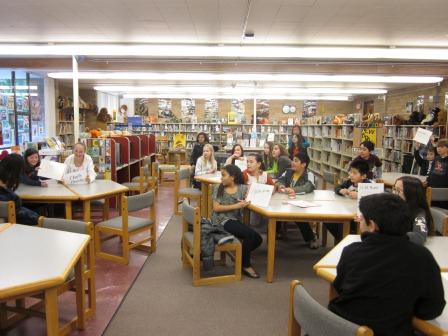 The semi-final round was the closest competition I've seen in years! The Sugar Covered Candy Canes, the Book Bulldogs, The Four Musketeers and the Book Wizards faced off at noon on Valentine's Day with the library filled with student and parent spectators! At question 16, the Sugar Covered Candy Canes had the most points and had place number one in the final battle.
 However, the second position was in a tie between the Book Bulldogs and the Book Wizards. The Book Wizards had come back from behind after missing the first 3 questions in the battle. Both teams now had 22 points and it was up to the tie breaker questions to determine who would move on.
After 3 additional questions, the Book Wizards cinched the final post in the finals and at 1pm faced off against their 6th grade rivals!
Battle of the Books is a voluntary district reading competition. The district librarians select the books for the competition and each librarian writes questions about their assigned book. In the fall, we introduce the books to our 4-6th grade classes and encourage students to sign up and read the books.
Teams can then check out the reserved books from September to February and monitor their progress on the Battle of the Books chart in the library and on individual book marks.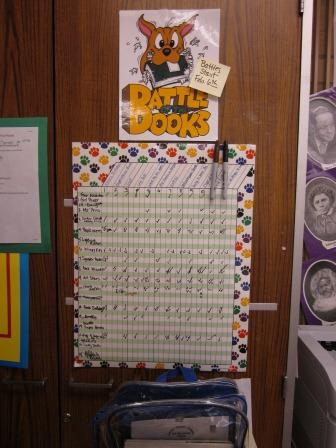 Everyone who participated in Battle of the Books will be treated to Pizza and pop at our Battle celebration in March! At the end of the year, everyone will be recognized in our final school assembly with certificates of participation.
*********************
Have you ever competed in a Battle of the Books competition?
What book would you like to see on the reading list next year?