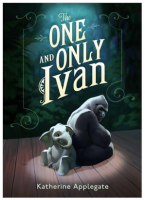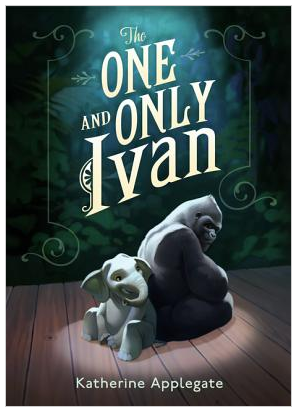 I never saw Ivan at the old, run-down shopping mall in Tacoma, but my husband did. He got sad thinking about Ivan, the silverback gorilla confined inside a dirty and cramped cage on show for whoever came to visit him. For 27 years he lived there and endured the humans who stared at him day after day, year after year. It was a dismal existance for a mighty silverback gorilla.
Ivan's story began in 1962 when he was captured as an infant and sold to owners of a shopping mall in Tacoma, Washington. He lived there for 27 years before the public pressure prompted his move first to the Woodland Park Zoo and then to the Atlanta Zoo. The Atlanta Zoo is home to the nation's largest collection of western lowland gorillas. Ivan is now 49 and thriving in his zoo home.
Katherine Applegate's new novel, The One and Only Ivan was inspired by the true story of Ivan the Shopping Mall Gorilla. The novel is told through Ivan's eyes and captures both the anguish and the heartening moments of friendship between him and his mall animal friends. It's a book that will stick with you long after you turn the last page. It compelled me to create a book trailer, which I hope you will enjoy.
 **************
Have you ever heard of Ivan before?
Do you want to read this book now?
Do you like to visit animals at the zoo?
What's your favorite zoo to visit?