Yesterday, the Edublog Awards were announced and it was a big
day for the Bulldog Reader Blog!
In the Best Library Blog category,
we were the runner-up!
Mrs. Hembree is the happiest runner-up Librarian in the world!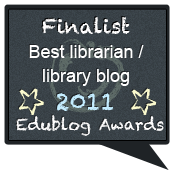 It's quite an honor to be short-listed with all of these other fabulous teacher librarians! And it's all because of our world-wide support system and your votes!
Big congratulations to Mrs. Ducharme the winner of the Best Library Blog category! TryCuriousity is located in Budapest, Hungary at the American International School of Budapest. We nominated her for this category and are so thrilled she won!
Thank you so much for voting! Edublogs had the most votes ever! There were a total of 35,083 votes cast on 1792 nominations in 18 different categories!
The Edublog Awards were announced in a ceremony via Blackboard Collaborate at 4pm yesterday afternoon. Anyone who wanted to participate could log into the live webcast and watch the proceedings.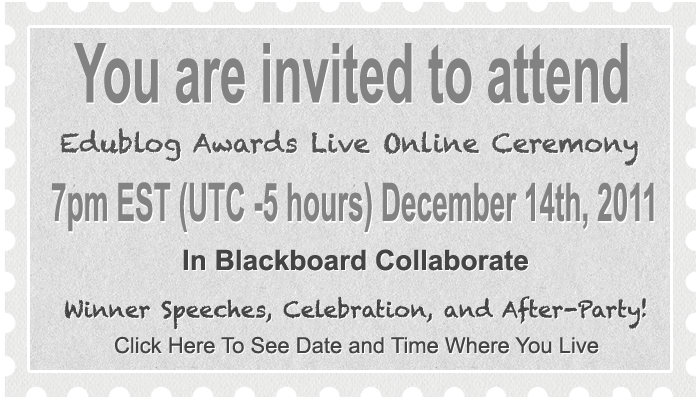 People from every continent logged in and had fun chatting in the back-channel before the awards began. Many of the attendees were students who were nominated for Best Student Blog.  I watched the event on my computer at home with my dogs Reese and Kasa next to me.  They couldn't figure out why I was home and not taking them for a walk!
When the library blog short-list was announced, I guess I got a little excited and pretty soon both dogs were barking and running around the house wondering what all the fuss was about! It was a fun and noisy afternoon at the Hembree house!
Many of our blogging friends either won or were short-listed in their categories!
Mrs. Yollis won for Best Class Blog, and Mr. Salsich's Class  in Connecticut and 2KM & 2KJ in Australia were finalists! These teachers also won for the Best Group Blog – Our World, Our Stories. 
Mrs. Yollis also won Most Influential Blog Post and came in second in the Lifetime Achievement category!
Mr. Avery's Classroom Blog was third in Best Use of Audio/Video/Podcast!
The Best Student Blog went to Jaden, a 4th grader in California! He was in Mrs. Yollis's class last year! 
A really special moment for me came after the ceremony was over when BB came on the microphone and congratulated all her friends and teachers! We get lots of comments from BB and I have even received packages from her, but I had never heard her voice before! She was in Mrs. Morris and Miss Kelly's classroom for the ceremony.
 BB hosts BB's Awesome Blog and is an almost 4th grade student in Australia and always leaves us a comment! Our students love her and she is held in the highest regard around our school for her blogging skills! She will be going on summer vacation next week, and won't be blogging much over the holidays, but I know she would love a comment!
My last big congratulations goes to Ms. Joyce Valenza who won for Lifetime Achievement. She is a fellow teacher/librarian and contributes so much of her knowledge to our librarian team.
 ************
Have you ever won an award before?
Which are your favorite blogs to visit?