Thanksgiving is only days away and we have been reading some of Mrs. Hembree's favorite Thanksgiving Day holiday books in the primary classes.
 Tuyet is dismayed when her Vietnamese/American family wants to eat duck for Thanksgiving Day dinner. When she returns to school after the holiday, she soon realizes that many families don't eat turkey at Thanksgiving either! Tuyet realizes matters is spending time with family and friends, not what food they eat. Nominated for the Washington Children's Choice Picture Book Award for 2012.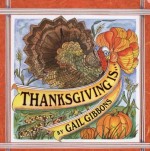 Thanksgiving Is by Gail Gibbons provides information about the origins and meaning of Thanksgiving in America, and describes many of the symbols and traditions associated with the holiday, including feasts and parades. (Follett description)

  When the turkey slides out the door and into the pond, a series of food disasters happen to the Tappleton family. They too realize that family is more important than special food on this holiday.
  A group of schoolchildren go on a field trip to Farmer Mack Nugget's farm. When they realize that the fat, and friendly turkeys are about to become Thanksgiving dinner, they rescue them from the dreaded ax. Dav Pilkey's story always generates some Thanksgiving laughs.
Check out these original Thanksgiving stories!
The fourth grade students have also been in the Thanksgiving spirit! Ms. Holder, Ms. Lawson and Mrs. Raffel's classes each wrote a class turkey story, some with original illustrations. I think you will enjoy the creativity of these funny turkey day stories!
<
******************
What is your favorite Thanksgiving story?
Have you every written a Thanksgiving Day story or poem?
What does your family like to do on holidays?