What does the word genre mean?
A genre is simply a fancy name for a group of books which share style, form, or content. For example, books that have characters who may have special powers, or magic, talking animals, mythical beings or are set in a medieval universe are some of the typical elements of Fantasy books.
It's really important to know this term in our library because our fiction section is organized by genre. The intermediate students have been learning about genres in library class so they will be able to find what they want on the shelves.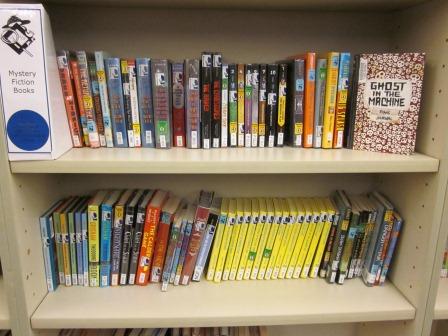 Our library looks a lot more like a bookstore than a traditional library. If you like mystery books, you can come in to the library, walk to the mystery shelves and find all of our mystery books in the same place. They are still in alphabetical order by the author's last name, like a regular library, but they are also shelved by genre.
Our transition to a genre based library happened a few years ago when I noticed that students who came in to the library would get frustrated when they couldn't find another book similar to the one they had just read. They kept asking, "Where are the fantasy books?" or "Can you help me find another science fiction book?"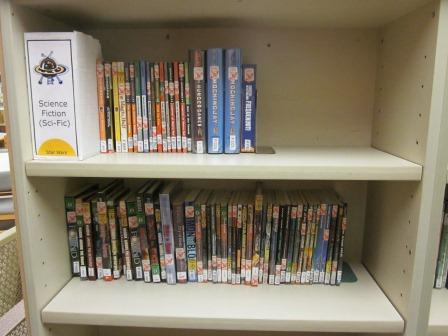 The students got frustrated because they couldn't find what they wanted quickly. I also was upset, for the same reasons.  Even worse? Kids walked out of the library without a book, saying they would just go to the bookstore and find what they wanted.
The bookstore format could be my solution! We would shelve our books by genre and then the kids would be able to find what they wanted easily. We started by putting a sticker on all the books. Then we grouped the genres into piles, arranged them alphabetically by author's last name, and reshelved them in their new genre neighborhood!
The conversion was four years ago and our Bulldog Readers love it! They learn about genres for a purpose. They can easily find the fiction books they want. Our check out numbers spiked after the conversion and have stayed high ever since. That's why we love genres in the Bulldog Library!
*********************
What do you think about our genre based system?
What is your favorite genre to read?
Leave us a comment and let us know!