Thanks to a generous grant from the Lake Washington Schools Foundation, our library has
 

118 new, blazing hot books

!
 If you are a younger reader, you are going to love, love, love these books! Every new non-fiction book had to pass Mrs. Hembree strict wow criteria questions.
Is it a fun book to read?
Is it an exciting book to read?
Is it action packed?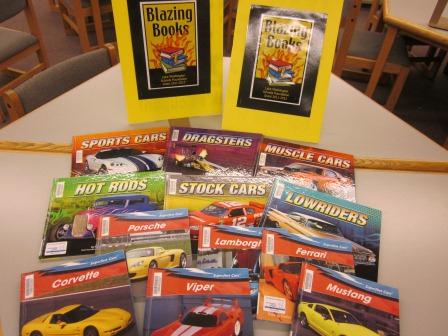 Here are the new car books to select from. No boring books in this group!
 To go along with our math focus at school, some of the new books are math related.
"Crunch, crunch! The farm's horse loves munching apples.
Can you predict which color of apple the horse will eat next?
The horse has six red apples and two green apples.
Is it more or less likely she will pick a green apple?"
So, what do you think the answer is? Find out inside the book Pigs, Cows, and Probability!
I know a lot our students love joke books, so I added more to our collection! Here's a sample from the Jokes about Bugs:
"What did the bug say after it hit the window?
If I had the guts, I would do it again.
I also bought a new series called Easy Magic Tricks. These books teach you how to perform magic tricks with playing cards, coins, straws, balloons, and more! There are plenty of ideas here to challenge our budding magicians!
Not all of the books are fact or non-fiction books. We also have some new everybody picture books for our younger readers. They are housed on a special shelf too!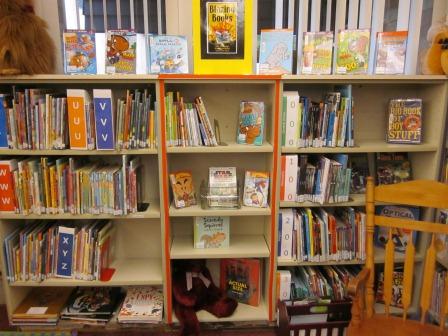 It seems like there are never enough Star Wars books in our library, so look at the new ones we've added!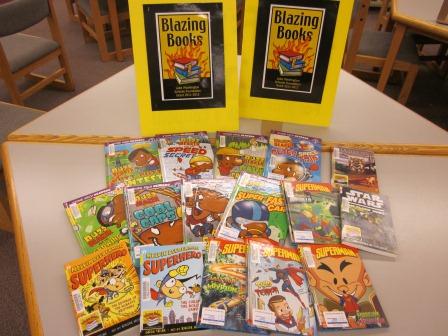 This group of books includes early chapter books that are both fun to read and a little bit longer than the usual picture book. These are perfect for our readers who are ready to read chapter books.
Ten more Backpack Buddies have been added to our expanding Backpack Buddy collection. Inside each backpack is a book, a matching puppet, a journal and instructions on what to do.  They are a super fun way to practice reading at home! 
If you check out one of these books from our Bulldog Library, I hope you will let me know what you think about them! You can leave a comment on the blog or you can tell me in person! I am even hoping some people what to give me a review on film with our new Flip cameras! Imagine that….YOU can be a Bulldog Reader Star!
Our LWSF grant is also featured on the Lake Washington Schools Foundation Spotlight page! You can read the full article here.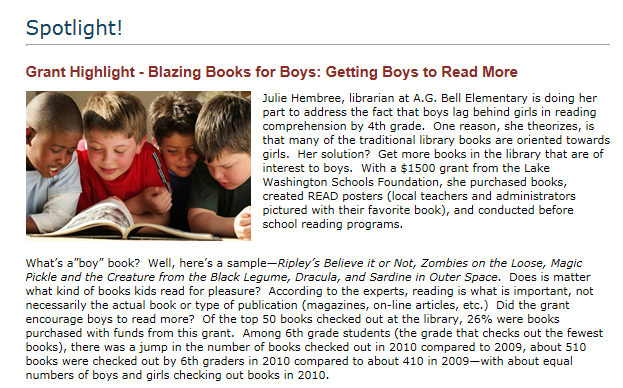 *****************
What do you think about our new books?
Which ones do you want to check out?
Leave us a comment and let us know!