All summer long our Bulldog Readers have been taking photos of themselves reading in unusual places. The goal was to READ all summer and have FUN! I hoped to create a summer of reading memories for our Bulldog Readers.
I have a lifetime of reading memories.  I can't remember a time when I didn't read.  That's also why this summer when I went back to my hometown in Massachusetts, I made sure I took a photo of the first library I ever visited when I was a little girl.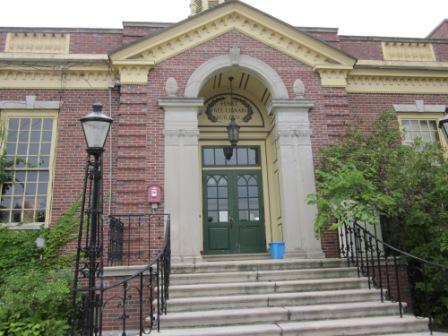 Townsend Public Library, Townsend, MA.
 
I had many fond memories of finding books inside that brick building. Reading roots can run deep. Hopefully our Bulldog Readers are developing the same kind of memories with their favorite libraries too!
 Today however, is the day to announce the winners of our contest!
There is no doubt in my mind that all of these readers are winners. The fact that they spent time choosing a special place to read and got photographed doing it, tells me everything I need to know. However at the beginning of the summer, I said it would be a contest. Little did I know how difficult it would be to pick winners.
That's why I enlisted some help from my blogging friends, AA and BB who live near Victoria, Australia.
 All summer, they read each post about our readers and wrote comments about each photo. In August I asked them to help me pick some winners. They know the photos as well as I do! BB also has a fabulous blog. I hope you will click on the link to her blog and make comments too!
 We decided on four categories of winners and 13 top winners!
The categories are:
Outstanding Contribution
Dangerous Reading
US Landmark Places
Heart felt Photos
Thirty-two students participated and four staff members, plus Pigeon!
Each student who participated will get a book and a bookmark!
We also have one other winner. He didn't submit a photo, but he DID write comments all summer on most of our reading posts!
A HUGE congratulations to Alex for being such a great blog commenter!
To find out all thirty-two winners, watch our Animoto movie!
Winners, please stop by the new library and pick up your prizes!
***************
What did you think about our reading contest?
What was the best book you read recently!
Leave us a comment and let us know!